10 Most Profitable Bloggers and Where Their Money Comes From
Michael Arrington


image source
Blog: Techcrunch
Content: Internet/Tech news
Monthly Earnings: $200,000
Main Income: Advertising Banners
Michael Arrington is the founder and co-editor of TechCrunch, a group-edited blog that covers news about technology start-ups, namely in the Web.2.0 sector. TechCrunch has recently been acquired by AOL, a step Mashable's founder Pete Cashmore has called "a huge validation for our industry". Magazines such as Wired and Forbes named Arrington one of the most powerful people on the Internet. In 2008, he was selected by TIME Magazine as one of the most influential people in the world.
Famous quote: I don't care if you're a billionaire. If you haven't started a company, really gambled your resume and your money and maybe even your marriage to just go crazy and try something on your own, you're no pirate and you aren't in the club.
Pete Cashmore

image source
Blog: Mashable
Content: Internet news, social media
Monthly Earnings: $180,000
Main Income: Advertising Banners
Pete Cashmore (appropriate name) was 19 when he founded Mashable in a small Scottish town in 2005. Mashable began as a one-writer blog, Cashmore doing all the writing, and in only a few years the site has grown to include a staff of more than 30 people and is also one of the world's most profitable blogs. Mashable has over 10 million monthly unique readers. In 2009, Cashmore was chosen as one of Inc Magazine's 30 Under 30 and Forbes' Top 25 Web Celebs. He is one of the top 40 most-followed Twitter users, with more than 1.7 million followers.
Famous quote: Privacy is dead, and social media holds the smoking gun
Timothy Sykes

image source
Blog: Timothy Sykes
Content: Stocks
Monthly Earnings: $150,000
Main Income: Affiliate Sales
Turning his $12,415 Bar Mitzvah gift money into $2 million, Sykes started a hedge fund during his senior year in college. The fund was ranked number one Short Bias Hedge Fund for 2003-2006 by Barclays before closing in late 2007, after losing roughly one third of its value. Sykes decided to write a book about managing the hedge fund and the lessons he learned from losing so much money. He then decided to capitalize on the potential of the web, starting a blog about outsmarting penny stock promoters and exposing the most scandalous companies, turning another $12,000 into millions.
Famous quote: (on blogging) Forget about just making more money than most doctors do, it's incredibly fulfilling to cut through all the regulatory and snake-oil salesman BS that pollute the finance industry.
Mario Lavandeira (a.k.a. Perez Hilton)

image source
Blog: Perez Hilton
Content: Celebrity news
Monthly Earnings: $140,000
Main Income: Advertising Banners
Before starting his celebrity gossip blog Perezhilton.com, Mario Armando Lavandeira, Jr. tried his hand at acting, media relations, he was a receptionist as well as the managing editor of a gay men's magazine. He starting blogging as a hobby, with a focus on the lifestyles of the rich and famous. His first blog, called PageSixSixSix, made The Insider's list of Hollywood's Most-hated Website only six months after its launch. The cliché "no press is bad press" proved true as this sparked a huge surge of traffic to his website. His website has been at the center of much controversy, and he is constantly battling lawsuits due to his blog's incendiary comments and revealing video footage of the celebs, as well as his blog's use of copyrighted paparazzi photos. The bottom line however is that there is always a demand for celebrity trash, the contents of which Perez Hilton is more than happy to provide.
Famous Quote: I think what I do is noble. I think my job title is entertainer. I shine the light on celebrities behaving badly, and I also shine the light on those that get it right
Jake Dobkin
Blog: Gothamist
Content: City-centric blogs that focus on news, events, food, culture
Owner: Jake Dobkin
Monthly Earnings: $80,000
Main Income: CPC Advertising Banners
Founded in 2003, the blog focused on all the news, culture, food, and events taking place in New York City. Shortly afterwards, 12 city-centric blogs were launched by Gothamist publisher Jake Dobkin and editor Jen Chung, including the Chicagoist, the Bostonist, the LAist, as well as international blogs like the Londonist and the Shanghaiist. The Gothamist has been included as one of "Forbes Favorties", was placed among Business Week's "Best of the Web" and in 2007, Wired magazine gave it the Wired Rave Award as best blog of the year. Cablevision nearly bought the Gothamist for $5 million, but when Dobkin called the New York Times a "Journalistic blowjob artist" on his Twitter feed, Cablevision backed out.
Matt Marshall
Blog: Venture Beat
Content: Tech news, money news
Owner: Matt Marshall
Monthly Earnings: $62,000
Main Income: CPC Advertising Banners
Matt Marshall's VentureBeat is one of the most forward-thinking technology blogs on the Internet, focusing on new and upcoming companies in the technology world. Founded in 2006, Marshall's blog has been connecting readers with the hottest technology news. The popularity and reputation of VentureBeat finally led to the development of a cutting-edge technology conference known as DEMO, for which Marshall is executive producer. Since the conference's inception, technology giants such as Boingo and Palm have used DEMO as a platform to launch high-profile products. VentureBeat continues to be one of the best resources for technology news on the Internet.
Famous Quote: "PG&E's greatest fear, and they won't say it publicly, is Google."
Ewdison Then
Blog: Slash Gear
Content: Tech reviews/news
Owner: Ewdison Then
Monthly Earnings: $60,000
Main Income: CPC Advertising Banners
With more and more people becoming interested in technological advances, it's no secret that the Internet has brought with it the ability to discuss products and technology in great detail, and with like-minded individuals. One of the greatest blogs on the Internet for technology buffs is Slash Gear. Launched in 2005, Slash Gear has been providing readers with top-notch, news, reviews and in-depth previews of the latest in technology. In January 2010, the Technorati Top 100 blog listed Slash Gear as the #4 technology blog on the Internet. Not long after, an iPhone app was released, allowing users to keep up with Slash Gear while on the go.
Famous Quote: "In any type of business, there is no guarantee for success, but what I learn from my failure is my secret recipe."
Nick Denton
Blog: Life Hacker
Content: Life hacks
Owner: Gawker Media's Nick Denton
Monthly Earnings: $60,000
Main Income: Advertising Banners
Anyone who works in an office or corporate environment knows just how important it is to be able to streamline one's workload. Gawker Media's wildly popular blog Life Hacker serves the purpose of informing its readers of the latest and greatest software and downloads that are geared towards increasing productivity and streamlining tasks. Launched in 2005, the site is updated constantly; as much as 18 times per weekday. People the world over have taken to and become addicted to Life Hacker, receiving a wide amount of attention from popular media outlets such as Time Magazine and CNET. For the busy professional, Life Hacker provides some valuable tips and tricks for getting things done in a more timely, organized fashion.
Famous Quote: "The truth is, those are the stories people are really interested in, so why shouldn't those conversations be reflected in a publication? That's always been my test for what makes a story; is this something journalists would gossip with each other about?"
Vitaly Friedman
Blog: Smashing Magazine
Content: Design/Web development
Owner: Vitaly Friedman
Monthly Earnings: $58,500
Main Income: Advertising Banners
With the popularity of the Internet at an all-time high, web design is becoming an increasingly popular topic of conversation online. Vitaly Friedman's Smashing Magazine is considered by most web designers and developers to be one of the top blogs on the Internet, providing readers with useful resources and information related to web design and development. Readers prize Smashing Magazine for their honest analysis of new products, software and tools for web design, as well as their free fonts, templates and icons. Anyone who considers themselves to be a web designer would do well to follow Smashing Magazine, as it has helped many a designer to streamline their workload.
Famous Quote: "As web designers, we need to learn every single day and improve our skills by observing what other professionals do and, more importantly, how they do it."
Collis Taeed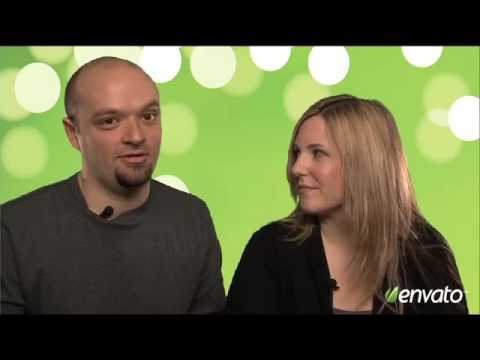 Blog: Tuts Plus
Content: Online tutorials
Owner: Collis Taeed
Monthly Earnings: $55,000
Main Income: Advertising Banners
For many people, learning a new piece of software can take an extremely long time; especially if it is a complicated, robust program. Collis Ta'eed's blog Tuts Plus is the perfect resource for anyone in need of a software tutorial. Tutorials can make learning a piece of software a breeze, and following along is far easier their reading through an endless instruction manual. Whether the software be for graphic design, music production or otherwise, chances are the tutorial is waiting at Tuts Plus. For those who are interested in working with Tuts Plus, the blog accepts well-written tutorials from readers and contributors.
Famous Quote: "When a client doesn't really know necessarily what is good design or what is not, it's much easier for them to trust someone that they've heard of because it effectively means they are trusting a group consensus. So, if you can figure out how to bill yourself as an expert of some variety, it can lead to more work."