Microsoft has been pushing its business solutions very hard the last couple of years to cover as many areas as possible while still keeping a user-friendly and easy-to-use aspect. Sometimes customers are only interested in parts of Dynamics, which explains why Microsoft went with the decision of dividing main areas into "Apps."
Let's say your company only needs Dynamics 365 to implement and automate its sales process. In the days before Dynamics 365, they had to purchase licenses for Dynamics CRM and leave the marketing and customer service modules untouched. Why waste money on products we won't use? With the introduction of Dynamics 365 Apps, you can purchase Dynamics 365 for Sales and it will fulfill all your requirements.
Microsoft will be releasing updates constantly to keep its platform up there with the competition. Thankfully, we have a small idea of what's currently in development for the next Dynamics 365 for Sales Business Edition update expected in July 2017.
Lead to Cash
If you worked with any version of Dynamics CRM before, you should be familiar with the out-of-the-box sales process. A lead is created and, if it's qualified, it creates a contact and an account and it's transformed into an opportunity. Once the opportunity is won, it goes on to create a quote, which itself will turn into an order and finally the invoice will be generated.
This update is supposedly here to make the process easier and more intuitive. There appears to be a more detailed business process that starts with the lead and allows the user to drive it to finally produce the invoice.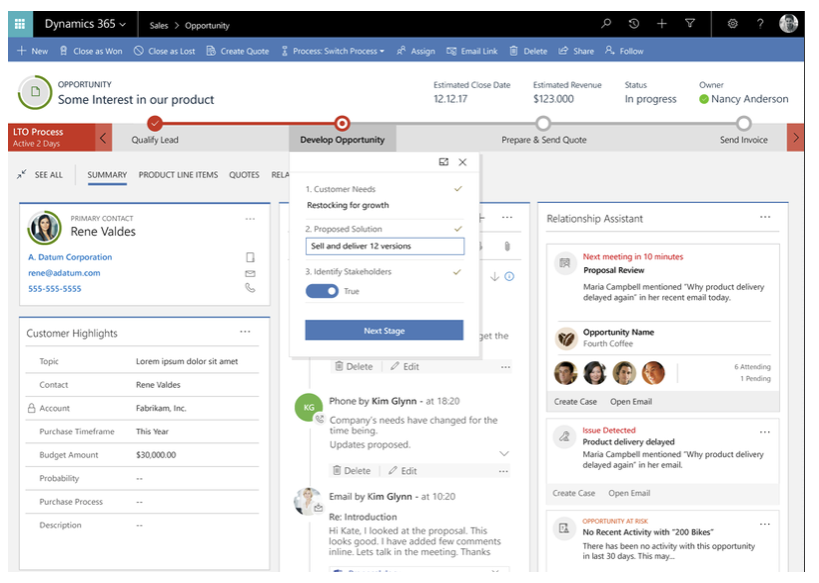 Connector to LinkedIn Lead Gen Forms
When Microsoft finalized the acquisition of LinkedIn in December 2016, we were all excited to see how this acquisition would benefit them. Well, the waiting time is over.
A lot of people nowadays seem to be using LinkedIn to generate leads for their businesses. Microsoft, now the parent company of LinkedIn, saw potential in integrating this with their business solution beast, Dynamics 365.
The connector to LinkedIn Lead Gen Forms allows you to effortlessly synchronize all the leads from your LinkedIn account to your Dynamics 365 organization. Your sales team will receive all of the leads and take the matters in their hands from this point.
This tool will have the following features:
It will support multiple LinkedIn accounts
Customizable lead creation and synchronization. As you are used to with Dynamics 365, there's always room for configuration to have the leads imported into your organization exactly the way you want them.
Analytics tools for leads coming from different sources. If you'd like to know which source of leads is working best for your business and if LinkedIn is one of your top sources, this tool will capture all the performance and give you a look at comparisons between LinkedIn and other Lead sources.

Quick Start Wizard
Back in the old days—well, not very old, just a couple of years ago—a Dynamics CRM installation and setup was a task that needed a lot of expertise, with more than one department involved and loads of configuration. Some of the time-consuming tasks were the email configuration and CRM integration with SharePoint for document management.
Not that they were impossible to complete, but they were not as straightforward as one would wish.
In order to make this a hassle-free experience, Microsoft is working on a Quick Start Wizard for Dynamics 365 for Sales Business Edition users to enable them to complete these tasks with ease.
With this Wizard, companies can:
Connect their organization to Exchange Online to manage emails sent, received, and tracked in their Dynamics 365 instance.
Connect to SharePoint Online to manage all their documents.
Import existing leads and contacts.
As the name implies, the Quick Start Wizard will help businesses get up and running with Dynamics 365. With the existence of Office 365, setting up email and SharePoint are now further simplified to be completed in a couple of clicks!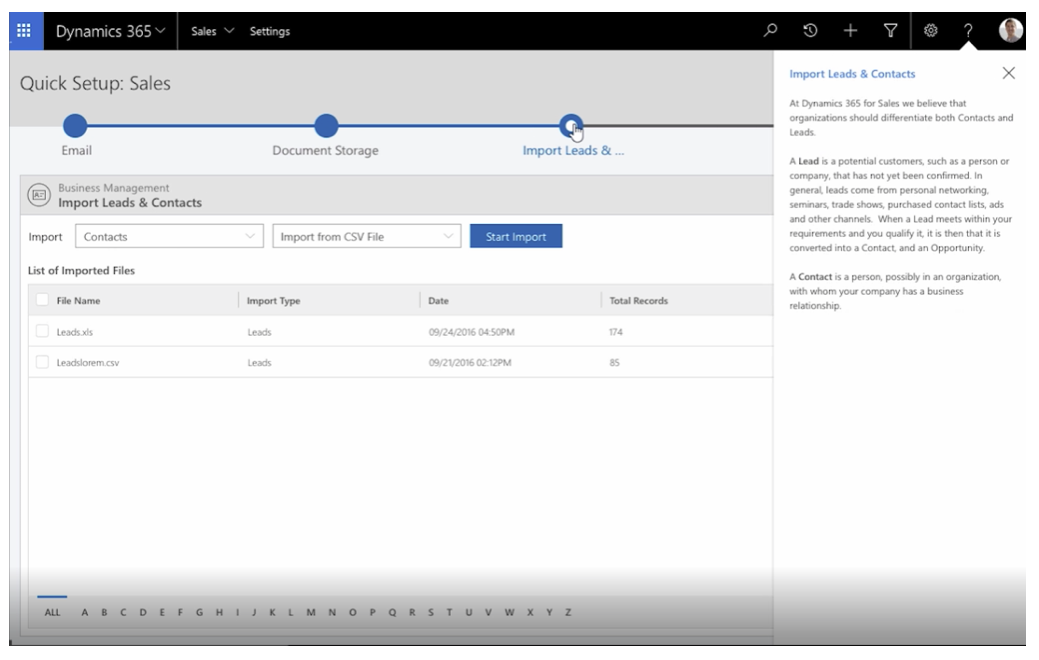 Conclusion
Microsoft has come a long way with its Dynamics family. It has been following the trends and even running ahead of them to give their users the newest and freshest technologies to make their lives easier and advance their businesses.
With these small updates, Dynamics 365 is becoming a complete product, which can fulfill any company's needs. In my opinion, Creating new useful features and improving already existing features where there is room for improvement is a guaranteed recipe for success, and Microsoft is nailing it.