Many organizations rely on email as a major form of communication with their customers. Emails should be responded to almost immediately, thus requiring an excellent customer relationship management software (CRM) to be installed. Microsoft Dynamics CRM allows incoming emails to be converted into cases for the customer service unit to work on.
Conversion of email to cases can be done either manually or automatically via workflow, custom code, and case creation rules.
It was created by CRM Developers to convert emails to cases automatically. However, this can be time consuming and expensive. It requires high technical expertise to create and maintain, involving the use of plug-ins and tweaks which frequently lead to performance and incompatibility issues on CRM. You can find many articles on this on the internet.
Automatic Case Creation Rule
This feature was newly introduced in Microsoft Dynamics 2013. It works by converting incoming emails into cases with workflow processes created running in the background. Workflow processes trigger case creation when specified rules and conditions are met.
Although automatic case creation rules are designed to meet Microsoft standards, it is quite restrictive in its functionalities and only applicable to case entity. With the release of CRM Online 2015 SP1 and CRM 2016 On-Premise, the feature was enhanced and extended to other entities. The name was then changed to Automatic Record Creation and Update Rule.
How does Email to Case Conversion works?
Steps:
Incoming email entered into CRM
The email is converted to a case
Auto reply is sent to sender/customer
Case enters the queue
Case assigned to a customer service agent
Notification is sent to customer service agent
Resolution of case
Notification is sent to customer upon case resolution
Creating an Automatic Case rule
Ensure that you have the security role and permissions to create a rule on CRM
1. Navigate to Settings-> Service Management->  Automatic Record Creation and Update Rule-> Add New, give it a name and set the queue then save.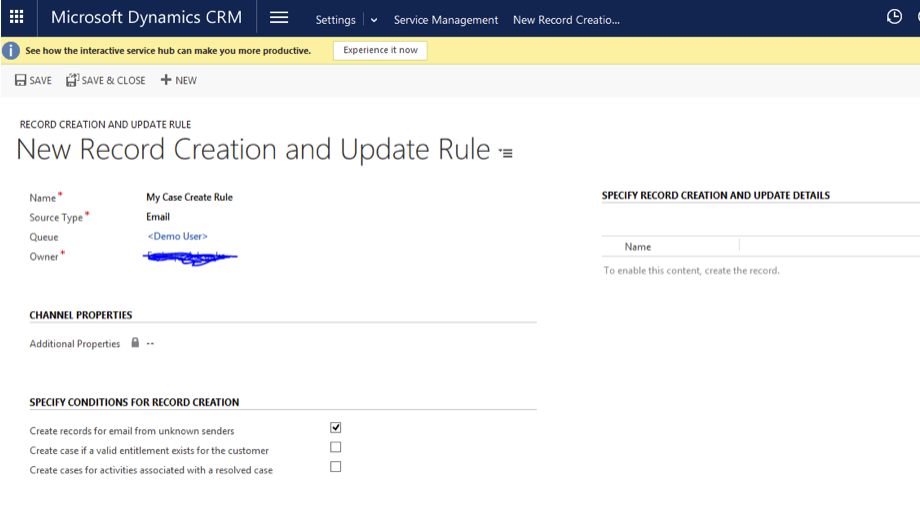 2. After saving, click on the + button on the right to specify the case creation rule and update item and conditions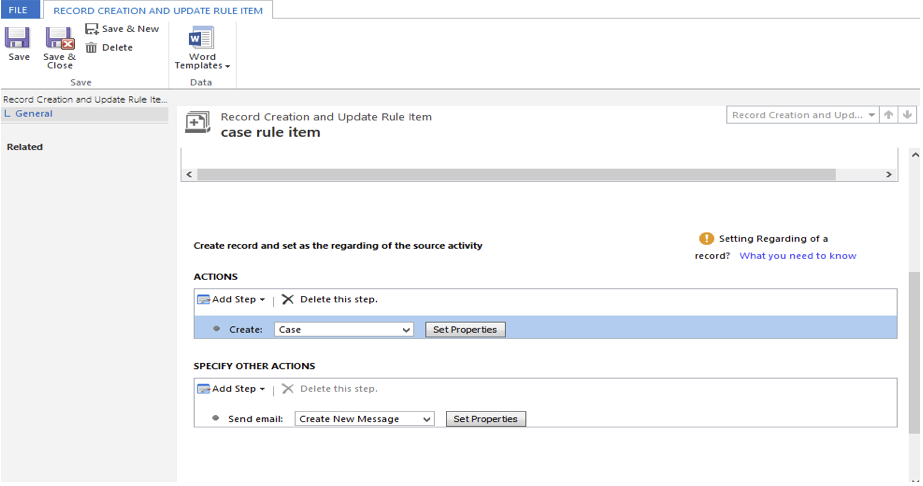 3. Set properties for "Create Case" as shown below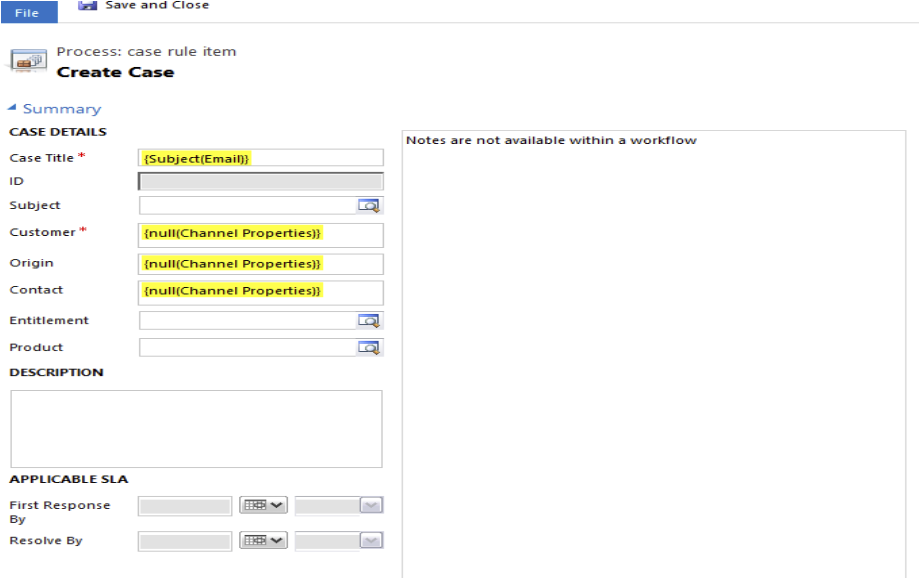 4. Set email property to send an email.
a) Set From field with the queue name to which case email will arrive.
b) Set To, Subject, CC fields as dynamic fields.
c) Leave Regarding field blank. It will be set automatically.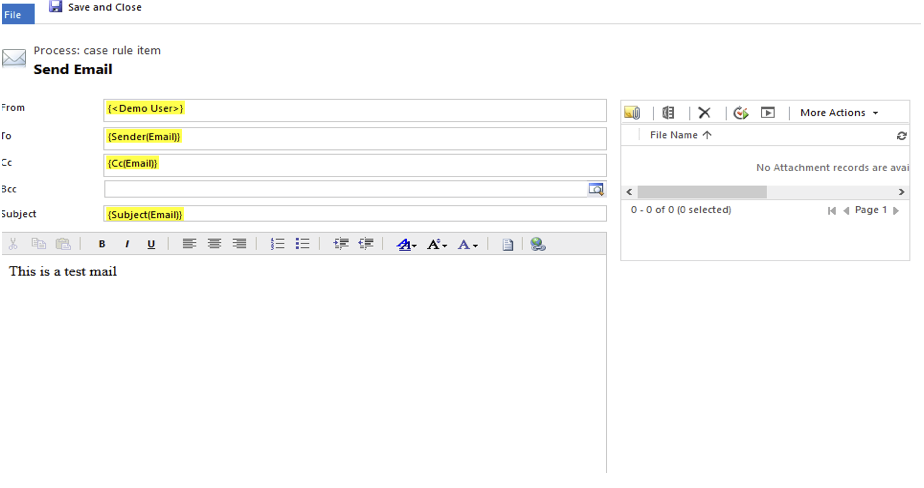 5. Activate your case create rule and test
Common challenges encountered during Email to Case Conversion
Email to case generating new cases from reply emails

Despite smart matching and email tracking options available, sometimes new cases are created when the subject of an existing email thread is changed. Sometimes when customers are replying to an email sent earlier, they edit the subject. So when the email comes into CRM, it is created as a new case. Due to this, cases are duplicated. (Smart matching is a correlation method that uses the existing properties contained in an email to relate email messages to activities.)

Handling emails received from unknown senders

In Dynamics CRM, when an email is received with an unknown sender, a new contact is automatically created and connected to the newly created case. In a scenario where bulk and spam emails are received, they are all converted to cases and contacts. This can be quite cumbersome with your CRM filled with unnecessary contacts.

Spam Emails filtering

Users can select a filtering option that determines what email messages will be tracked in Microsoft Dynamics CRM. However, if you don't have a method to filter spam emails from your email system, you may end up with meaningless cases created from spam emails.

Copy contents of email body to Case Description

Customer service agents typically like to see the contents of email in the case description as this makes their work easier while treating the case. This feature is not available by default and requires modification of the CRM to allow it.
Conclusion
Automatic conversion of emails eases the work of customer service agents, increases productivity, and removes the stress of manual conversion of emails into cases. However, despite massive improvement over the years, the email to case conversion feature on Dynamics CRM is yet to be perfected as many users still face issues with using it.
Consequently, many organizations use third party software and plug-ins to further enhance the functionality.
Nevertheless, nothing comes without a drawback. The integration of Dynamics CRM with external software and add-ons often leads to performance and compatibility issues. While automatic case creation feature is needed in customer service, Microsoft still has a great deal of work to do to make the conversion of emails to cases an awesome experience.