In today's market, it has become harder and more challenging for any size business to stay on top and grow. One of the challenges is that customers' behaviors and expectations have changed; they are shopping on their own and they are well aware of what you offer and what your competitors offer. When your customers contact you, they are already far through the sales process 1. You must be responsive and able to provide the best experience you can if you want to stand out from the crowd and close the deal.
Another challenge is empowering your staff. Most sales representatives find their position highly complex and spend more than half their time on non-selling tasks. If you want to be successful, you need to provide them with the right set of tools.

Most medium-sized businesses and enterprises understand that they cannot handle and manage their companies without solutions such as CRM – Customer Relationship Management. Small businesses were long ignored by this market because of the initial investment required by such a solution, but this is no longer true. For an affordable price, Dynamics 365 Sales puts all needed business applications in one place and you can customize them to fit your business needs.
CRM solutions are all about providing the best experience to your customers and empowering your employees. So, let's have a look at the main functionalities of Dynamics 365 For Sales that will help you improve your business.
Integrate Dynamics 365 Sales with Outlook
Most of us start the day by checking our emails. Let's say that you received one from a customer asking for information about a deal. Since Dynamics 365 Sales is integrated with Outlook and OWA, you can easily track this email and link it with an opportunity or account. Without leaving your mailbox, you can access the information about this deal, the actions taken and planned, the contact information, and so on. You increase your productivity by providing those CRM functionalities within your familiar inbox.
Track sales trends with your Dynamics 365 Sales Dashboard
Once the email housekeeping is done and it's time to manage your business, connect directly to the Dynamics 365 Sales web interface. With dashboards, you can easily look at the information you need to prioritize and organize your actions and time: open opportunities and leads, activities to come, your sales pipeline, opps at risk, and so on. The solution comes with predefined dashboards and views that let you display the information of your choice, or easily make your own that will fit your needs.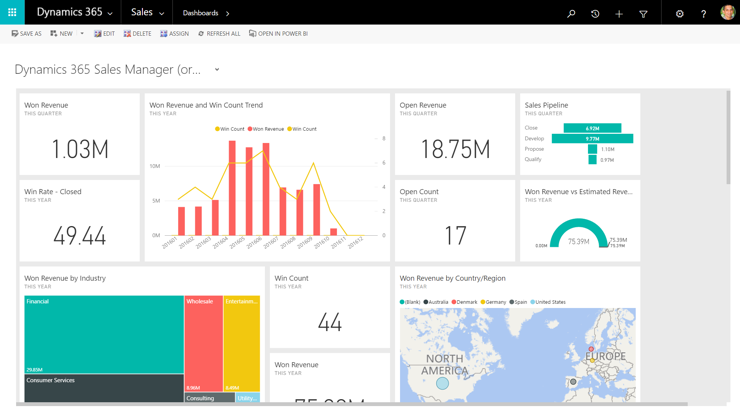 Increase End-User Adoption
A key part of the CRM project is having the end-user adopt it; unfortunately, this is often neglected, which jeopardizes the investment. With Dynamics 365 for Sales, your users will easily get onboard by using learning paths that demonstrate the product's functionality. It is customizable and it even lets you present your own business process. When you don't remember the meaning of a field or how to take action on the current page, you can find interactive help and documentation right where you are.
Exploit Dynamics 365 at his full potential with Office 365
With Outlook, you can create leads and opportunities from incoming emails and access dynamics information. You stay focused and reduce distractions by not switching between applications.

Easily collaborate with your peers by adding them and working together on shared resources. Take meeting notes with OneNote, share your ideas and attach it to the opportunity. With O365 group, you can even collaborate with colleagues who aren't using Dynamics 365 Sales.
Using Word, you can customize business templates such as sales quotes and orders, and populate them with customer information. This will save you a lot of time and give a professional look to your business documentation.
Check the presence of the stakeholders working on the same deal and instantly chat or give them a call with Skype.
SharePoint allows you to centrally store and sync document; you get all the advantages of a real document management system, and save on the dynamics storage quota.
Using Excel online inside Dynamics 365 Sales, you can view, modify information, and quickly import your business information.
Take Ownership of Your Data. Dynamics 365 Sales makes it possible to slice and dice it
When the time comes to convince your boss or customer that you should invest in a CRM solution, this is the part that speaks the most to business owners. Your data has a great value and Dynamics 365 for Sales makes it possible to slice and dice it, so you can understand what's going on, giving you the context to make smart decisions and grow your business.
Dashboards are great for day-to-day visualization, but when it's time to do deep data analysis, Power BI is the tool you want. There are embedded visualizations in Dynamics 365 for Sales that you can use to easily analyze your data. With Power BI desktop and online, you will be able to connect to almost any source, and have all data in one place to monitor your business and get answers quickly.

Manage your Sales on Dynamics 365 Sales for Phone
Many sales people start their day on a mobile device. Hence, you can open Dynamics 365 Sales App and let it immediately show you what is going on and what you should focus on.
For example, it reminds you of upcoming meetings, allows you to easily access the information related to it, including notes, attendees, and so on. You are getting reminders for opportunities and activities you have planned.
Can't take care of it right away? No problem, you can easily snooze it and continue to focus on what you are doing.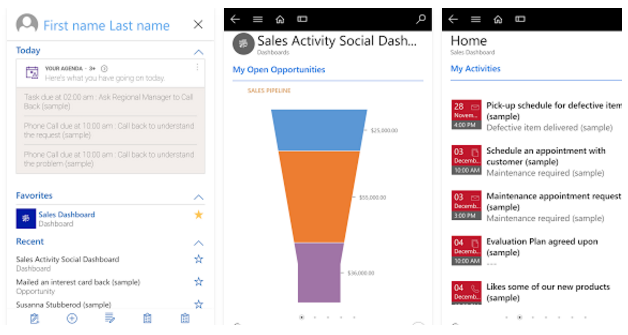 The application will keep the information in the cache memory of your device to allow you to access it offline when you don't have network accessibility.
Without going in too much detail, there are plenty of other features that can improve your business. Get actionable insights to help you prioritize leads, know the health of your relation with your prospect, and even get product recommendations based on what you have already sold them. You can provide a personal engagement using email intelligence from your email interactions, and so on.
Dynamics 365 Sales is a complete solution, fully customizable, handling business apps from CRM to ERP. This means that, as your business grows and more intelligence is required, you just have to add the app you need. By not adding standalone software, you will save money on licensing and reduce training costs, since your users are already familiar with it.