It's no secret that when you are on your first sales meeting with a prospect, you need to make a good first impression. For many years 'making a good first impression' meant wearing a suit, arriving on time and being polite. But nowadays, it starts with the internet. More precisely with your LinkedIn profile.
With 467 million users and 1.5 million groups, LinkedIn has become a real part of companies' strategy. If these numbers are not impressive enough, think of it this way: 42% of decision makers rely on LinkedIn for their company's purchases. So it's imperative that you're at the top of your game on this platform.
Why Do You Need a LinkedIn Profile?
The answer is simple: To make more sales.
Let's look at a concrete example of how having a good LinkedIn profile can help you. Say you want to get in touch with Coca Cola's CEO (James Quincey) and you have his email address. I challenge you to get a reply from him. Chances are, his secretary will screen your email and it will end-up in the trash folder.
Now, let's try another approach. Instead of having his email, you have a LinkedIn connection that is also in his network. By messaging him directly from the platform, there's a better chance that Mr. Quincey sees your message, since most people have the app on their phone.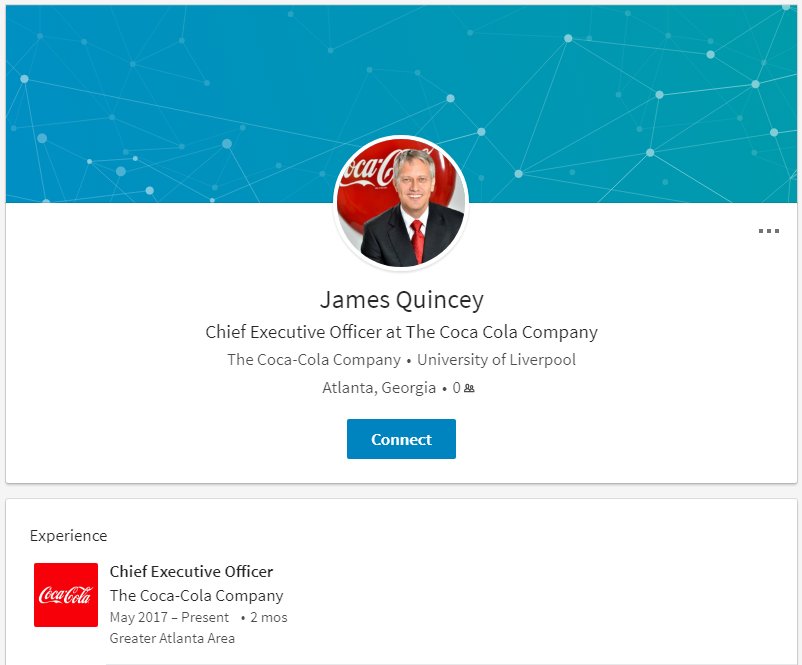 Having a well-crafted LinkedIn profile can lead your prospect to you, before you find them. This is why you should spend some time creating a standout profile.
To build a strong presence on LinkedIn you need to do two things:
Build Your Visibility
Grow Your Network
We'll go over each of the stages separately so you can understand how to make your personal brand work for your professional success.
Want to attract more clients? Add Office 365 to your product portfolio and start making more money! Download our FREE Office 365 Sales Guide!
How to Make Your LinkedIn Profile Stand Out
Build Your Visibility
Names and Alternatives
First things first, you need to be searchable. It doesn't matter how outstanding your profile is if no one can find you. You need to keep in mind that there is the possibility of people misspelling your name. If your name is relatively simple to spell, like Jon Snow, you might not have to enter many options, BUT you still need to add some possible alternates to the list.
To enter alternate names, go to the very bottom of your profile. Let's keep using the example of Jon Snow. He has previous work experience as steward for the Lord of Castle Black, which was so long ago that it is only visible if you click on See more positions in his experience section. Here, he could add:
Common misspelling of my name:
Jhon Snow, John Snow, Jonh Snow, Jon Snoh, Jhon Snoh, John Snoh, Jonh Snoh, Jon Snoe, Jhon Snoe, John Snoe, Jonh Snoe
One extra step that you can take is adding your nickname to your intro, inside brackets.
Let's say that Jon Snow is commonly known as "The White Wolf" than his name on LinkedIn could look like this:

Profile Picture
This can be a no-brainer for many but it's definitely worth mentioning: Avoid pictures that are not professional. If you have a favourite picture of yourself, but someone's arm is over your shoulders, choose another. If your company has photo guidelines or an established style that makes it recognizable, stick to it.
Having a professional photo on your profile will get you 21 times more profile views and 36 times more messages.
Profile Headline
Your headline is as important as your name and picture, as it helps anyone looking at your profile to quickly differentiate you from your competitors.
You need to show your prospects why they should take the time to check out your profile more closely. They might not be using the search bar often, but they will see your headline, as well as your name and picture, when you post on the platform.
Here's an example of a clear and punchy profile headline for a salesperson working at SherWeb:
Account Manager at SherWeb: Helping IT Professionals Expand Their Business | Microsoft Partner | CSP Program
This headline states what the person's role is, and explains how they can help. The last two bits of information are keywords linked to the different programs that this account manager works with.
Location & Industry
These features on your profile may seem uninteresting or even pointless, but they carry a greater importance than most think.
Let's look at the location first. Choosing a country and a ZIP code will lead some prospects to find you more easily when using the localization filter. Make sure that you enter a code that matches the area you're targeting.
Next, the industry selection. We tend to work in general departments (marketing, sales, support, finance, etc.) for companies that work in specific industries (retail, manufacturing, IT, legal, etc.). You can only choose one to put on your profile, so if you work in the sales department of an IT company, which should you choose?
You should opt for the vertical, in this case IT, as it will increase the chances of your profile appearing for your targeted market.
Contact Information
Now that we have covered the basic principles of setting up a profile, let's look at how you want to get contacted by your prospects.
Your connections have access to your email, Instant Messenger, phone, and address. For the email, make sure that it's your professional, not your personal, email address. The same goes for Instant Messenger; add your professional Skype Account or any other means that you use for work. Lastly, use your work phone number and address.
Custom URL
If the aim of the game is findability, you need to hold as many cards in your hand as possible. By changing your personal URL, you'll increase your chances of being found through LinkedIn and through search engines like Google. Here's how to change it:
Click the Me icon at the top of your LinkedIn homepage.
Click View profile.
On the right-hand side of your profile page, click Edit your public profile.
Under the section Edit public profile URL in the right rail, click the Edit icon next to your public profile URL.

It'll be an address that looks like http://www.linkedin.com/in/yourname.

Type the last part of your new custom URL in the text box.
Click Save.
Remember that your URL must have 5 to 30 characters (letters and numbers only).
Summary
Now that we've covered what you need to do to get closer to an All-Star profile, let's push on a little further to get you across the finish line. What do you want to accomplish with your summary? Many people leave their summary blank because they have no idea what to write.
If you're struggling to work out what to put in yours, check out one of the many templates that exist to help you write one. We would recommend one of the 4 proposed by HubSpot.
The key is finding a way to grab the reader's attention in the first couple of sentences. Whether it's by showing that you understand the common pain points of your prospect's market, or by summarizing one of your best success stories.
If it seems pertinent, you can also put a link to a YouTube video in your summary. It will increase engagement with your profile, and might even kick start a conversation with a potential prospect.
Grow your Network
Once your profile is completed, building a network is the next logical step. Since 50% of LinkedIn members are more likely to buy from a company they engage with on the platform, it's critical to use your profile to your advantage.
Find New Connections
The first thing to do to grow your network is simple: Add the right people as connections. There are a few ways to do this.
Make the Most Out of Your Customers
Go to the profile of your best customers. On the side, there's a section called People Also Viewed. This is a list of people with similar profiles, so scroll through this list and add as many people that fit your target audience.
Another way to get indirect help from your customer is to go to the section All activity, when you click on See all activity. Scroll down the feed to see who is engaging with them by liking and commenting on their posts, and then add them to your own network.
You can also scroll down to the Skills & Endorsement section. This is where you'll find comments from people that have previously worked with your customer in some way, and who usually have a similar background or business interests.
Use Your Competitors
Have a look at the profiles of your competitors' sales team. While you may not get lucky every time, you can search their contact list and add the most interesting customers to your network.
Use Google
This last tip of ways to find new connections will lead you out of LinkedIn, but might help you widen your search for prospects.
Go in the search bar on Google.com
Enter: site:linkedin.com/in
Add a space and enter the term you're looking for in quotation marks
This simple method will only display LinkedIn profiles that have the keyword you're looking for. Granted, this might not always end-up with a new connection due to some restrictions, but it should give you a good number of contacts to build a solid network of connections.
Join Groups
Joining groups that directly target your market is a strong step in building your personal brand. To join the right groups, go to your competitors' profiles and take a look at their interest section. Click on See all and go to the Groups tab. You'll see which groups they are part of and then you'll be able to join them yourself.
By joining in groups, you'll be notified when someone posts any comments, queries or interesting news. This will allow you to get involved in all the right conversations.
Engage with Your Contacts
Once you have started to build a healthy contact list on LinkedIn, you need to make the most of it by engaging with people. The simplest way of doing this is by commenting on their posts and sharing their content.
When your prospects share articles, find useful ways to start up a conversation on the same, or a similar, subject. Don't make a sales pitch, even if your product is the solution to a problem they are raising. Instead, give genuine advice and maybe link to another article that gives more context on or insight to what they shared.
One feature that is barely ever used on LinkedIn but can be useful, is posting a status at least once a week. We aren't suggesting you share what you had for breakfast or spam people about your products, but you can use it as a platform to mention corporate events you're attending or sharing an article that is relevant to your audience.
Do you have any tricks to share? Let us know in the comments below!
Want to know more about SherWeb's Partner First initiative? Visit our Partner page and request our Partner Infokit now.