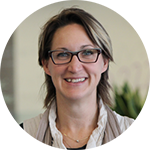 International Women's Day: Move Over, IT Guys. There Are Women At Work
Is IT a man's world? Better not say that around Tania Gobeil. For the last 15 years, this programmer analyst has been de-programming this gender stereotype.
So with March 8 being International Women's Day, we thought we'd honor women everywhere who have managed to not only break into—but excel—in a predominantly male field.
We recently sat down with our very own Tania Gobeil, who was recently promoted to the position of Functional and Business Analyst Manager to find out what it's like being the only female on SherWeb's development team.
If you're a female thinking of entering IT, you'll want to read this. And if you're a male working with female colleagues in a mostly-male field, you need to read this.
RS: Why did you decide to enter the field of IT?
TG: We had a computer in our home for as long as I can remember and I was always fascinated by the simple act of typing commands and seeing the computer react. I especially wanted to learn how to make programs. I took a computer science class in high school and fell in love with programming. I chose IT mostly because of my interest, combined with the fact that IT was in full bloom and I was sure to never be out of work!
RS: What's it like working in a predominantly male field?
TG: I've been working in this field for so long that I don't know what it would be like to NOT work with men! For sure, being a minority singles you out by default and although I rarely think about it, most people will comment on my being "the only girl on the Dev Team".
The hardest part is getting team members to look past the fact that you're a woman and consider your skills and abilities as they would any other colleague. I don't think men have to work as hard to be recognized. But once you move past that and become accepted, working with men is really great – they are generally very direct, honest and results oriented. Those are qualities I appreciate in colleagues. But I don't really see myself as a woman in a man's world. I'm just another member of the dev team.
RS: IT has changed a lot since you first entered in 1998. Are there still a lot of gender stereotypes you have to deal with?
TG: I think there are two main competing stereotypes: Either there are NO women in IT, or the few women are like IT guys: introverted and geeky, computer-obsessed people with glasses.
RS: Yikes. Moving on… Why do you think there aren't more women in your line of work?
TG: I think the computer-obsessed stereotype creates a barrier for those who aren't quite that "passionate" about computers; they won't consider it as a job opportunity. I also think young girls aren't encouraged enough to explore the field of computers and programming as a hobby either, for the same reasons they aren't encouraged to fix their own cars when something breaks down. But education aside, I think there isn't enough publicity about the kind of jobs in IT where women can stand out. There is a whole variety of jobs but most people associate IT with programming.
RS: What advice would you give to other women considering entering IT?
TG: As in every single gender field, you have to expect to be in the spotlight, with all the good and bad that comes with it. Don't expect to be treated like one of the guys without a certain probation period.
IT is constantly evolving—you have to be willing to constantly learn new things and keep your knowledge up to date. Reading newsletters and blogs on technology is a great way to keep a pulse on the industry and know when your skills need refining.
RS: Any other interesting facts for readers—and particularly women thinking about entering IT?
TG: There's definitely room for a female touch in software development. Women are known for their people skills and behind every computer is a person using it! Our success in this field lies not in trying to conform to the male standard but in making the field evolve to meet OUR standards.
For instance, the emerging field of UX seeks to bridge the gap between rational, functional software and software that people actually enjoy using. I think this is definitely an area where women can stand out and bring the field to a whole new level.
Looking to work in the challenging and fast-paced field of business cloud computing? SherWeb is looking for talented individuals to join our growing team.