Inventory closing is necessary so your business can calculate the correct costs and prices of inventory. As a default, all inventory transactions are in the average cost, so it is critical to be done before you process financial closing. As the different areas go through their month-end close, you need to make sure that it's followed closely. And when they're done with their month-end assignments, you get that period closed to the accounting group only.
Dynamics 365 For Finance and Operation offers some tools to help you close out inventory every period. So, in this article, I will show you how to set up the parameters for inventory closing, process an inventory closing, review some of the manual adjustments, and, finally, how to recalculate inventory when needed.
1. Inventory Close Setup Parameters
In Microsoft Dynamics 365 for Operations. We're going into:
Inventory management > Setup > Inventory and warehouse parameters.
Under Inventory accounting, the setups that we want to look at are your closing setups.

Batch helpers or threads can be set up to help an inventory close process more efficiently.
Extra batch helpers allow you to assign the number of extra batch helpers.
A helper batch group: If you have one set up, you can assign it here.
Number of items per bundle: As you can see, I have set up eight batch helpers. No batch groups. But the number of items per bundle is 40.
The number of helpers will be leveraged, depending upon the availability of batch threads in your environment.
2. Inventory Close Process
For example, when the sales orders are completed, you need to make sure that the people doing sales orders can no longer get into the sales order area for inventory transactions. The same goes for purchase orders, production orders, and any of the various areas where inventory transactions are done; group by group, go through and close that group off from accounting.
Once everybody is closed out, other than the accounting group, you can go into periodic tasks and do the inventory closing and adjustments.
1. Close Down the Period
An important part of the inventory close process is the ability to stop people from posting to the inventory while you are trying to get everything reconciled and adjusted and closed.
To do this, we're going to go to:
The general ledger > Period close > Ledger calendars.
From this point, you should choose the fiscal year that you are closing and the period that you are closing; then you can choose by a legal entity which module that you want to close down.

I want all the sales orders that have been invoiced, so I will close the sales orders down from all to none. Once I make this selection and save it, people will no longer be able to adjust any sales orders. They'll get a warning notice, and they will be stopped from making any adjustment.
Now, if something happens and you need to open this up again, you can always come back in and change it back to all. So, this is the spot where you have total control.
2. Periodic Tasks
I break periodic tasks down into the following three tasks:
Check the open quantities.
Check for cost prices.
Inventory close.
Let's go through the steps:
a) Checking open balances.
We need to go to:
Inventory management > Periodic tasks > Closing and adjustment
Under the Close procedure > Open quantities.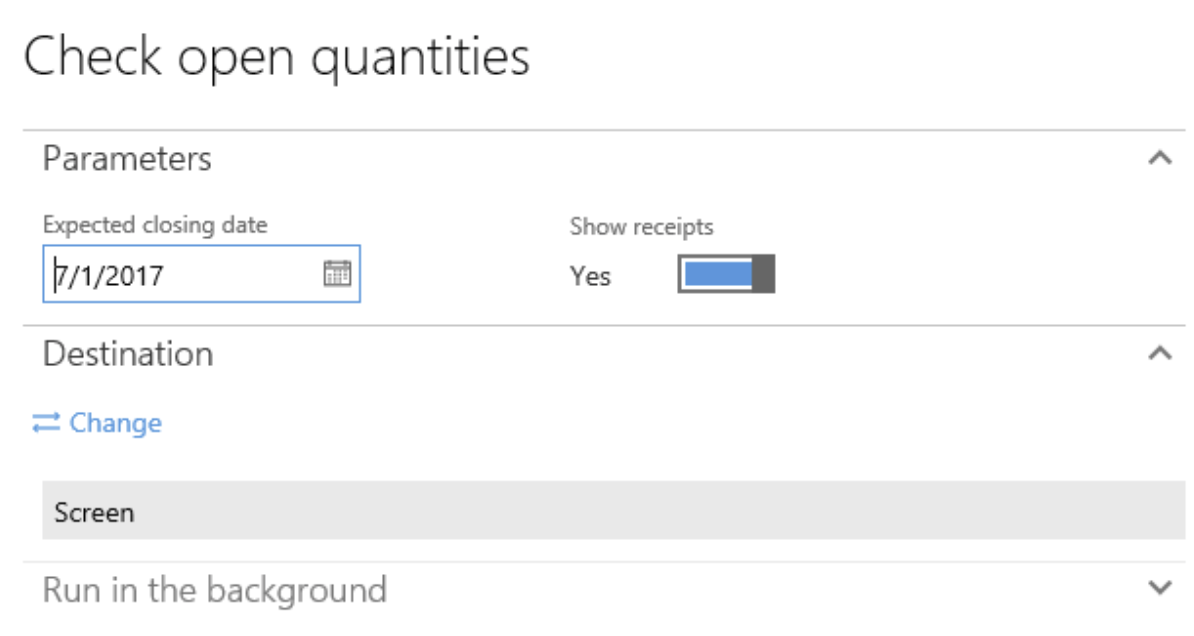 This will bring us to a parameter screen where we can set the expected closing date and run a report that will check for potential open quantities that could be a problem when you are doing your inventory close. There are appropriate reasons why you would have open quantities on this report. But you want to check out the transactions that show up on this report to make sure that they do not cause problems with your inventory close.
If the open quantity report came up with no transactions then you can process further.
b) Check for cost prices.
The second thing that we want to do before we are ready to close the inventory is to check the cost prices. This is on the same path. 
Inventory management > Periodic tasks > Closing and adjustment
Under the Close procedure > Check cost prices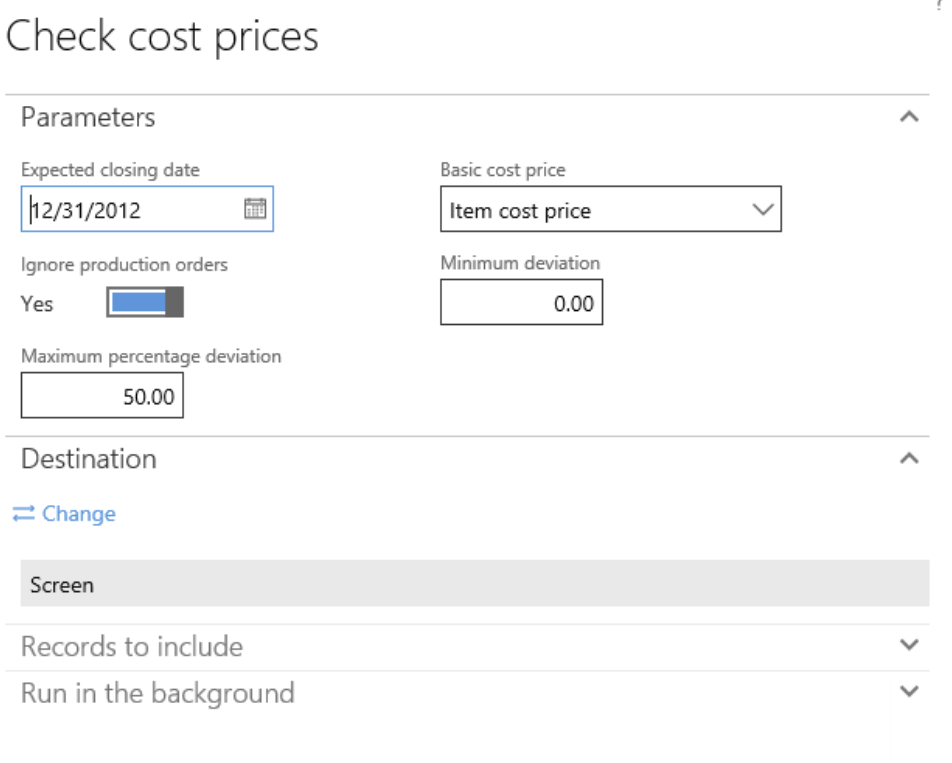 This brings up a parameter screen that allows us to select our expected closing date. We can choose to run the report with a basic cost price of item cost price then choose the item cost price and run my report.
It is very important, when working with costs, to set up the cost price as soon as you have the item set up because, once you're doing transactions with that item, you immediately cause problems. The cost must be set up before the first transaction is executed. This will show some of the other deviations also.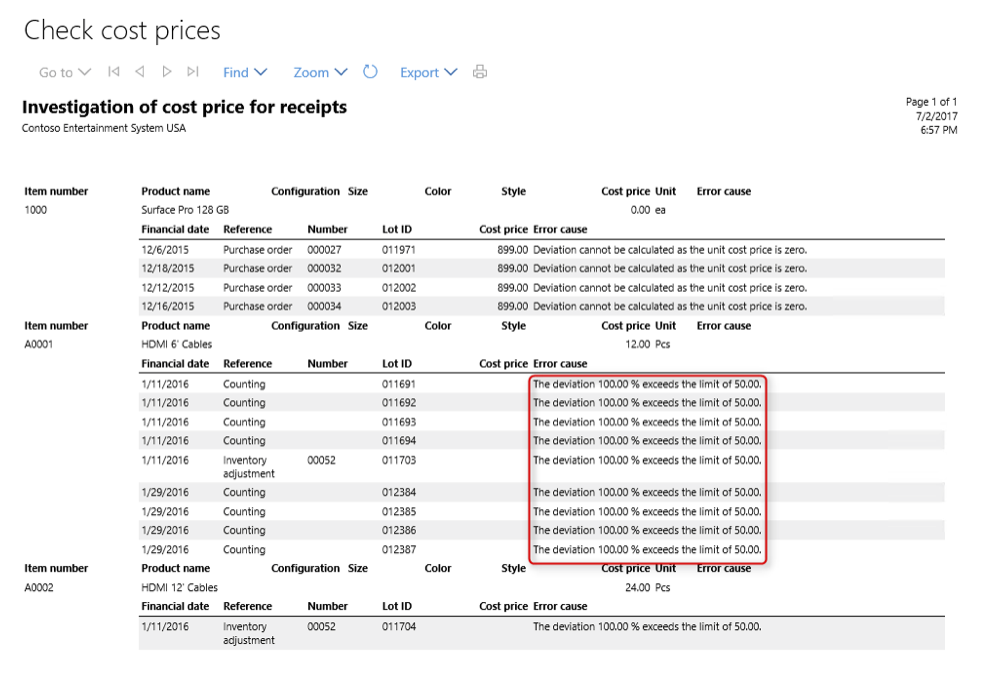 We see that these transactions have a 100% deviation. There's no cost price here. The cost price was not set up in a timely fashion, so this is causing us a problem because now we have an item that was set up with no cost. So, as you can see, going through this cost report is going to allow you the time to get things fixed before you do your inventory close to make sure that your costs are accurate.
c) Inventory closing
There's also the assumption that you're going to do the actual physical counts and physical adjustments before you do your inventory close. Once you have made all of your inventory adjustments, you can prepare to do your inventory close.
We will go into:
Inventory management > Periodic tasks > Closing and adjustment
Under the Close procedure > Close inventory
I usually do the close inventory up to a particular date. You can also do it by a period code.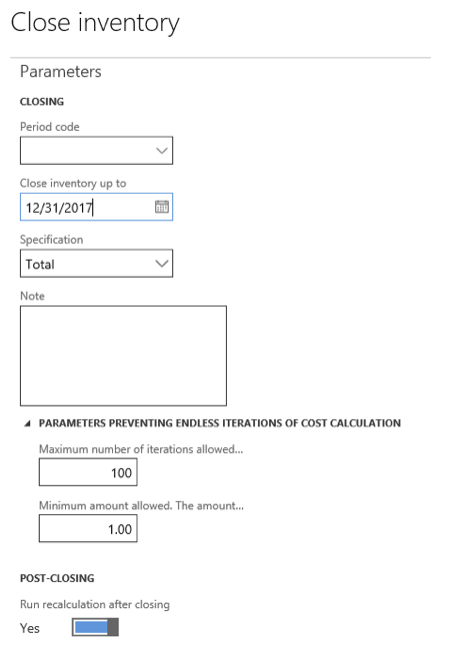 When you're doing an inventory close, you can do it by a specific number, item group, or total. I recommend doing the inventory close in total. I also recommend running your recalculation immediately after the close. Those are the selections we've made and we're now going to process our inventory close.
Once it's finished running, the inventory close will show up as of the posting date that we selected and executed on our current date. The recalculation will recalculate as of the current date. You can go up to the "Adjustments" report to see exactly what was adjusted and you can also go into details to validate what settlements there are.

In Part 2, I will help you out with manual inventory adjustment, and inventory recalculation.