In the first part, I showed you how to set up the parameters for inventory closing and processing an inventory closing. In this article, we will review some of the manual adjustments and how to recalculate inventory when needed.
1. Manual Inventory Adjustments
You can make inventory adjustments after Inventory closing on the on-hand inventory and by the transaction, but you should do everything possible to make the adjustment to inventory cost before processing an inventory closing at the source.
1.1. On-Hand Inventory
For cost price adjustments of on-hand inventory, we should make adjustments via the same method by which the error was made.
So, if there was a purchase order that was entered wrong, you should correct it via the purchase order.
There are instances, especially in production reporting, when the costs are not checked before ending the production order and it has a very bad cost price on it, so it needs to be corrected. At that point, there's only one way to fix it: Make the adjustment via your manual adjustment after your inventory close.
In order to manually adjust on hand inventory after closing inventory, go to:
Inventory management > Periodic tasks > Closing and adjustment

Choose the last closing date, go up to "Adjustment," and "On-hand" should be available.

Select site and warehouse, and then you run the report.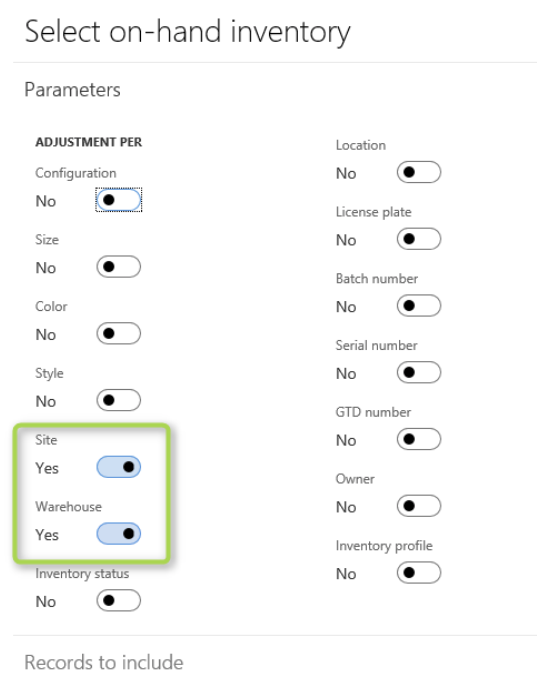 This reminds us that items set to be evaluated by the inventory models of the type transaction not settled cannot be on-hand adjusted and will not appear on this report. From here, you can make adjustments to any items.
Once that is done, you can post and it will be processed. Once the adjustment is complete, you will see the type on hand with the current date as the executed date and it is executed against the last closing date.
1.2. Transaction Adjustments
The other adjustment that we can make is the transaction adjustments. This adjustment is found in the same place.
Transaction adjustments can only be made against the close and they will adjust already settled inventory. We need to select the recalculation to make an adjustment against, and on-hand, inventory does not appear.

We can make an adjustment against the transactions.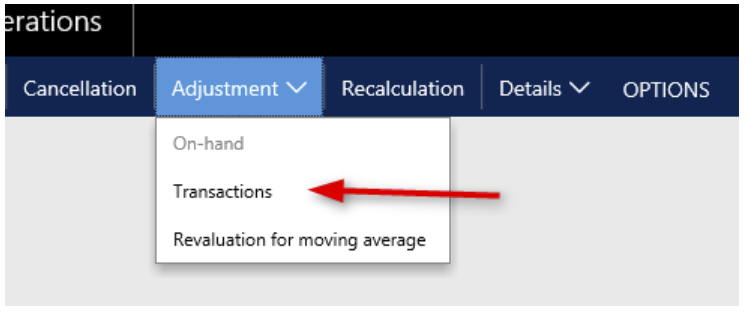 Once again, we need to choose select button, and we can choose the status of any transaction types, make an adjustment as we want, and post it. This will allow you to choose the parameters (posting date, item number, and update ledger). Just make sure that the ledger stays in balance.  From now we have another adjustment that was done as of the current day and that was against our postings.
1.3. View Inventory Adjustments
When doing either a manual on-hand adjustment or a manual transaction inventory adjustment, it's important to know that you will not be able to see the adjustment in the transaction details.
Product information management > Released products.
Then choose item that you have to adjust; at the menu item, go to
Manage inventory > transaction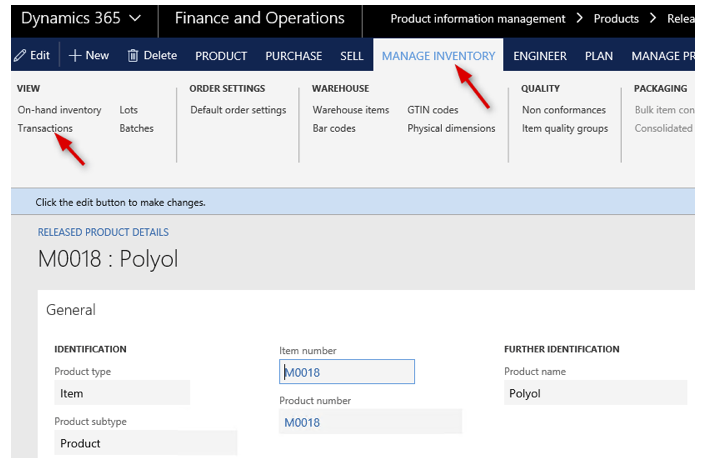 From this screen, you can see cost price after adjustment.

If you want to see it in detail, you need to go into
transaction details > inventory > settlements.

2. Inventory Recalculation
To do a recalculation, we will check the current inventory costs. This can be easily done at any point in the month, especially for mid-month reports. We can run the recalculation by total, by item group, or by item. Inventory can be recalculated once per day. You can recalculate inventory at inventory management, periodic tasks, closing and adjustment, recalculation.
Inventory management > Periodic tasks > Closing and adjustment
Click on "Recalculation"; you can do it for a period or on the inventory up to a specific date
It has filled in an adjustments report, and it shows us many items that were recalculated and the adjustments that are applied to them. Another way you can look at it is by going into details, settlements. Then you will see all the different settlements that fall against that item number in the recalculation process. The recalculation is just a temporary process until a final close is done.
Note:

When you do an inventory close, you need to cancel any recalculations that were done after your inventory close date and before the actual date on which you're performing the close.

So, to clarify that and say it a little differently, if your inventory closes on, say, January 31 but you're actually performing the close process on the 10th, if you've been doing daily reconciliations, you need to cancel those reconciliations back to the 31st so that you can close your inventory. And if you need to have a daily recalculation, you can re-perform your recalculations after the inventory close is complete.
Conclusion
We went through the importance of batch helpers or threads in efficiently closing monthly inventory. We went into the calendar and closed down the period by groups in order to control postings from being made into the period by accident.
For the most successful cost calculations during inventory close, we want to review and correct as many issues as possible from the open quantity check and the cost price check reports before the inventory close. The inventory close itself is an easy part on our side. We also review how to manually adjust inventory by the total on-hand quantity and by individual transaction.