Today, business increasingly relies on mobile technology. The next generation in enterprise mobility will be about driving a seamless, integrated mobile experience – giving employees, customers, and partners the ability to pick up any device and have instant access to all of the data, tools, interfaces, and controls they want. But they need to be able to do this without compromising data security and integrity.
Enterprise mobile computing lets us tackle nearly any work-related task from our phones.
Mobile apps for business tasks have lagged behind. Those apps that do exist have not always been as comprehensive or accessible as desktop solutions. Microsoft saw this issue and presented a remedy: Microsoft PowerApps, which is part of Microsoft Dynamics 365.
What kind of mobility will you obtain with Dynamics 365 and PowerApps?
Dynamics 365 is the cloud-bundled version of its CRM and ERP solutions. The benefit of the PowerApps integration into Dynamics 365 is that users can customize and share apps that enable them to do their jobs better.
However, if you are looking to build just a simple focused business mobile app, PowerApps are a good option. In addition, Dynamics and PowerApps are not mutually exclusive, since Dynamics can be a data source for a PowerApp.


PowerApps also offer a great home when there are needs for mashup experiences where CRM and other systems come in one app.
If you want full Dynamics functionality on a mobile device, the best choice is probably going to be Dynamics 365 mobile apps.
If you want a more limited focus mobile app that includes Dynamics data and also data and functionality from other sources, PowerApps may be a better choice.
Essentially, it's a simple way for the average person to create the apps they specifically need, while leveraging the rich and diverse data sets that are provided with the Dynamics 365 Business and Enterprise Editions.
Developers and other employees alike can quickly create the apps they need with data they already have, whether it is on-premises or cloud-based. PowerApps not only makes it possible, but they make it's easy to create the apps you need in just a few minutes.
It doesn't matter whether you use an Android, an Apple device, or a Windows phone or tablet. You can use an app designed with PowerApps on all three platforms.
Do you know what it is like using PowerApps?
PowerApps is built for deployment on mobile devices first. Microsoft PowerApps enables users to create applications for Windows, iOS, and Android mobile devices. Using these apps, you can create connections to common SaaS services, including Twitter, Excel, Office 365, Dropbox, and even Salesforce.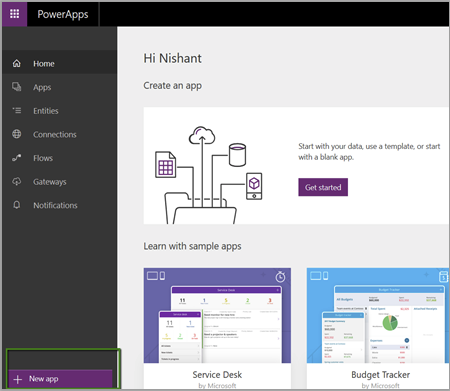 This approach represents a sea change in how software development firms see apps. Previously, they designed apps for on-premise deployment. Mobile devices were an afterthought, at best.
There are detailed tutorials available on the Microsoft PowerApps site.
For new Dynamics 365 users, PowerApps will appear within the app menu of Office 365. Upon logging in for the first time, users will be met with a couple of things. In the bottom left corner of the screen, there is a "New App" button.
Click this button, then choose one of the two options that appear: PowerApps Studio for Windows or PowerApps Studio for Web. If you aren't running Windows 8 or 10, you'll want to choose the web version.
If you've chosen PowerApps for Windows, click "Get" when the page appears, then click "Launch" after PowerApps has downloaded.
If you've chosen the web version, you can skip that step. On the "New" tab, choose to either start with your data, or start with a blank canvas or template.
The page that appears will allow you to design the app; you'll choose what order you want data to appear in, whether or not to include images, and more.


After designing the app, you can share it with any individuals you want. You don't need to know a single bit of code in order to create an app in the PowerApps interface. Creating apps is so fast and simple, the only skill necessary is the ability to drag and drop.