In June 2011, Microsoft released what would become an insanely popular productivity suite – Office 365 – with more than 60 million people around the world using it at work every day.
How did Microsoft achieve such success with this product? They tailored different offerings for different markets. They provided solutions in detail tailored to all sizes of business ventures. But as for most things, the more choices you have, the harder it is to choose the right one.
What you've been calling "Office 365 Plans" are, in fact, service families.
Office 365 offers several service families and plans for organizations, which can become overwhelming to make a choice. However, looking at the choices carefully, it's pretty easy to boil it down to one or two options. With one or two options, it is easier to make a thorough comparison and then to choose the best for your needs.
In reality, Microsoft offers the following Service Families:
Business
Enterprise
Education
Government
Non-Profit
In addition to these, there are a couple of specialized service families offered for China and Germany. These exist to cater to the very specific and strict regulations that govern some of the organizations operating in those countries.
Education and Government service families are usually clear candidates for Education and Government organizations respectively and it only comes down to choosing a plan within those service families, which is relatively a simpler challenge. The same logic applies to Non-Profit, which can only be subscribed to by a Non-Profit organization, such as a charity.
Standalone services can be subscribed to individually or can be chosen as add-ons to a plan, such as Business Essentials, etc.
Business vs. Enterprise
The Business Service Family is intended for Small- to Medium-sized Businesses (SMBs), whereas the Enterprise Service Family is intended for large organizations.
The choice of a service family is important as it determines the maximum number of users (seats) you are allowed with your subscription. The Business Service Family allows for a maximum of 300 users, whereas the Enterprise plan allows for an unlimited number of users.
If you are planning to use your Office 365 platform for more than 300 users, then, by default, you would have to choose the Enterprise Service Family. You might consider having 300 of your users on a plan that falls within the Business Service Family and the rest on the Enterprise Service Family plan. However, this means that your users will have varying sets of features/functionality and you would have to carefully manage users and assign them the right license for the features they require. Most organizations simply choose one service family and mix and match the plans available within that specific service family to achieve cost efficiency.
Business Plans
The following plans are available in the Business Service Family. Figure 1 shows the various Services and Applications available within the Office 365 Business Service Family plans.
Business Essentials
Business
Business Premium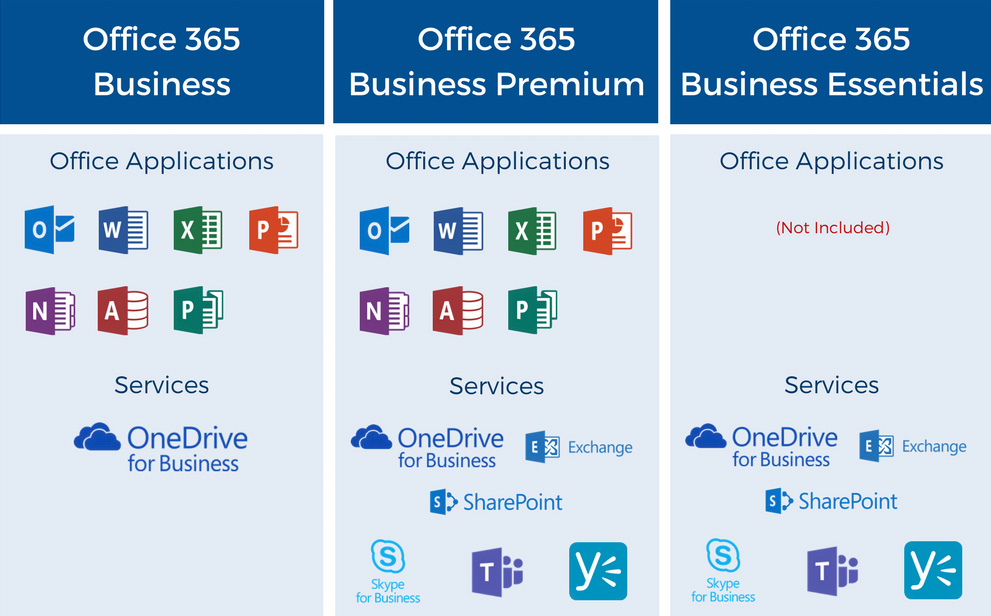 You can use the following 'decision tree' to decide which plan you would like for your users. Remember, you can mix and match plans, e.g. you can have 100 users on Business Essentials and 100 on Business Premium if you so choose.
Enterprise Plans
The following plans are available in the Enterprise Service Family.
Office 365 ProPlus
Enterprise E1
Enterprise E3
Enterprise E5
Enterprise K1

Note that in Enterprise E1, online versions of the Office Applications are available, but fully installed Desktop applications are not available.
Once again, you can use the following decision tree to decide which plan you would like for your users. Remember, you can mix and match plans just as with the Business plan.
The Enterprise K1 plan, also referred to as a Kiosk plan, is typically used for employees without a desk, such as shift workers or retail staff. The purpose of this plan is to improve collaboration and communication amongst these staff members. You will find that the K1 plan is the cheapest plan amongst the Enterprise Service Family and is limited in terms of functionality.
The Enterprise E3 plan provides one of the most comprehensive set of tools and also includes fully installed versions of the Office Desktop Applications. Only the E5 license trumps the E3 and the features that the E5 offers are typically required by a small subset of the users in an Organization; albeit I have heard of organizations that have chosen E5 for all of their users.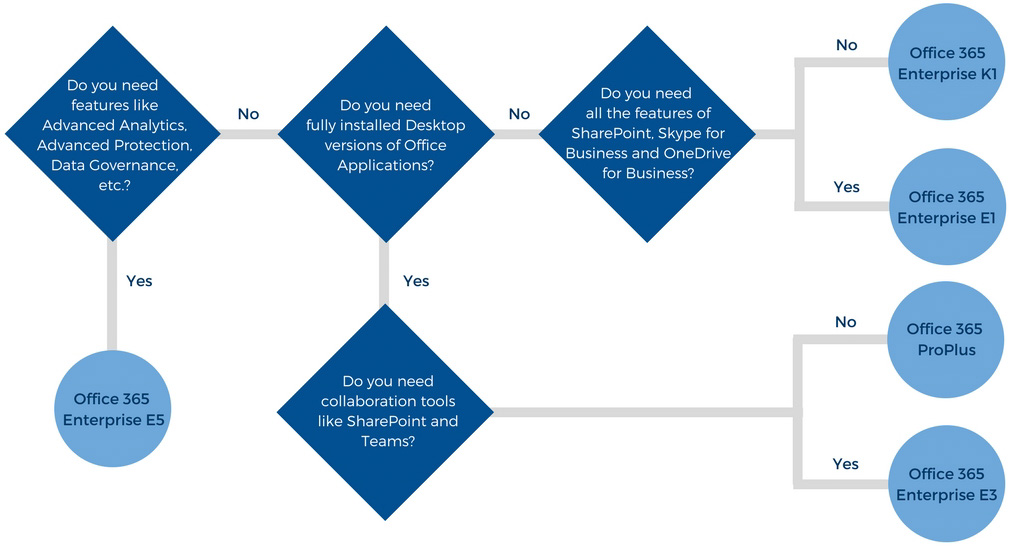 Reviewing your O365 Plans
As part of your Governance plan (Yes, you should have a Governance plan for your Office 365 platform!), make it a point to review your licenses at fixed intervals, 6 months for example, so that you can ensure the users are licensed correctly with the right level of licensing.
Find the right fit for you and your business
Office 365 Service Families and Plans might seem overwhelming at first. However, when you break them down into logical sections and use a simple decision tree to decide on the features required for the various users, you can easily work out the type of plan you need for your various users. Remember that you can only have a maximum of 300 users within the O365 Business Service Family plans. Also, you can mix and match plans for your users so that you are maximizing cost efficiency. The Enterprise E3 plan is the most popular Office 365 plan.