Hey you, Mac user! Yes, I'm talking to you! You've been working on your beloved Mac for years now. You even became a regular Office 365 user. You like it; you benefit from all of its possibilities and your business is even more efficient because of it. Can't beat that, right? Well, Microsoft just released the brand new Office 2016 for Mac!
Let's look at the top 10 reasons why you should upgrade from Office 2013 to 2016 now.
1. The Ribbon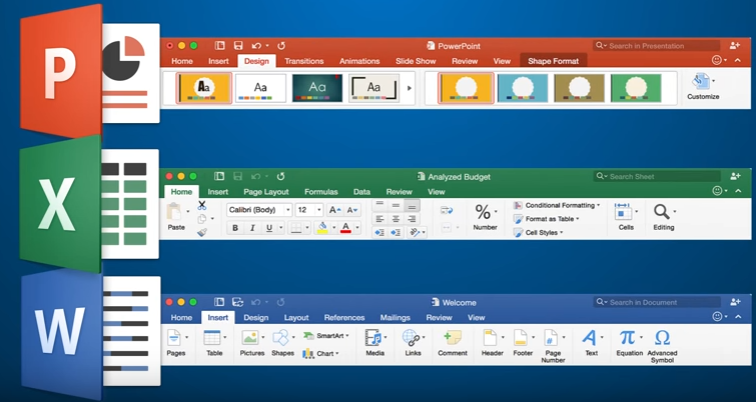 The ribbon in PowerPoint, Excel and Word is better organized then the previous version. It's also similar to the ones on PC. So, for those of you who were used to Office 365 on PC and were rooting to have it on your Mac, your wish has come true! You can now find your favorite tool more easily and complete your work faster.
2. Ctrl + S Works (finally!)
Most Mac lovers started their computing days on a PC. You have to admit, at times, it was hard to avoid! And, as we all know, old habits die hard. You know the Ctrl + S function, right? It comes in handy when you're working on your documents. When you switch to Apple's finest computers, you have to change to Command + S. This isn't a problem with Office 365. Both commands work, so you won't be frustrated each time you try to save your documents.
3. Cloud Connected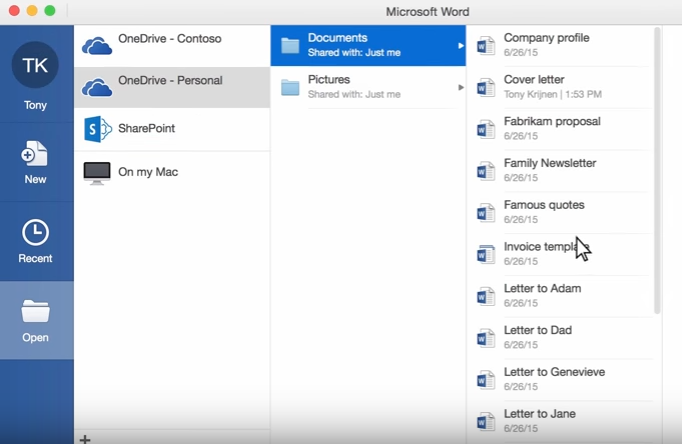 You can now open and save documents stored in the cloud. All your cloud locations are stored in the Open and Save dialog boxes. If you need to add a new location, click on + and choose either a OneDrive account or a SharePoint site. Then, log in with your Office 365 or Microsoft account. Once you've added the new location, browse through your folders and get to work!
4. Sharing

Office 2016 for Mac was designed for teamwork. There's a new share icon located on the top right corner of the documents you create. With just a few clicks, you can invite people to view your document, manage users, grant editing rights and share!
5. Threaded Comments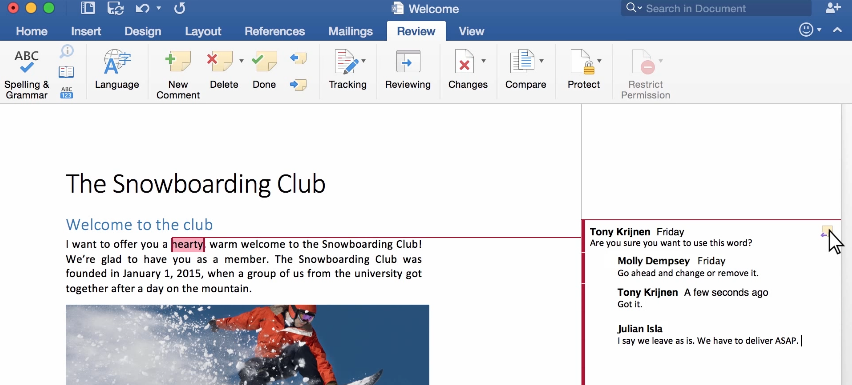 This function is now available in PowerPoint and Word. When you see a comment in a document, you can hit the reply icon and answer right away. Just make sure you come back later to read what others had to say!
6. New Design Tab in PowerPoint for Mac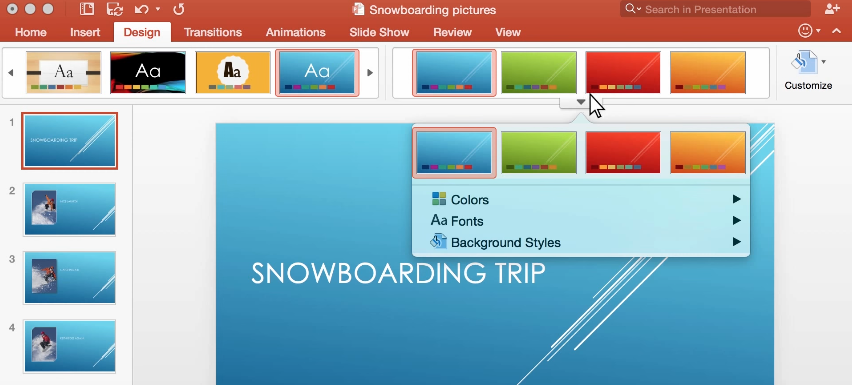 This new tab has a great selection of presentation themes and variants. When you select a theme, you can refine it with a variant of your choice until you get the exact look you need.
7. Propose a New Time in Outlook for Mac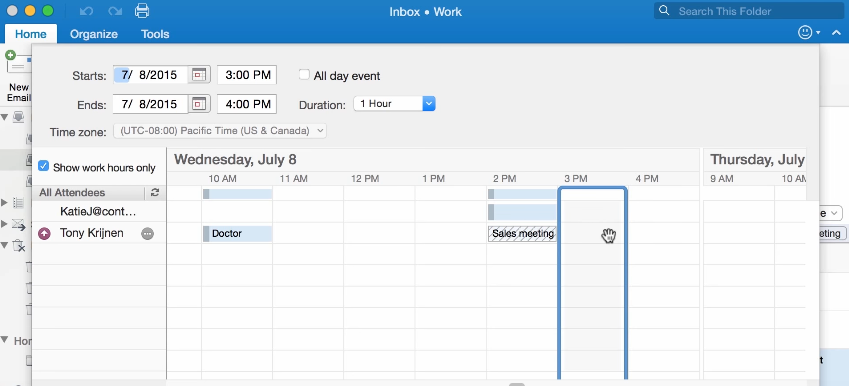 If you haven't used Outlook for Mac in a while, you should know that this handy option is available for Exchange accounts. Now you can propose a meeting time that works better for you.
8. OneNote for Office 2016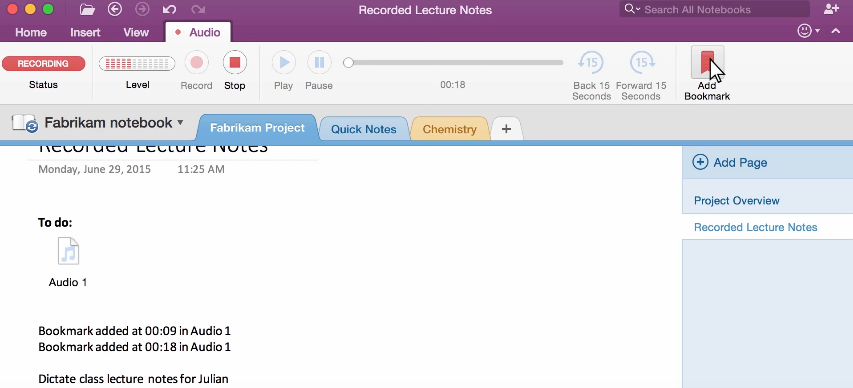 When you download Office 2016 for Mac, you get OneNote! This a great tool to take notes and keep you organized. Plus, there's a great new feature: Record Audio. You can record yourself or a colleague and you can even bookmark important things in the audio file. Once you're done, the file is added directly to your note.
9. PivotTable Slicers in Excel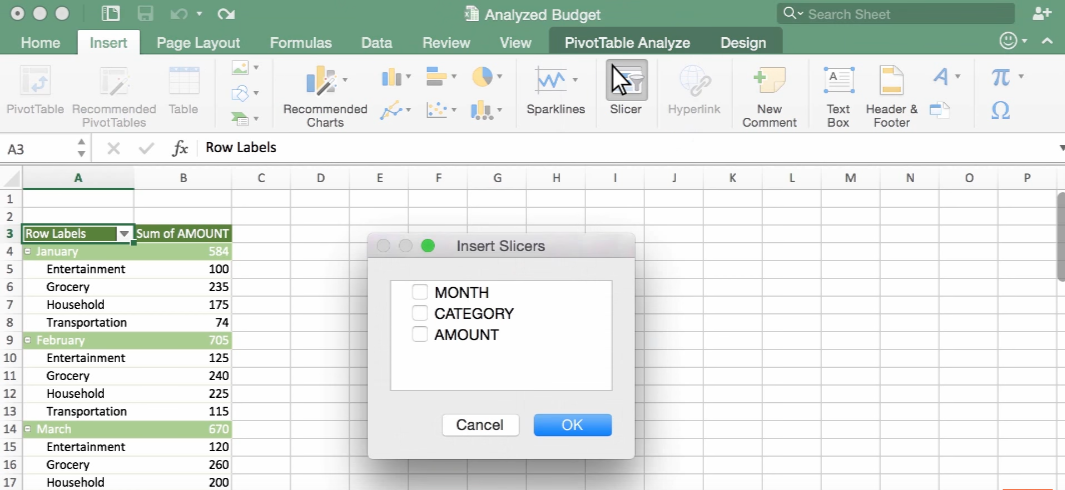 This option can be really handy if your business uses Excel a lot. Click inside a large PivotTable, then click on the Insert tab followed by Slicer. This lets you choose the fields you want to slice. A slice acts like a filter.
10. Designed for Mac
The new Office 2016 for Mac is really a great upgrade. It supports full screen view. You can also use gestures on your trackpad. Spread to zoom in and pinch your fingers to zoom out.
For indications on how to upgrade manually, visit the Microsoft Office Support Page.