We received many important questions during our recent webinar on Windows 10 Enterprise E3. We thought that if our webinar participants are asking these questions, they're probably of interest to other people in the IT industry. That's why we created this FAQ blog.
SherWeb & Cumulus
1. I don't see where I can sell it. When I log into the portal, what would I need to pick?
Here are the steps to provision the Windows 10 Enterprise E3 and E5 plans:
Login to https://cumulus.sherweb.com/
Select or Create an organization
To Apply the promotion, go to More Actions then Apply a promotion and apply code W10CSP30FREE
Select Offers, go to Office 365 and look for Windows 10 plans (E5 will be added shortly if it's not available yet)
2.  Can you please forward us the info on the promos (free for 30 days, up to $10 cash back)?
SherWeb promotion: Get Windows 10 Enterprise E3 and E5 plans free for 30 days. Offer ends on March 31, 2017. The only condition is that it must be the first time the organization adds the Windows 10 Enterprise plan(s). See previous question for the steps to apply it.
Microsoft promotion: This campaign is focused on CSP Direct and Indirect Resellers who sell Windows 10 Enterprise E3 or E5 under Cloud Solution Provider licensing. Partners can earn:
$5 per user SKU (E3) on all new CSP subscription purchases
$10 per user SKU (E5) on all new CSP subscription purchases
This campaign will run until June 30, 2017. Read the full details here.
3. What is the cost of the licenses?
Here are SherWeb's standard partner costs for both licenses:
$8.08 CAD / $6.65 USD for Windows 10 Enterprise E3
$16.82 CAD / $13.30 USD for Windows 10 Enterprise E5
The Upgrade
4. Apart from being able to upgrade from Win 7 Pro to Win 10 Pro, does this also cover upgrading from Win 10 Home to Win 10 Pro?
No. Customers need to purchase a Windows Pro edition prior to the free upgrade to Windows 10 Pro. Then, upgrade to the Enterprise edition with the Windows 10 Enterprise E3 plan via CSP. Here are the various upgrade paths and approximate costs: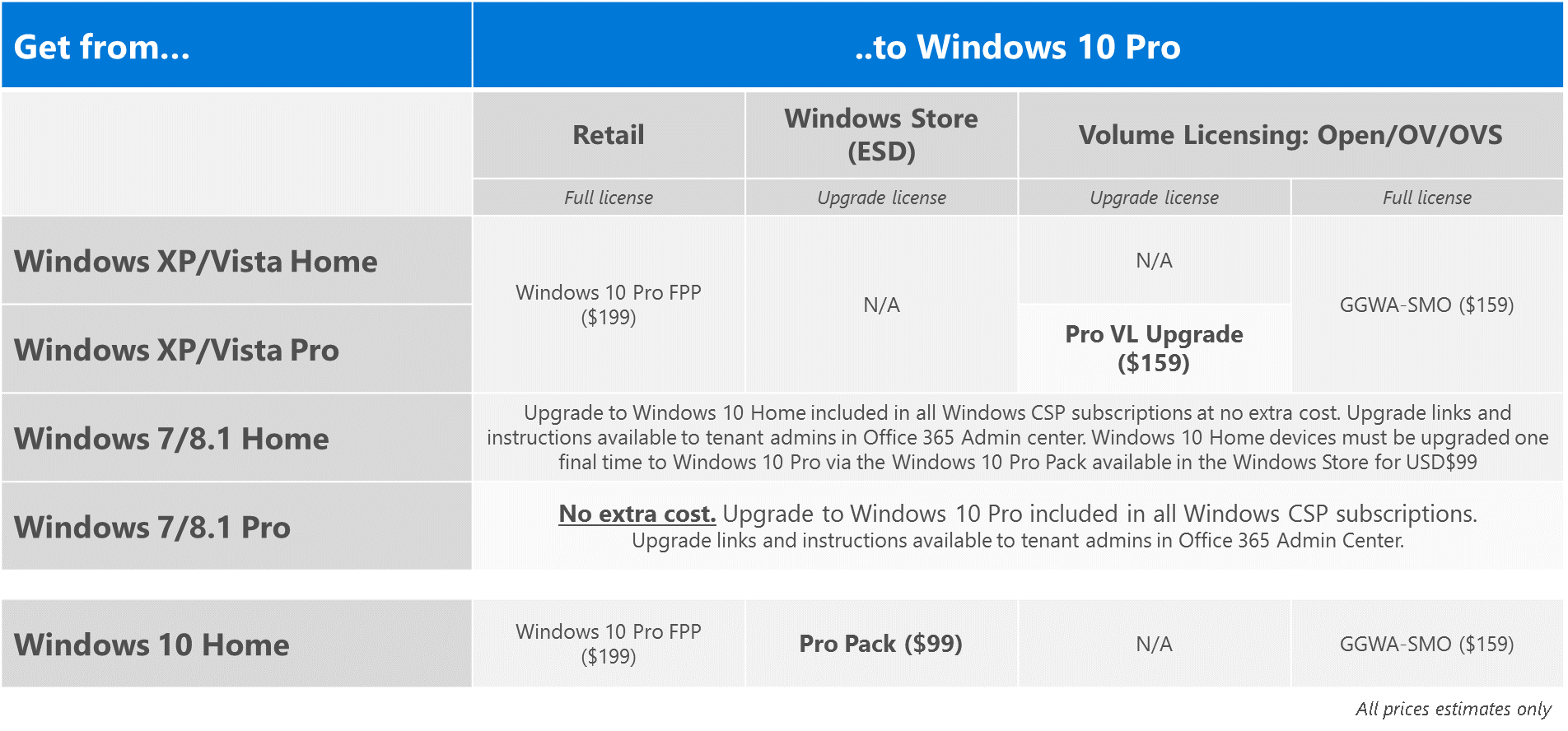 5. Will Microsoft ever offer a true Windows 10 subscription via O365? In other words, something that would replace the OEM version that we currently get with a new computer?
Not with the Home edition. There might be some plans to upgrade from the Home edition to the Pro edition, but nothing to replace a full Operation System to be provided via CSP.
6. Does the E3 allow for easy file sharing with files larger than 2GB?
If we are talking about Office 365 E3 plans, SharePoint Online software boundaries and limits allows for 10GB – 1 byte (10,737,418,239 bytes) per file. In classic mode, upload methods other than drag and drop have a 2GB limit. As for Exchange Online Limits, also part of the Office 365 E3 bundle, file attachment size limits are 150MB for Outlook and 35MB for Outlook for Mac and OWA.
7. Is there more flexibility with Windows updates with E3?
It is not necessary to be on Windows 10 Pro anymore before upgrading to Windows 10 Enterprise E3 or E5 via CSP. As part of the new upgrade benefits, customers can now upgrade to Windows 10 Enterprise from Windows 7 Pro or Windows 8.1 Pro for free and in less than 2 minutes.
8. So can a Windows 7 Pro client upgrade to Windows 10 Enterprise and pay the monthly cost and then cancel the monthly cost and stay with Windows 10 Pro?
Yes that would work as part of the free upgrade benefits.
9. So from Windows 7 Pro, it is an online upgrade to Windows 10 Pro then enable the E3 features?
Yes. The upgrade is free and almost seamless. It only required to logout and login with the right credentials.
10. The OS will be installed to a workstation so the client who is buying the service will provide the hardware?
Yes the client provides the hardware. They will also nee a PRO edition of W7, W8.1 or W10 to upgrade in less than 2 minutes to the Enterprise edition via CSP.
Windows Defender
11. Can you point me to any reviews of Windows 10 defender vs. third party security products?
Windows Defender is the No. 1 antivirus on Windows 10, protecting more computers against viruses, malware, spyware, and other threats than any other solution. Check out the Windows Defender AV website and the Threat intelligence report – Windows Defender for more information.  Technical details can be found here.
12. Is Windows Defender centrally managed? Will it email reports if there is a virus on the computer?
Windows Defender ATP is through a central portal via an administrator account.  However, it will not email reports if there is a virus. Virus detection is not a feature of Windows Defender Advanced Threat Protection. WD ATP is to detect advanced attacks and remediate breaches. The antivirus portion of the solution is just Windows Defender and it's provided free in all versions of Windows (Enterprise isn't even required).
Azure & Domain
13. For a business that has 40 employees. Which Azure plan is the best to combine with E3 and E5? They just perform basic file sharing. They will even keep their files on a local server.
Azure AD (Free version) is all that is needed for Windows 10 Enterprise in CSP.  Standalone E3 subscription comes with AAD Free in order to manage/consume the Windows 10 E3 subscription.  Azure AD Editions.
14. Circling back to a previous question. Using Windows 10 with Azure AD. I cannot join a local domain. It is either/or in my experience. Is this being changed, or can you only have your computer on Azure AD, or an on-prem AD?
Currently Windows 10 can only be joined to either an Azure AD or a local domain at the same time. Microsoft is working to have Windows  support connecting to both at the same time, but there is no defined timeline. Meanwhile, there might be a possible "work around" to solve that limitation. More information is required on your specific situation. Contact your service provider for more support on this.
15. How do I integrate my Domain Controller if users are signing into Azure AD? Does Azure AD make my Windows Domain unnecessary?
Windows 10 Enterprise can only authenticate to either your Domain Controller or Azure AD for now. Once you associated it already, you can simply login normally and it's in the back-end that we know that it's through Azure AD and not the Domain Controller.
16. What about computers that are not currently managed by using Domain Group Policies?
If you're referring to setting policies for a PC that isn't managed by a domain, there are ways to build a core image that have a number of the settings pre-configured in the core image. Check out this URL for the numerous ways this can happen: https://technet.microsoft.com/en-us/itpro/windows/deploy/windows-deployment-scenarios-and-tools
Partner Opportunity & Resources
17. We are a Microsoft Partner already but haven't gotten into reselling Windows specifically. What is the best way to get started with our ability to resell Windows?
What we've seen since we started this Windows 10 Enterprise E3 & E5 push through CSP is that non-traditional Windows partners that are doing really well with monthly cloud licenses. There are some trainings and certifications that you can take online. There are also some half-price vouchers that you can request to help you get started.
18. Can you provide pointers to those resources? We want to get into the business of reselling the Windows licenses. Many customers have OEM and need volume. Trying to make that easy for them.
Below are some useful links you can include in your recap email to the attendees: