In the market for a new product to expand your Microsoft 365 offering? How about a tool that helps clients manage their email signatures?
While a primary method of communication for professionals, email also represents a lot of opportunities to make a poor impression. We've all seen email signatures with the company name spelled wrong, an outdated logo or even a distorted image. If your clients are having trouble managing their email signatures, it's just not good for business.
Fortunately, there email signature management solutions on the market that are designed to put all employees on the same page. These tools standardize your clients' communications and strengthen their brand by managing all email signatures from a single platform. Most of the solutions can be deployed in just a few clicks and integrate easily with email signatures sent from Microsoft 365 and Google Workspace. And the best part of all? You don't need any special skills to do it.

Sherweb can help increase your value for clients—explore our Partner Guide to learn more
The email market is booming
Wondering which email signature solution is the best bet for your small business clients? Not to worry. We've taken a look at what's out there, and have some options to present. We decided to focus on two specific solutions: Letsignit and Exclaimer. Both have similar features and are designed to make managing email signatures a breeze.
Before we launch into our comparison, we want to emphasize the opportunity these solutions present for managed service providers (MSPs). Creating offers with email signature management included enables providers to boost their revenue and differentiate themselves from competitors. You can also increase overall customer stickiness by complementing applications clients already use. With that said, let's take a look at Letsignit and Exclaimer to see which one has the best features your clients are looking for.

Letsignit vs. Exclaimer: Background info
Exclaimer
Exclaimer is considered a world leader in email management software. In business since 2001, the company currently provides on-premises and cloud-based email signature solutions to about 75 million users in more than 150 countries. Exclaimer is easy to deploy and can send emails from any web-enabled device. It also integrates with Microsoft 365 and Google Workspace.
Letsignit
Letsignit is the new kid on the block. The company is based in Marseille, France, was founded in 2016 and currently provides cloud-based email signature solutions to about 200,000 users. Letsignit is available for all mobile devices and can automatically distribute and assign new email signatures in just a few clicks. It integrates with Microsoft 365 and Google Workspace as well.

Email as a marketing tool
Your clients use email for a number of daily tasks. Have you ever thought of the potential engagement they could stimulate if they used email signatures to promote their next marketing campaign? Letsignit provides the perfect platform for your clients to reach the right audience for special events, sales and promotional activities. Email signatures can be used to promote links to the company website or banners for current campaigns. Letsignit also has advanced analytics to track each banner's performance. While Exclaimer provides email marketing banners, they recommend using third parties for tracking.

User-friendliness
As we mentioned earlier, you don't need special skills to use these tools. You can drag, drop and deploy hundreds of email signatures in just a few clicks. Want to create a personalized banner template? Just upload your company logo and Letsignit will automatically detect your brand's dominant color. This automated email signature tool will also help your client to add new logos, make color changes and design adjustments or update slogans. While Exclaimer has pre-made templates, they can't be completely customized to your brand. Letsignit allows your client to manage multiple emails from one account and have control over each user's app settings and platform rights. Both of these features are currently unavailable with Exclaimer.
Sherweb Partner testimonial:
"I set up my (Letsignit) account last weekend and my first impression is: wow! It was so easy compared to any other solution I have tried. You really captured the needs of a customer to set up a solution like this and in a very easy way."

— David Rosner, iSupport
Setting it up
If you've ever tried to set up email signatures for a client, you know how tedious it can be. It has to be done manually and it has to be updated each time someone changes jobs, or the company changes its brand. There's also no simple way to see whose signatures are out of date; you have to do a manual check. This job usually falls to someone in the IT team, who often has better things to do. As we've already mentioned, Letsignit centralizes email signature management into one simple platform. Users can drag, drop and deploy hundreds of email signatures from Microsoft Exchange or Outlook in just a few clicks.
Things are a bit more complicated with Exclaimer. Instead of being able to synchronize data from Exchange or Outlook, users have to create two separate accounts: one for Outlook and one for Exchange. This means users have two databases to contend with instead of one. As for migrating mailbox data, data migration is supported with the user's account with Letsignit, while Exclaimer requires a separate account for migration.

Managing the directory & users
Being able to synchronize large numbers of email contacts into a single platform is one of the strong points of an email management solution. Letsignit is built on Azure's cloud platform which means users can connect with Azure's Active Directory to synchronize employee databases and directory groups within minutes. Data is automatically updated every three hours and all directory fields and details are made visible on the platform. Exclaimer also claims it has full integration with a Microsoft 365 Directory to provide consistent contact information for all email signatures. However, updates only occur once a day and Exclaimer only displays the group name in the platform. Group content is not accessible, and all photo details have to be synchronized manually.
When it comes to updating your directory, Letsignit gives you 3 choices: global synchronization, doing manual updates right in the platform or updating information right in the Letsignit app. Global synchronization is all that's provided by Exclaimer.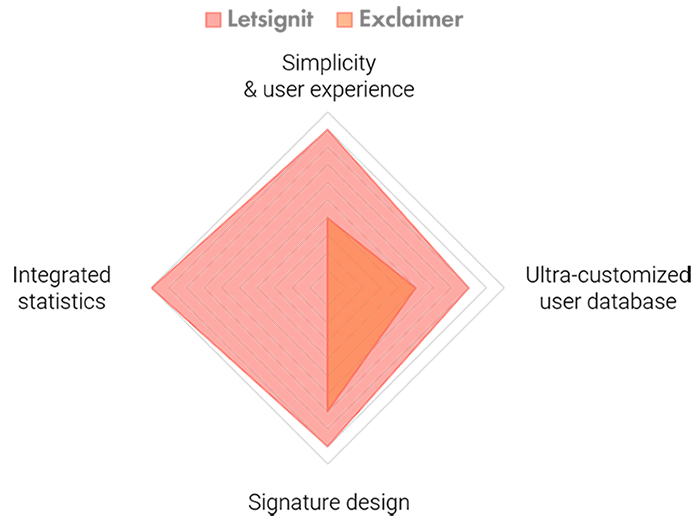 Letsignit vs. Exclaimer: Which solution is right for your clients?
As you can see, both Letsignit and Exclaimer have similar features and either one could be a good fit for your clients. The solution you choose will depend on your clients' specific needs. If you want to learn more about Letsignit and how it stacks up against competitors, contact us! Or, become a Sherweb partner to get started with Letsignit and diversify your portfolio of cloud solutions.