We're all used to voicemail. We have it set on our home, mobile and professional phones. The truth is, we can easily get overwhelmed. How many times have you missed an important information because you forgot to check your voicemail? Yes, it happens. But when it comes to business, if it happens to much, you're on your way down to failure. Here's some advice to address the issue.
1. Set Your Phone System for Voicemail-to-Email
Voice over IP telephony makes it possible to combine voice services with electronic mail. Most SIP providers offer a Voicemail-to-Email feature with their business phone services. The feature can be used in different ways. You can set Voicemail-to-Email to:
Send you an email alert when someone leaves a message on your voicemail
Send a copy of the voicemail message as an audio file to your email inbox
It's become standard practice for most professionals to get their business emails on their mobile devices. Thanks to this, anyone will stay in sync with their voicemail, wherever they go.
2. Listen to Your Voicemail Messages
You should not just be satisfied to know someone tried to reach out. The most important thing is what you do with your voicemail messages. Statistics show that 90% of first time voicemail messages are never returned1. Should we conclude they're never listened to? In any case, this rings a bell.
If a call was redirected to the voicemail, it's probably because you were in a meeting, on another call, on the road or off. But, your business activities did not stop in the meantime. So, the best thing to do as soon as you're back on duty is to check your messages.
Unless you set the Voicemail-to-Email system only for alerts, listening to your messages gets easier because you can play them directly from your email inbox, either on your laptop or mobile device. No need to reach your desk first or to make a call to your voicemail system to listen to your messages.
By the way, do you know about call forwarding? Read about it here.
3. Follow Up Your Voicemail Messages
After listening to your messages, take action. Sometimes, a simple "I got your message" email can be reassuring and show how much you care. And with Voicemail-to-Email, it's even easier to get things done by someone else as you can simply transfer the email with the audio attachment and give your instructions.
35 to 50% of all sales are won by the vendor that responds first2. The more you procrastinate listening to your voicemail, the higher the chances you'll keep losing opportunities. That's something you cannot afford in a business world that is extremely competitive:
If you're forced to transfer your clients to the voicemail because you're afraid to talk to them, then there's an issue. Don't use your voicemail to escape the reality. If a relationship is broken, try to fix it.
If you have too many calls because your business is growing quicker than expected, you can rely on your business phone provider for features like IVR. It can help mitigate the call volume issue until you hire and train new staff. Also, signing for a partnership can be a quick relief, so you can forward a few deals to your partner or focus on top-priority matters while other tasks are taken care of.
Don't wait for your customers' satisfaction to go so low they're forced to go public on social media for example, which can harm your business.
Steps to Configure Voicemail-to-Email in the Sherweb Cloud PBX Portal
In the Account Self-Care Portal, go to the Cloud PBX tab. In order to configure the Voicemail-to-Email feature, go to the Voicemail section, then to External E-mail.
Enter your email address to get the notifications.
The default parameter for Action is None. Select the right option for your need (Notify for a simple alert or Copy to get the attachment right in your mailbox).
Next, choose the audio format for the attachment if necessary.
Click Save.
You're all set!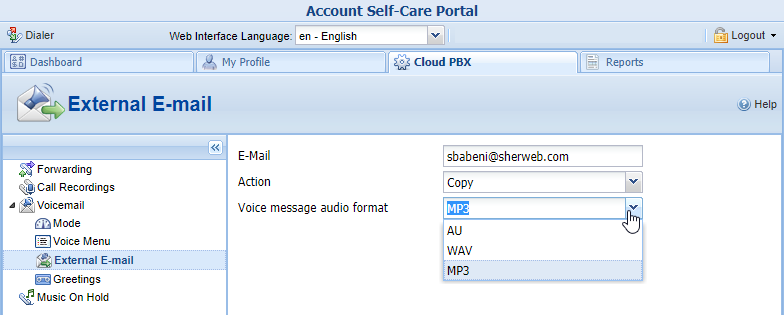 Are you looking for a business phone solution with Voicemail-to-Email? Visit this page.
1 RingLead
2 Propeller