How long does it take you to get a server ready for your client? Cut delivery time from months to minutes with Sherweb Performance Cloud servers! Provision Windows and Linux Cloud Servers right from the Cumulus Partner Portal using our new Cloud Server Wizard. It's as easy as selling a VPS. The difference is you get high-performance, scalable virtual machines that come with a 99.999% SLA. Here's what we mean:
Want to get started now? Access your Cloud Server Wizard Starter Kit.
Focus on Delivering Solutions
Whether you've been offering on-premises, dedicated or virtual private servers, you know how much time, dedication and money it takes to satisfy your customers. Think of the hours your team has spent at your client's offices or in your datacenter installing, configuring and maintaining servers. Customer demand keeps growing and you have to work hard to keep up. This means extending server capacity, replace aging infrastructure and staying up to date with the latest in technology. Sherweb Performance Cloud will help you deliver high-end cloud servers without the need to manage hardware or OS licenses.
We have over 20 templates to choose from starting at $49.25 USD/mo. And we'll offer the latest Windows and Linux operating systems at no extra cost.
Cloud Server Template Categories

It's More than Just a VPS
Even though we've simplified cloud server provisioning, it's important to note that our offering is still a true cloud server experience. When we think of a click-to buy server, we usually think of options like VPS and shared hosting. These are still viable options, so we thought it was important to compare these offerings to help you make the right choice.
Cloud Hosting Comparison Table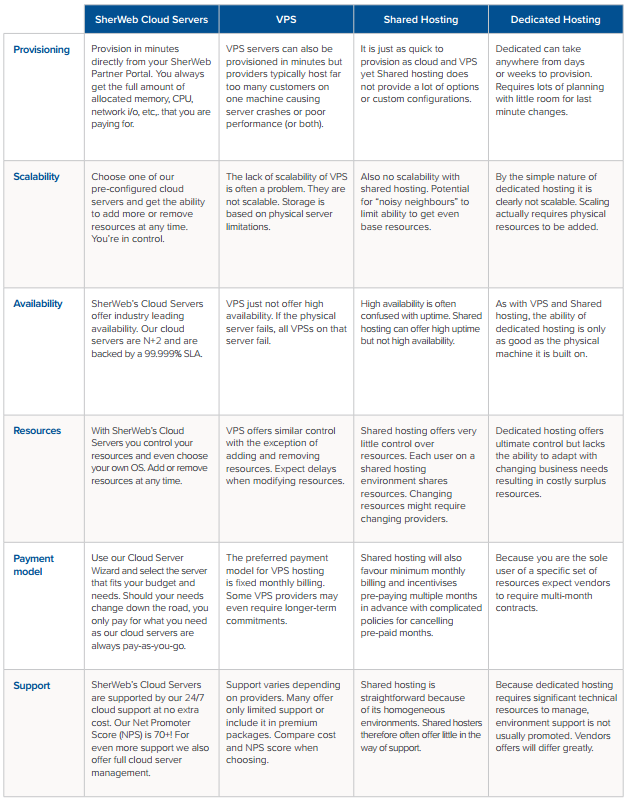 Are you looking for access to high performance cloud servers that can be provisioned in minutes? Do you have complex projects that demand a best-in-class cloud vendor? Count on Sherweb. Our support, pre-sales architects and top of the line infrastructure will help you take your business to the next level!