Today is Tuesday and that means day 2 of our week of benchmarking! If you missed yesterday's article, we discussed RAM speed and why system memory matters on your cloud servers. To illustrate this, we presented the RAMSpeed SMP benchmark we ran on our infrastructure and those of other major providers.
Throughout the week, we'll be presenting other benchmarks on the key aspects of a server's performance, particularly CPU, RAM & storage. Today's benchmark is storage-related.
Storage is more than just high-capacity hard drives storing your organizational data. It also has to offer sufficient performance to efficiently handle the high demands of business applications. But what exactly are we looking at when we test storage?
The 3 key metrics of storage:
Throughput
IOPS (Input/Output Operations per Seconds)
Latency
For today's blog, we ran multiple storage benchmark tests for Microsoft, Amazon, DigitalOcean, RackSpace and our very own Performance Cloud servers. One of the tests was the Flexible I/O Tester benchmark.
Flexible I/O Tester (FIO)
If you're not familiar with this test, Flexible I/O Tester (FIO) is short for Flexible IO, a versatile IO workload generator. This test performs a mix of random and sequential IO and read/write workloads. These workloads accurately measure the performance of storage across multiple OS if needed. All our tests were done using Ubuntu 14.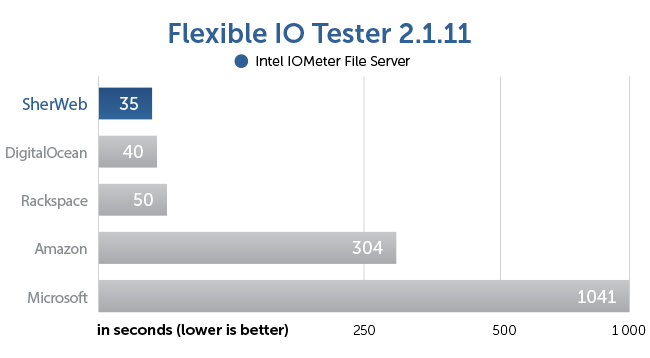 Although FIO is what is usually called a synthetic benchmark, it does allow for the creation of realistic usage patterns to mimic real-life scenarios. The above graph shows the Intel IOMeter File Server usage pattern test. It uses user-defined variables such as the transfer request size, the percentage of random requests compared to sequential requests, and the read/write distribution to mimic the realistic behavior of a fileserver used in a typical company.
The performance of the servers' storage components is determined by the number of seconds it takes them to complete the test. As you can see, Amazon—and even more so Microsoft—had a hard time completing the request. They weren't even in the same ballpark as the top three performing servers.
For two consecutive days of benchmark testing, Amazon Web Services failed to keep up with other providers when it comes to the performance of their infrastructure. Fortunately for Microsoft, its decent RAMspeed in yesterday's benchmark somewhat softens the blow of its poor FIO results.
SherWeb's servers had the best results, taking an average of only 35 seconds to complete the workload. This means the SSD storage we offer is of better quality than those of competitors, and promises faster server operation.
You can also test SherWeb's Performance Cloud servers for yourself. Our free signup process takes just two minutes. You can also see the complete methodology we used for our benchmarks in this article we published last week.
Come back tomorrow for a third day of benchmarking!
Sell all of our benchmarks!
Day 1: Cloud Servers Benchmarks – Day 1 (RAMSpeed)
Day 2: Cloud Servers Benchmarks – Day 2 (Flexible IO Tester)
Day 3: Cloud Servers Benchmarks – Day 3 (C-Ray)
Day 4: Cloud Servers Benchmarks – Day 4 (FFmpeg)
Day 5: Cloud Servers Benchmarks – Day 5 (Apache HTTP Server)