When we officially launched our new Performance Cloud Servers last week, we promised to provide a full week of benchmarking results comparing our performance against big-name providers. Here is our first benchmark relating to RAM performance.
RAM quantity & bandwidth are key to speed and performance
Obviously, we're preaching to the choir when we say that memory is important to your workloads. It's no secret that RAM directly correlates to the speed and overall performance of your servers' operations. That being said, it's not only about your quantity of RAM. Yes, you need enough RAM to prevent thrashing, but beyond that, having more RAM will not have a huge impact on performance. What you're really need is high bandwidth from your RAM.
Today's test is a theoretical evaluation of a server's ability to work in memory quickly, accounting for the different operations the memory subsystem has to handle. (You can see our benchmarking methodology in our original post here.)
Day 1 Benchmark:
RAMspeed SMP 3.5.0.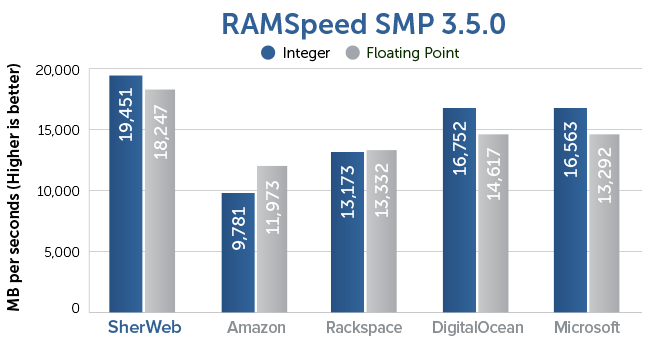 Our first benchmark is RAMspeed SMP 3.5.0. This is a well-known synthetic benchmark that tests RAM speed, returning a throughput score represented in megabytes per second. The higher the number, the better the performance.
In the two sets of values displayed in the graph, one is for integer values; the other is for floating point values. Each bar is the average of 3 runs of 4 different benchmarks representing one type of memory operation: Add, Copy, Scale and Triad.
The results show that SherWeb's Performance Cloud Servers notably outperform the competition: by +16% to +99% (in the case of Amazon) for integers, and by +24% to +52% (vs. Amazon again) for floating points. This is a significant difference in performance for similarly configured servers.
Analysis:
Accessing data in memory is key to performance
These differences would produce noticeable practical impacts. Most web services today are built to use memory exclusively. The move to in-memory NoSQL technology like Redis and memcached, or the use of extremely fast HTTP accelerators like Varnish means that a 50% increase in memory bandwidth directly correlates to an increased ability to serve a much larger number of clients with the same number of servers.
Even when talking about traditional database software like Oracle, MSSQL or MySQL, having the data you are accessing in memory is a key factor to performance. This means that the bandwidth of your memory subsystem will impact your SQL server's performance more than previously thought.
Although all public clouds offer the ability to scale out, thereby giving you access to additional performance through the total number of servers, doing so means increasing your monthly bill and the complexity of your IT solutions.
I hope Day 1 of our Cloud Server benchmarking week has piqued your curiosity. Join us again tomorrow for the results of our Flexible IO Tester benchmark.
Even better, why not try SherWeb's cloud servers and test their level of performance for yourself? It takes just 2 minutes to sign up, and there are no contracts or obligations. You only pay for what you use!
Sell all of our benchmarks!
Day 1: Cloud Servers Benchmarks – Day 1 (RAMSpeed)
Day 2: Cloud Servers Benchmarks – Day 2 (Flexible IO Tester)
Day 3: Cloud Servers Benchmarks – Day 3 (C-Ray)
Day 4: Cloud Servers Benchmarks – Day 4 (FFmpeg)
Day 5: Cloud Servers Benchmarks – Day 5 (Apache HTTP Server)