Are you looking for an easy-to-use server solution for your small business? Does your organization have less than 25 users and manage less than 50 end-user devices? Then we've got the perfect match for you!
Because most small organizations are typically run with little or no in-house IT staff, we know how important it is to provide solutions that are simple and easy to use. Windows Server 2012 R2 Essentials is the best choice for making your first steps into the server world.
What is Windows Server Essentials?
We know that managing individual assets like your employees' PCs, tablets and smartphones can get cumbersome, especially when you struggle to control your business data over several devices. The risk of losing data increases over time, especially as you add more devices. You need a solution to centrally manage your business IT services! The simplest option is to connect your employees' computers to a local network in your office and administer everything form a server.
Windows Server 2012 R2 Essentials is an operating system that comes with a basic set of services to protect, centralize, organize and access your business data and the applications that process them, whatever hosting device you're using. It includes the exact roles and features you need for your small business, like print, file, remote access, Web, and security management. It will provide an end-to-end integrated setup that installs and configures all included services according to best practices configuration for small business environments. This operating system is the latest evolution of Microsoft's former award-winning Small Business Server. It is designed to provide a hybrid platform that hosts basic business processes and seamlessly integrates other cloud services. Not only will you be able to manage computers connected in your office network, but also the data sitting on mobile devices!
What you get is immediate out-of-the-box value and productivity!
Why is the Essentials server awesome on Performance Cloud?
It connects your local network with the cloud
One of the primary differences between Windows Server 2012 R2 Essentials and previous versions of Small Business Server is that it does not include Microsoft Exchange or SharePoint to host email or collaboration services. Instead, Essentials makes it possible to integrate cloud functionalities with the organization infrastructure, such as Office 365 Exchange Online and SharePoint Online. The SharePoint Libraries storing your documents and the Office 365 Distribution Groups (for mailings and access rights) can be managed right from the Essentials server management dashboard, along with Exchange ActiveSync settings for mobile devices.
Because all data in Office 365 is synchronized between the end-user devices and the cloud, the risk of losing data is reduced. If a mobile device is stolen, it can be remotely wiped to protect thieves from getting control over email and documents. Access to files can be also be revoked for the user, if required. This means fewer security headaches if some of your staff leaves unexpectedly!
Once the Windows Server 2012 R2 Essentials virtual machine is deployed in Performance Cloud, your server is ready to automatically dial your office local network. The pre-configured, auto-VPN dialing feature makes this possible so the computers in your office can be managed from the Essentials server! The BranchCache feature will optimize the network bandwidth usage by caching your Essentials server content on other on-premises servers if they exist. You save on Internet connection!
It offers more business continuity features
The Performance Cloud infrastructure has built-in redundancy and backup features for your virtual machine as well as security and business continuity. This enables you to quickly restore data from the cloud and restart operations for an application, in case it was corrupted. Windows Server 2012 R2 Essentials will also offer you more protection capabilities, including cloud-based storage to save your server files and folders.
Essentials allows the end user to centrally manage and configure the File History feature included in Windows 8 and Windows 10 client systems. This helps users to recover from accidently deleted or overwritten files without administrator assistance. You see, they've thought of everything!
You get a state-of-the-art web-based management dashboard
Whether your server is administered by your own staff or a consultant, remote access is a must. …And, because you set it in the cloud, it's the only way to go!
Windows Server 2012 R2 Essentials comes with a Remote Web Access feature. This allows the administrator to not only connect to the server but to any other computer on your business network. And he can connect from anywhere, as long as there's an internet connection. The Remote Desktop Connection allows users to interact with the server or desktop as if they were sitting right in front of their computers at the office.
You can also manage the Office 365 options we mentioned earlier from that same web console. Your administrator can do all the usual administrative tasks, such as adding user accounts, adding shared folders, and setting shared folder access.
Remote Web Access is updated and optimized for touch devices and enhanced with rich HTML5 support so it can be used from either a full computer or a mobile device, even with non-Microsoft browsers, such as Netscape, Mozilla and Safari.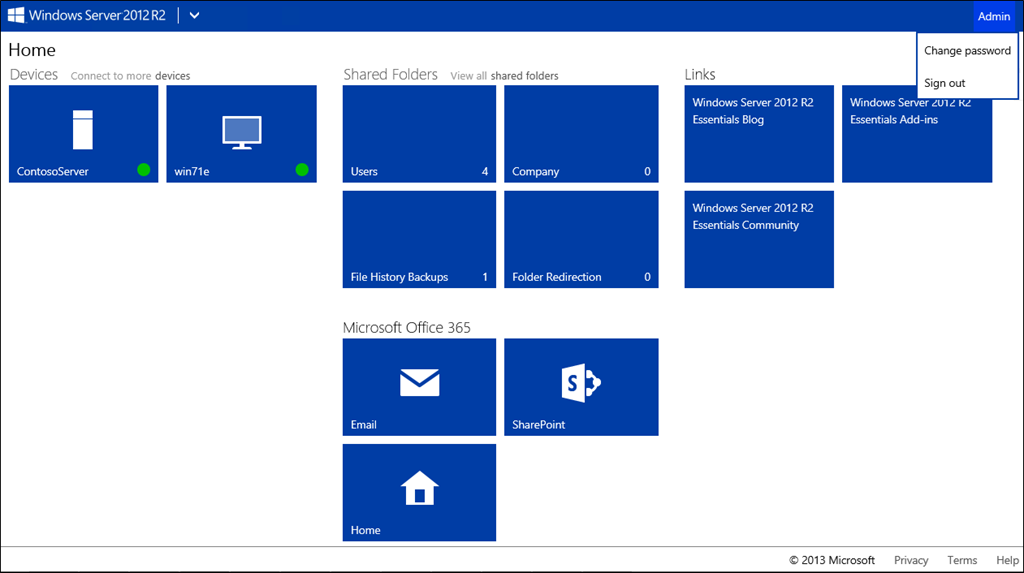 Source: TechNet Blogs
Using a Windows Phone or Surface tablet, your IT administrator can also download the My Server app that will allow you to access shared folders and media files stored on the server. See how easy it is?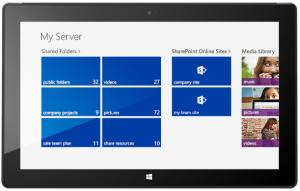 Source: TechNet Blogs
Know your server status
At Sherweb, our experts take care of your servers so you don't have to worry about it. We offer managed services and will take care of your applications if you want.
If you'd rather do it yourself, you can use the Health Report feature integrated with Windows Server 2012 R2 Essentials. This allows you to set visual or email notifications on issues or problems related to computer backups, server storage, low disk space and more.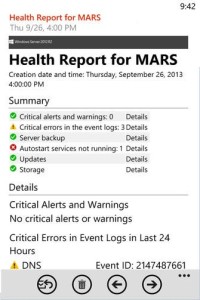 Source: TechRepublic
Performance Cloud is ready for high workloads
You can run your critical line-of-business applications and other workloads confidently with Windows Server 2012 R2. It's the most recent stable server platform built by Microsoft. The Essentials edition can grow as your business grows, providing an elastic solution that lets you upgrade to another Windows Server 2012 edition if you like.
It's important to remember that Performance Cloud was built for high workloads and that pricing is flexible; you pay only for the resources you use. Essentials allows you to use up to 2 CPUs and 64GB of RAM but you won't need to provision that much to run your server efficiently. We've chosen the most powerful hardware, making it possible to run servers up to 40 times more rapidly than other competitors' platforms (including Amazon Web Services and Microsoft Azure)!
Windows Server 2012 R2 Essentials was developed for small businesses that lack IT competencies or cannot afford to hire permanent IT staff. It's the right option for an organization that wants to make a good start in the server world because it provides a flexible and reliable foundation for your IT infrastructure. It's also a good solution for businesses willing to downsize their infrastructure to the minimum, and save money on IT. Migration scenarios are made easier with Essentials because it can be installed as a member server in a domain of any size.
With your Windows Server 2012 R2 Essentials right in Performance Cloud, you get the security, scalability and reliability you wouldn't be able to implement yourself. And you get it for a fair price. There are no upfront costs with our cloud and you pay low monthly fees that are a far cry from buying and using a physical server in your office! Want to see it work by yourself?