It's been three weeks since Microsoft announced the release of Windows Server 2016 at the Ignite Conference in Atlanta. But at Sherweb, we've been preparing for this new release for much longer. Over the last few months, our infrastructure team has been busy testing the great features Microsoft included in the OS technical previews. Microsoft has been refining its new operating system with each new technical preview. So, trust  us, Windows Server 2016 RTM comes with perfected capabilities that will definitely change the way you manage your infrastructure. Check our recent blog article to discover WS2016 new features like Nano Server, Containers, Shielded VMs, and PowerShell Direct.
Can't wait to test Windows Server 2016? You'll be happy to know it's now available in Performance Cloud! You can deploy Windows Server 2016 virtual machines in minutes in our IaaS control panel.

How Do I Create My Windows Server 2016 VM in Performance Cloud?
It's simple!
Connect to the Performance Cloud control panel.
Under the VIRTUAL MACHINES tab, click on +NEW to create a new VM.
Follow the instructions and choose Windows Server 2016 Datacenter as template or disk. It takes 2 more steps to complete your VM creation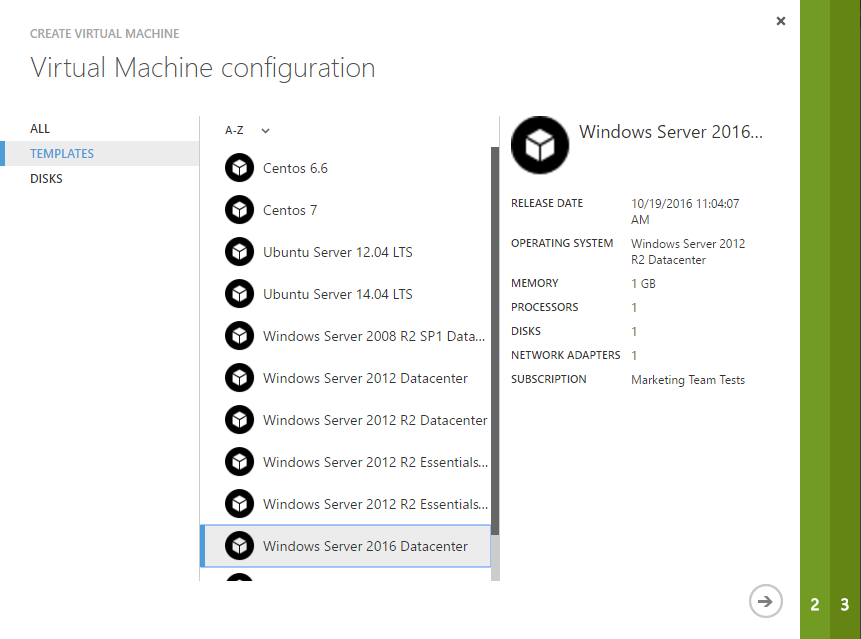 Looking for Windows Server 2016 Technical Resources?
Here are top 10 links to Microsoft resources that will give you more information about the new features in Windows Server 2016:
Ways to Use Your Windows Server 2016 VM on Performance Cloud
Windows Server 2016 is designed for the cloud. By combining it with our highly performing virtual machines, you'll be building a rock-solid infrastructure in the cloud for your business. Compared with an on-premises deployment, Performance Cloud offers a competitive cost-effective alternative to run your company's critical workloads. It's highly scalable so you can fine-tune your cloud servers for your company's needs in just a few clicks.
Build the Cloud Server You Want
Our Performance Cloud control panel will let you build the cloud server you want, giving you complete freedom to select your resources like memory, storage, CPU, and network bandwidth. Check our typical server configurations and pricing here. You pay only for the resources you use. Performance Cloud is secure and you can choose to access your servers through a VPN connection. There's no limit to the services you can deploy with Windows Server 2016 virtual machines at Sherweb.
Ready-to-Use Solutions
We've been helping our customers with ready-to-use solutions for the small business case, such as Remote Desktop and RemoteApps, Hosted QuickBooks, customized ownCloud online storage and Active Directory in the cloud. Take advantage of the improved features in Windows Server 2016 to help your organization deliver more with the cloud. Use your familiar tools from the cloud to enhance your daily productivity.
Office 365 on Remote Desktop
Speaking of productivity, the increasing popularity of Office 365 has made it a must-have tool for small business. By deploying the full Office software suite on a remote desktop solution built with Windows Server 2016, you're doing more than just saving on license costs. You're providing secure and fluid desktop sessions to end users that can be accessed from anywhere and from any device. All they need is a reliable Internet connection.