How much time have you spent trying to explain the finer points of Dynamics 365 pricing and licensing to your clients? More time than you care to admit? You're not the only one.
Pricing and licensing plans for Dynamics 365 can be tough to understand. Even for us! And now that Microsoft is rolling out a new series of changes, you might be wondering what to do next.
Don't worry. We're one step ahead of you. Here's a quick look at Dynamics 365 pricing today and in the future.
Say Goodbye to Dynamics 365's Business & Enterprise Editions
Dynamics 365 pricing now falls under two specific plans: a Business Edition and an Enterprise Edition. The Business Edition features one application called Dynamics 365 Financials. This is probably the plan that most of your SMB clients are using today.
The Financials app includes tools to help your small business clients plan and manage their finances and other aspects of their day-to-day operations, such as inventory, warehousing and transportation.
Previous Pricing Structure for the Dynamics 365 Business Edition
Prices vary, depending on whether you opt for an individual application or a whole plan.
If you use the Business Edition, you can subscribe to a single application, like Financials for $40/user/month.
There are also different prices for users, depending on how much access they want.
Full Users, who get access to all features in an application, pay $40/user/month.
Team Members, who just want to view and analyze data and perform minor tasks, pay $5/per/month.

Previous Pricing Strucuture for the Dynamics 365 Enterprise Edition
Let's move on to Enterprise. This more robust edition is designed for larger businesses and corporations and features a larger selection of apps and functions.
The Enterprise edition is available both on-premises and in the cloud. It's a good option for companies that need to do a lot of analysis and project management.

Enterprise Plan 1, shown above, includes the following applications: Sales, Customer Service, Field Service and Project Service Automation.
Cost for a Full User for each application is $115/user/month.
Team Members pay $8/user/month.
Enterprise Plan 2, shown above, includes all the apps from Plan 1 plus Dynamics 365 for Operations.
Cost for this plan is $210/user/month.
Team members pay $8/user/month.
Microsoft's New Offer for Dynamics 365 Plans & Pricing
As we mentioned before, Microsoft scrapped the Business and Enterprise editions and replaced them with 3 newer plans:
Dynamics 365
Customer Engagement
Unified Operations
Why is Microsoft doing this? The company felt that customers and resellers might have trouble switching and migrating between the Business and Enterprise plans. You can read more about the death of Dynamics 365 editions here. New price points will also be available come spring 2018. This will also include the new offering of NAV in the cloud.
Dynamics 365 SMB Promo
All new SMB customers who sign up for Dynamics 365 for Sales with SherWeb will get 50% off the monthly subscription price. Read more about it here.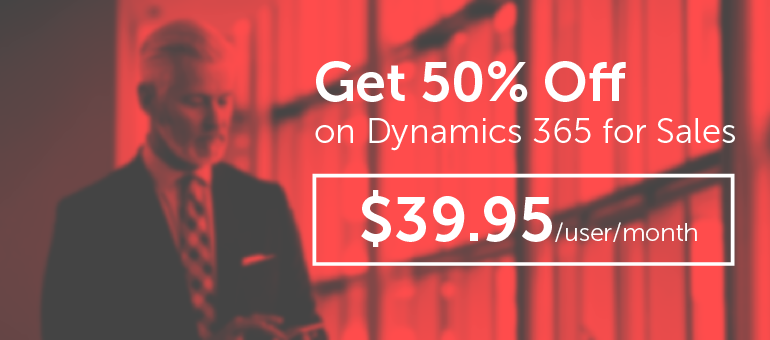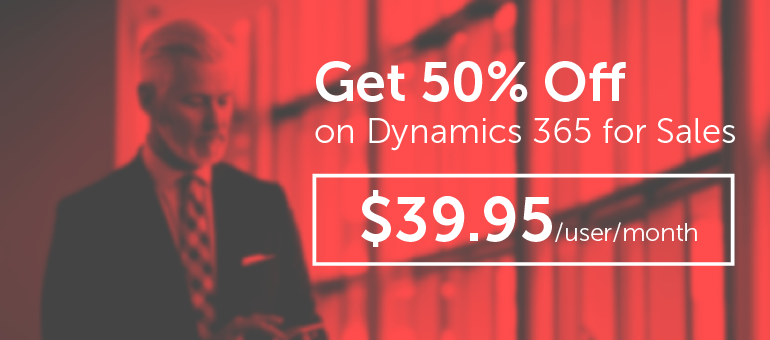 Download your Microsoft SMB Promo Guide!
To help bridge this gap, and specifically to help SMB-focused CRM partners maintain momentum, Microsoft are making several offers available at a reduced price for a limited time.
3 New Plans for Dynamics 365
So, what can you expect from these 3 new plans? Let's take a look.

Customer Engagement Plan
This plan includes apps that are useful for Customer Relationship Management (CRM), such as Sales, Customer Service, Project Service Automation and Field Service. Pricing for Full Users and Team Members is available here.
You can purchase any application separately for $95/user/month, except for Retail ($170), Talent ($40) and Financials ($40).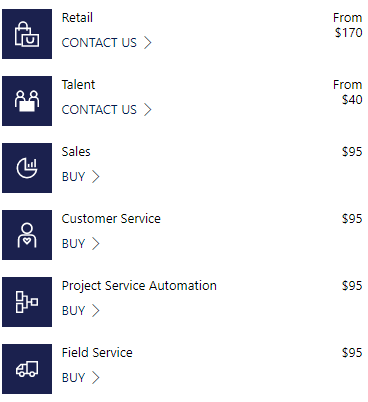 Dynamics 365 Plan
Users get access to all apps in the Customer Engagement Plan plus Dynamics 365 for Operations.
The Operations app has also been split into two additional apps: Retail and Talent. We'll provide more details about each app later in this blog. Pricing for the Dynamics 365 Plan is available here.

Unified Operations Plan
This is simply the Dynamics 365 Operations application. The Operations app has been split into two individual apps: Retail and Talent. Learn more about dynamics 365 pricing for this app here.
Under this plan, you can also buy two additional users, Operations Device and Operations Activity.
Operations for Devices: Does your company use mobile devices in its daily operations? Do you have several employees using the same device? You can now license devices, such as an inventory control device in a retail store, a call center computer or a warehouse scanner, to make Dynamics 365 available to all employees.
This plan costs $75/user/month.
Operations Activity: This app gives users access to improve invoices and create or edit items for warehousing, receiving, shipping, production, sales and all budgets.
This plan costs $50/user/month.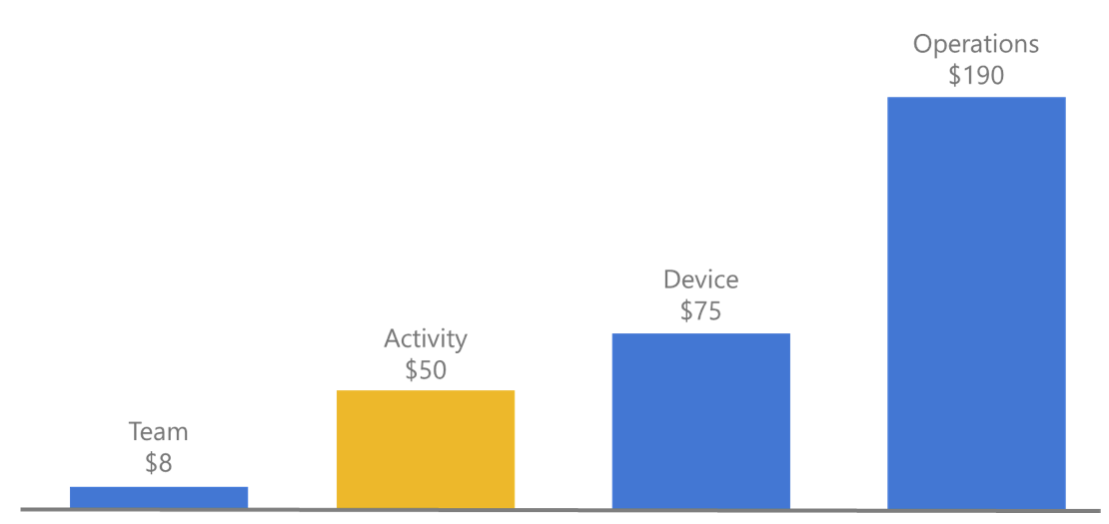 So Many Applications!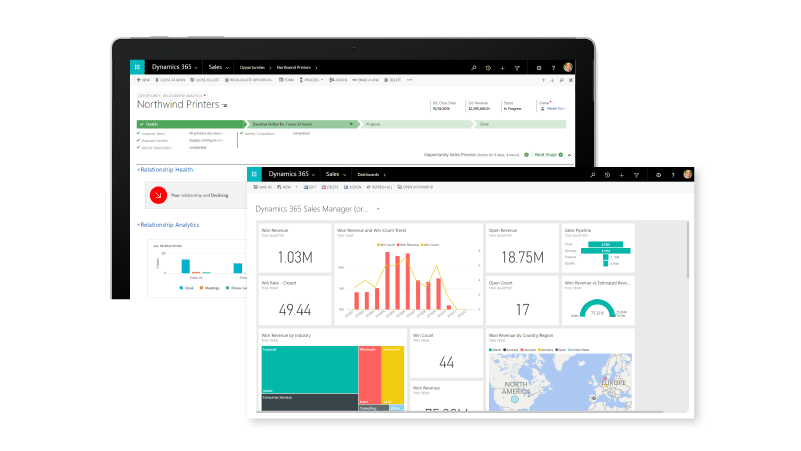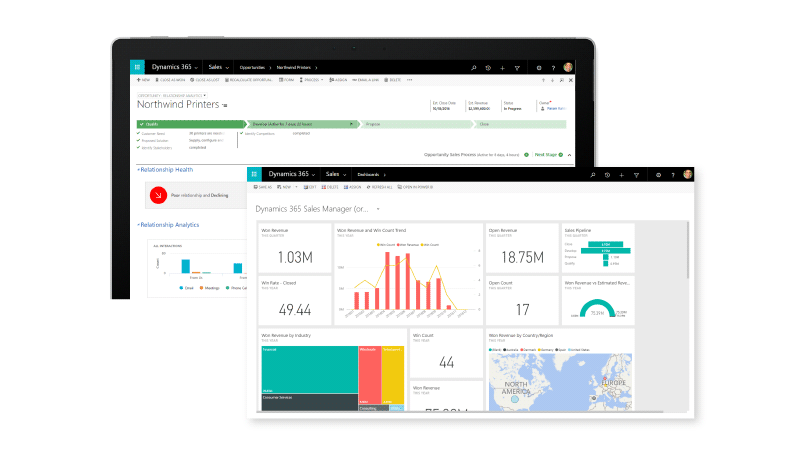 We've talked about a lot of apps here! Do you remember what each one does and how it will help your SMB clients be more productive? In case you need a refresher, here's a quick glossary of all the Dynamics 365 apps mentioned in this article.
Dynamics 365 Sales: This app will help you manage all your customers and deals right in Outlook. You'll be able to create personalized documents and emails for your sales team and connect with customers on LinkedIn to get more information about their company and its employees.
Dynamics 365 Financials: All your data from account, sales, purchasing, inventory and customer conversations is stored in one place to give you a 360-degree view of your business. This data stays up to date so you can spot trends and get a head start on negative issues.
Dynamics 365 Customer Service: This app will give your customer service agents all the information they need from a single platform. A 360-degree view of each customer, including a full history of customer interactions and preferences.
Dynamics 365 Field Service: This app will make your field team more efficient. You can manage service agreements, choose the right technician for each job and oversee your inventory ll from one application.
Dynamics 365 Project Service Automation: Do you struggle to deliver your projects on time and on budget? This app makes it easier. You can build plans with specially designed templates that can be used again and adjusted for each project. Choose staff according to their specific skills and past experiences.
Dynamics 365 Operations for Retail: This app gives your salespeople all the information they need about the products they sell. Sales staff will be able to answer customers' questions about order and shipping status without having to contact another department. Customers can even use a mobile shopping application to look for the product themselves, either in another store or on social media. The cost for the Retail Plan is $170/user/month.
Dynamics 365 Operations for Talent: You'll be able to find the right people and streamline the entire hiring and onboarding process with Talent. This app is fully integrated with LinkedIn. The cost for this app is $40/user/month.
As we mentioned, you can purchase any application separately for $95/user/month, except for Retail, Talent, Devices and Operations Activity.
So, there you have it. We've tried to give you a clear-cut explanation of the new plans and pricing for Dynamics 365 and which apps are available with each plan.
Questions about Dynamics 365 Licensing?
Use this guide to improve your understanding of how to license Microsoft Dynamics 365. Microsoft Dynamics 365 evolves Microsoft's current CRM and ERP cloud solutions into one cloud service with new purpose-built applications to help manage specific business functions.