Microsoft made a big move with LinkedIn, the effects of which are just now being realized. And they're benefitting Dynamics 365 in unthinkable new ways.
To complement the capabilities of Dynamics 365, Microsoft made the biggest investment in the history of technology acquisitions by acquiring LinkedIn for 26 billion dollars in December 2016.
Following the acquisition, Microsoft has integrated LinkedIn with Microsoft Dynamics 365, and this has been referred to as Sales Navigator.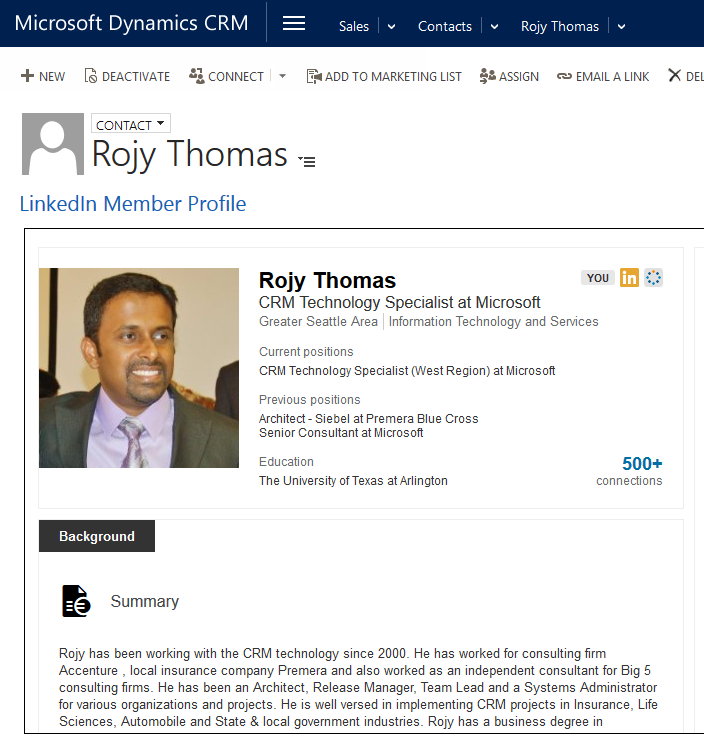 It combines the social selling activities with the pipeline to improve performance and productivity. With LinkedIn information embedded right into Dynamics CRM, users can carry out the sales efforts without disrupting the business process flow or the workflow.
This enhancement will allow sales professionals to enjoy all the benefits of LinkedIn Sales Navigator, within Microsoft Dynamics CRM.
Sales Navigator – Key Features
A. LinkedIn Interactions
LinkedIn features such as sending a connection request, message, and the use of InMail, are available directly within Microsoft Dynamics 365.
A premium account displays the latest lead and account updates including profile updates, job changes, shares, and news.
Users can then take action based on the updates by sending connection requests, sending InMail messages, and capturing new leads right from Dynamics 365.
B. Lead Recommendations
 Since LinkedIn and Dynamics 365 are now tightly integrated, Dynamics now lets a salesperson find new leads directly from within CRM by utilising the extended LinkedIn network. They can use the advanced "Sales-Specific" search tools within the application with predefined territory preferences and filters.
And, they can use this function to identify, nurture, and convert leads into real tangible opportunities. The advanced search and filtering enable the sales team to get rid of the noise and focus solely on creating value. This feature is complemented by real-time updates on the lead a user is working on.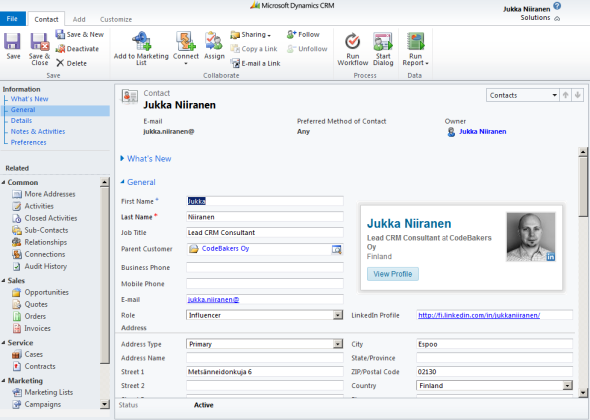 When a user views an Account, Lead, Opportunity, or a Contact profile within Dynamics 365, the Sales Navigator also displays other relevant profiles of the decision makers.
In other words, the sales person will get intelligence on who the other key stakeholders are—those who are able to influence the decision. This may offer an opportunity to network with them, becoming the next big lead.
C. View Prospect profiles and team connections
This feature enables Dynamics 365 users to view if anyone from their company is connected to a prospect. This feature is referred to as TeamLink. Envisage the benefits of this feature—the salesperson can instantly get a view of the connections to leverage for securing a warm introduction with the prospect.
This feature not only enables the salesperson to expand their network but also to get access to Out-of-Network LinkedIn members. This is referred to as Out-of-Network Unlocks and is included in one of the premium memberships for Sales Navigator.
It also enables the Dynamics 365 user to view a target account's important information such as physical address, headquarter address, company size, key people, website, etc.
D. Work Anywhere
The combination of Dynamics 365 and LinkedIn enable the workforce to work from anywhere using a single application. Following Microsoft's mobile-first and cloud-first strategy, the Microsoft Dynamics 365 application is accessible via mobile apps.
If the sales team is on the go out in the field or attending a sales conference, they can get direct and integrated access to their favourite prospecting tool (LinkedIin) and CRM for lead-to-opportunity conversion.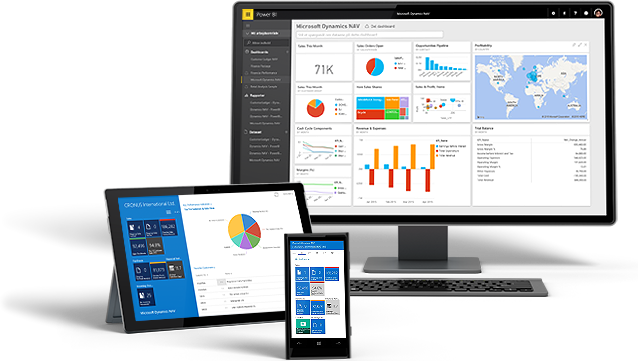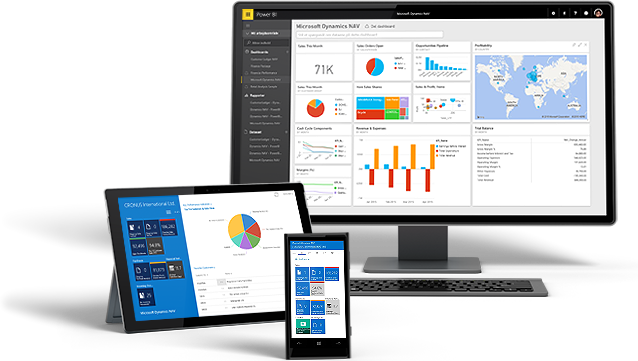 E. Import Account and Contact Information
The integration enables users to exchange the account and contact information between the two applications. It makes it very powerful for the sales person to stay connected with old contacts and keep up with their career transition.
The bi-directional sync also keeps the CRM up-to-date with the latest information such as contact details, job titles, and job changes. It is very common that over time, contact details can go out of sync in a traditional CRM system.
Often times, when it comes to Marketing initiatives, Sales and Marketing personnel struggle to get a "clean" list for marketing communications. With this sync, contact information is always current and relevant.
F. Sales Insights
Microsoft Dynamics 365 users can get sales insights for more effective selling. LinkedIn Sales Navigator helps the sales team stay informed and up-to-date with key insights to improve the sales workflow.
The sales team is empowered with timely and accurate information about prospects with full visibility of their profiles, enabling the sales team to understand the prospect as a person, his/her interests, work history, recent shares, and updates.
This new integration between LinkedIn and Dynamics 365 means that users can easily connect with leads, ask team members for warm intros, send messages, and get new lead recommendations—all within Dynamics 365.
Who should use it & why
The Sales Navigator and Microsoft Dynamics 365 offers a unique value proposition for B2B sales. If an organisation deals with B2B sales and uses Microsoft Dynamics 365 for its sales activities, then the Sales Navigator add-on is a must have.
The Dynamics 365 sales workflow begins with prospecting at the lead level and then qualifying it as a pursuable opportunity.
If you are utilising this capability within Microsoft Dynamics 365, then Sales Navigator can benefit you the most. The Sales Navigator comes in handy during the opportunity pursuit by leveraging your own or your team's connections with the influencers at the target account.
The Sales Navigator feature set is not directly applicable in a B2C environment. However, some features can be leveraged. For example, PayPal Australia has more than 5.5 million Australian customers who rely on PayPal when transacting online or on a mobile device. PayPal uses LinkedIn Sales Navigator for social selling.
So, if you work intimately with selling and finding prospects, you can't turn a blind eye to the benefits LinkedIn's Sales Navigator integrated with Dynamics can do for you. I doubt you'll be disappointed if you try it.