Why You Should Become a Dynamics NAV, AX or GP Partner (ERP)
Have your customers been asking you about Dynamics 365? If not, they should be. This Microsoft solution is designed to help small business owners simplify their financial, operation and marketing tasks. Allied Market Research has predicted that the worldwide market for Enterprise Resource Planning (ERP) software will increase to $41.6 billion in 2020, a significant jump from the $25.4 billion originally forecasted three years ago.
Microsoft has taken the features from Dynamics NAV, Dynamics AX and Dynamics GP and rolled them into Dynamics 365 Financials & Operations.
This is a great time for consultant like you to tap into this booming market. Wondering where to start? We'll show you.
Resell Dynamics 365 with the Microsoft CSP
The best and most profitable way to sell Dynamics 365 is by becoming a partner with Microsoft's Cloud Solution Provider (CSP) program. Microsoft introduced the CSP program two years ago to allow its partners to sell Microsoft cloud solutions with their own offerings and services. You have two options to sell Dynamics 365. You can either become a Direct CSP partner and work with Microsoft directly, or you can join a reseller program with an Indirect CSP Partner like Sherweb.
Put Your Money in the Right Place
You've heard us mention the terms Direct and Indirect CSP and you're probably wondering what the difference is. Going solo as a Direct CSP Partner is a complicated process that could take about four months to complete. It also involves a significant upfront investment for 24/7 technical support and a solid customer billing structure. Are you prepared to spend that kind of money? You want to be sure that the commissions you earn as a Direct CSP Partner exceed your initial expenses.
If you decide to work directly with Microsoft, you'll have to start by getting a Microsoft Partner Network ID number. Once this is approved, you have to sing-in with your Microsoft Account. To qualify for the Direct CSP, you have to show that you can provide the customer billing and technical support we referred to earlier.Approval for this step takes about 12 months.
Want to Understand the CSP Program? Download the Dynamics 365 CSP Bible.
You've heard all about Microsoft's Cloud Solution Provider (CSP) program and how it will make life easier for resellers like you. But when it comes right down to it, do you really understand how it works?
Exactly what the CSP is and how it works
How to get started as a CSP partner
Sign up as a Microsoft Direct CSP:
Apply for the CSP program on the Microsoft website
Once your account has been approved, create a trial account with a login link they send you
Sign into the Microsoft Online Services Partner Agreement
Log into a Microsoft reseller portal and sell to your first client
Become a Dynamics Cloud Reseller in 10 Minutes with Sherweb Partners First Program
On the other hand, if you sell Dynamics 365 with an Indirect CSP Partner like Sherweb, the whole process is a lot easier. By joining our Partners First program, you can go to market in just 10 minutes.
You don't have to be a migration or support expert. Just rely on our professional partner support or use our white-label end-customer services to grow your business. You can also package your offers any way you want and there's no middleman like Microsoft to get in the way. You control the customer relationship through direct billing, provisioning, management and technical support.
Sign Up for Sherweb Indirect CSP Partner Program:
Login to Cumulus, our customized partner portal
Sign up your first customer
Don't lose your Microsoft Advisor Commissions
Microsoft has pulled the plug on its Advisor and Open programs, a move which left a lot of resellers in the lurch. As you're probably aware, Microsoft ended the sell and accelerator incentives for the Advisor program on September 30, 2016. And, As of July 1, 2017, commissions paid out to Partners of Record (POR) to manage Microsoft subscriptions will be cut.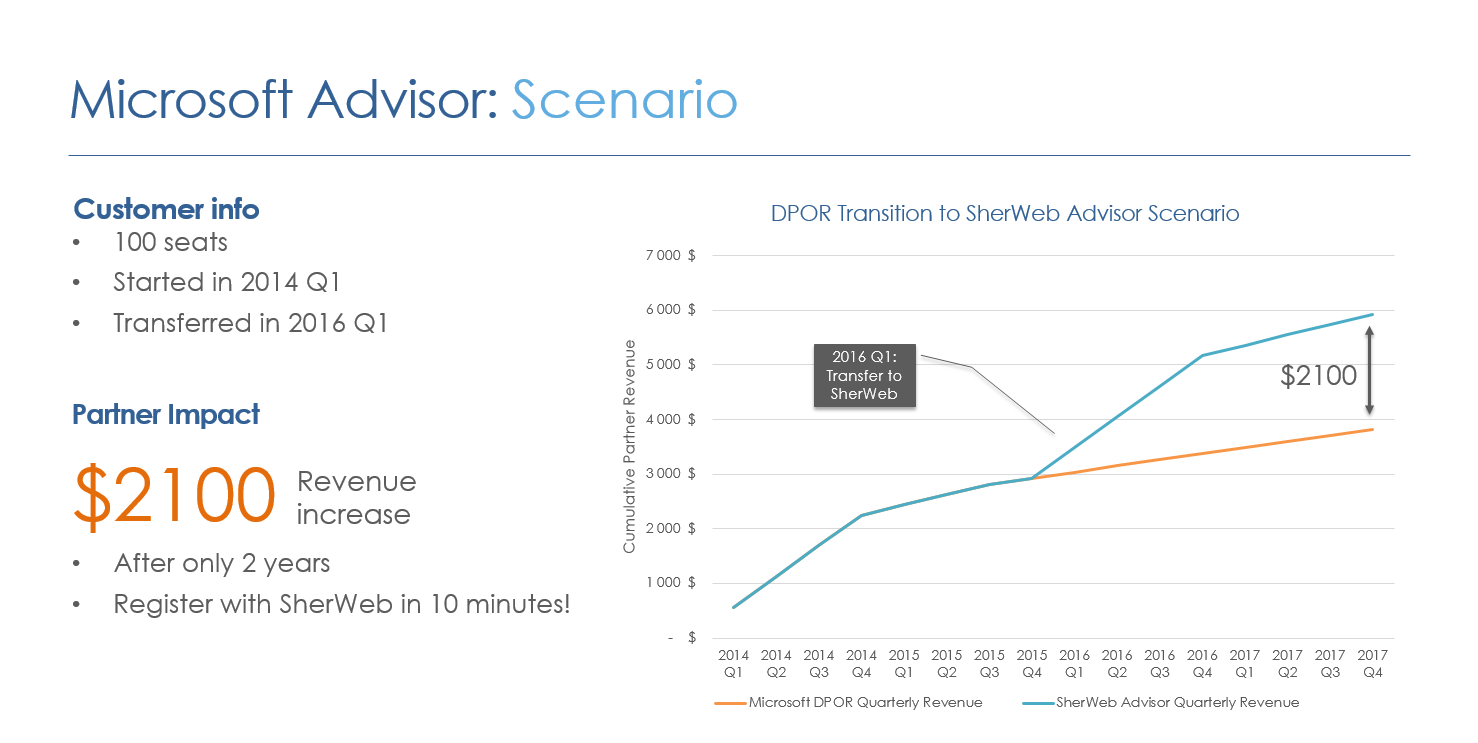 Sherweb offers its Advisors a one-time 150 percent commission plus a 7 percent recurring monthly commission for the life of the client's contract. If you have Dynamics customers, the offer gets even sweeter. You can transfer their licenses to Sherweb and earn higher commissions. Sherweb has a special promotion that will pay out a 15 percent commission in the first year plus a 5 percent recurring commission.
Do You Have Your Dynamics ERP Competencies?
Earning Microsoft Competencies goes a long way in building your profile as a Dynamics NAV, AX or GP Partner. However, you don't have to be working with Microsoft directly to earn them. You can still sell Dynamics 365 with Sherweb's CSP and earn your competencies at the same time. Once you have these certificates, you're free to go work as a Direct CSP Partner with Microsoft. Here is the four-step process to complete the Silver and Gold competencies:
Silver competency: each partner must have a total revenue of $75,000 USD and Business Ready Enhancement Plan (BREP) revenue recapture of 65 percent within the last 12 months. Gold competency: $175,000 USD and 85 percent revenue recapture.
Silver competency: 3 people in your organization must pass the exam requirements which are updated regularly on Microsoft's partner website. Gold competency: six people in your organization must pass the exam.
Silver competency: your organization must provide 3 customer references who have done business with you within the last 12 months. Microsoft must approve the reference. Gold competency: your organization must provide 5 customer references. Once a reference is approved in either competency, it can be used toward earning or renewing the competency for up to two years.
You must complete your organization's profile in the Microsoft Partner Membership Center.
Pay the competency fee. This fee is due once a year, no matter how many competencies your organization earns. The fee varies by location. It is estimated the fee would be about $1,660 USD plus taxes and administration fees.
Which Partner Program is Right for You?
As you've learned, becoming a Dynamics NAV, AX or GP partner takes significant time and resources. If you feel like the Direct partnership is the best option for your business, you want to make sure that you don't miss out on important sales opportunities while you work your way through this.
On the other hand, Sherweb lets you offer your clients Dynamics 365 a lot quicker through three distinct partner programs: White Label, Co-branded and Advisor. You work directly with Sherweb and get access to experts with extensive Microsoft Dynamics experience.
86% of consumers are willing to pay more for a better customer experience

Want to sell Dynamics 365 directly from your organization? Go white label. You'll have complete control over the branding, customer support and pricing. Like the idea of a partner program, but don't want to get involved in technical support? Choose our co-branded program. With this model, you set your own prices and let Sherweb provide the technical support. As we explained earlier, our Advisor program lets you refer customers directly to Sherweb. You get paid for your referral and don't have to do anything else.
Want to learn more about selling Dynamics through an Indirect CSP distributor? Click here.