Data is critical and fundamental to building business applications. Traditionally, companies quickly build silos of data and information that only multiplies as the number of applications increases. This often prevents having a unified view across apps and being able to build workflows that work seamlessly across functions and processes.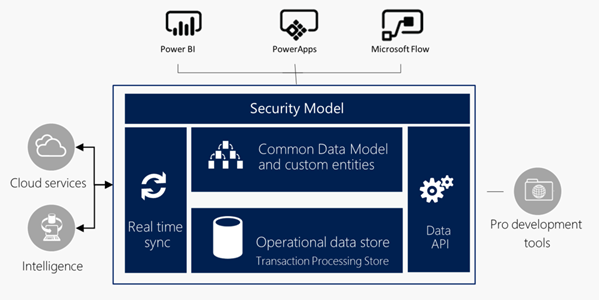 With the announcement of the Microsoft Dynamics 365 launch and merging the AX, CRM, and other Dynamics product lines into one that uses the common data model (CDM), the Microsoft developer community and users faced considerable curiosity, excitement, and the "fear of the unknown" at the same time. As I discovered, the Common Data Model was a more evolved database built with a lot of thought on the ways that entities should be managed to build applications fast, breaking away from traditional methods of doing data silos. The one striking thing that defines and differentiates CDM is the way entities are made available for business applications and workflows.
Microsoft Dynamics 365 Common Data Model (CDM) is a secure business database, comprising well-formed standard business entities that can be deployed for use in ANY organization.
With Common Data Model, Microsoft empowers enterprises to improve operational efficiency with a unified view of business data. Using Common Data Model organization allows a unified view of data so the user can figure out the right actions and empower employees to maximize their results. A potential new level of efficiency, agility, and effectiveness can be achieved, which can translate to a sustainable competitive advantage for the organization.
Core Evolution: Pre-Engineered Business Entities
Those building and configuring applications on the new database will discover that a clarified understanding of Common Data Model lies in understanding how entities exist and function in CDM.
Dynamics 365 Common Data Model not only provides standard entities, but also allows you to build custom entities, either by extending standard entities or by adding new entities that can relate to standard entities. Common Data Model will be rolling out new features incrementally to expand entity capabilities, processes for entities, and pre-canned forms for these entities, among others.
Entities support rich data types, including business abstractions such as address, email, currency, auto-numbering (for invoices, orders, etc.), and so forth. Modern types such as images, geographic location, phone, and website URL will enable building modern, mobile applications on enterprise data. These data types are implemented using the latest SQL Server data types. Each entity has system attributes, such as Record Version, Record Id, Data Partition, Created By User, Created By Date Time, Modified By User, and Modified By Date Time.
These are used by the CDM platform to provide functionality such as data manipulation, concurrency management, and auditing, allowing data to be shared across the enterprise or isolated within a division. Declarative referential integrity is implemented in the data model, which ensures that no orphan data is left in the system. All entity and field level security can be configured per entity. The model ensures simple mapping to data model of Microsoft business application and default value support for fields. CDM also provides data validation for mandatory and unique field data and checking for invalid foreign key references
Common Data Model also addresses the other critical aspects of being an excellent database for business applications:
Security — The Microsoft Dynamics 365 common data model (CDM) is a secure, encrypted business database.
Scalable — CDM is built for scale, using the best of Azure technologies, such as Service Fabric and elastic SQL.
Structured Metadata — Entities are structured with data definition, behavior modeling, and defaulting. CDM provides structured metadata, rich data types, auto-numbering, lookups, business data types such as address and currency, capabilities such as referential integrity through metadata configuration, and cascade deletes, making a compelling functionality. There is no need for schema modification; for example, allowing for the addition of communication channel preferences for contacts in a separate entity avoids the need to modify schema.
Common Data Model's Key User Benefits in Dynamics 365
Organizations will benefit from the wealth of rich ISV applications, which will be built atop the CDM model for various industry verticals and functions. CDM is also customizable and runs in the cloud, bringing in the advantage of applications accessing data to run on both desktops and mobiles.
Dynamics 365 Common Data Model is optimized for performance: The data model design adheres to standard database normalization patterns. In cases where we will get a significant performance benefit based on learning from Dynamics business applications, we de-normalize the data model and avoid complicated relationships. The structure of the entities has been kept simple enough to maximize performance.
Last but not least, CDM will enable organizations to connect business data from applications with information residing in Office 365 productivity platform; for example, a calendar appointment or an Outlook task with data in the Opportunity entity.
As one starts building more apps and adding on by using the CDM features it provides, the true value creation potential of CDM gets unlocked.