If you're a successful Business Executive, you probably know all about Customer Relationship Management (CRM) tools. In fact, you're probably using CRM right now to track all your prospects as they make their way through the winding road that we call the buyer's journey. In an earlier blog, we told you how your sales people could use CRM to increase their productivity and boost revenue by 41% per salesperson.
But, let's back up a bit. You can't sell without prospects. How can you possibly attract potential leads to your business in the first place? By using Dynamics CRM as part of your marketing strategy.
A recent study by VentureBeat has shown that 80% of businesses were able to increase leads by using CRM solutions to market their products. The same study showed that 77% of the firms saw an increase in conversion rates. Those are pretty good stats. In the following paragraphs we'll give you a few examples of how you can improve your marketing strategies with Dynamics CRM Online.
A. Use Social Listening Tools
Wouldn't it be great if you could find out what people were saying about your company and your competitors? Social Listening tools let you do that. Have you ever heard of Microsoft Social Engagement? It's a social listening tool that you can integrate with Dynamics CRM Online. It will track what people are saying about your industry in up to 19 languages across platforms such as Facebook, Twitter, Blogs, Video, news syndication and custom sources via RSS.
1. How Listening Works
Take a look at this use case. Red Goat (a fictional company) is a provider of cloud-based applications that help retailers control inventory levels and reduce handling costs and waste. When the company started receiving trend alerts that its customers were posting bad comments about its new user interface on social media, it worked quickly to improve the app. Red Goat then posted the news about the improved app on social media and thanked its customers for pointing out the problem. Once customers tried the new app, they turned to social media once more to praise Red Goat. In the end, the company scored points for listening to its customers.
2. Customer Opinion at Your Fingertips
Social Engagement gives you quick insights into what people are saying by breaking down results according to sentiment, volume, phrases, location, search topics, language and social media sources. As the following illustration shows, the tool will evaluate keywords in a post to determine whether they are positive, negative or neutral. You can then take this information and route it as either a case or lead into your CRM.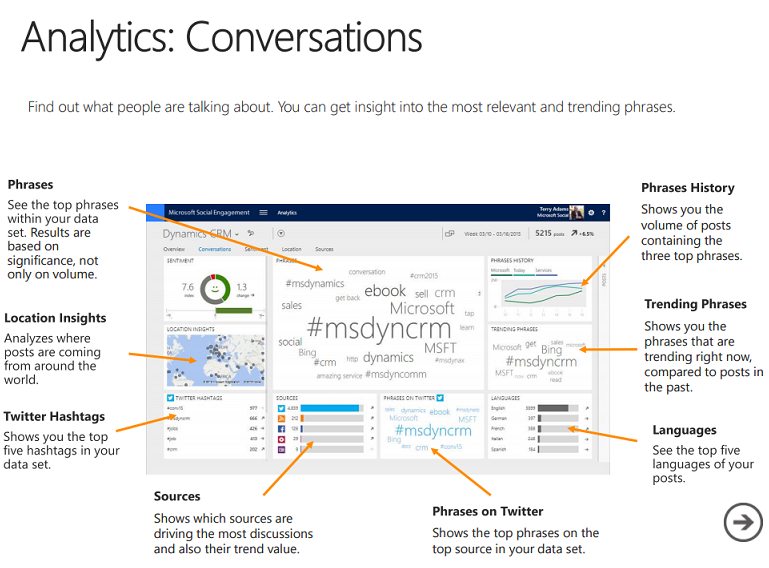 Once your sales team has seen the information you've gathered, you can start to build better relationships with current and potential customers. By creating filters or alerts for certain keywords you want to monitor on the web, you can find sales opportunities and cross-sell opportunities for your customers. Continue the conversation on social media to touch base with current and potential customers and address issues before they get out of hand. You can also configure streams to display content based on the filters you choose for time frame, language and sources.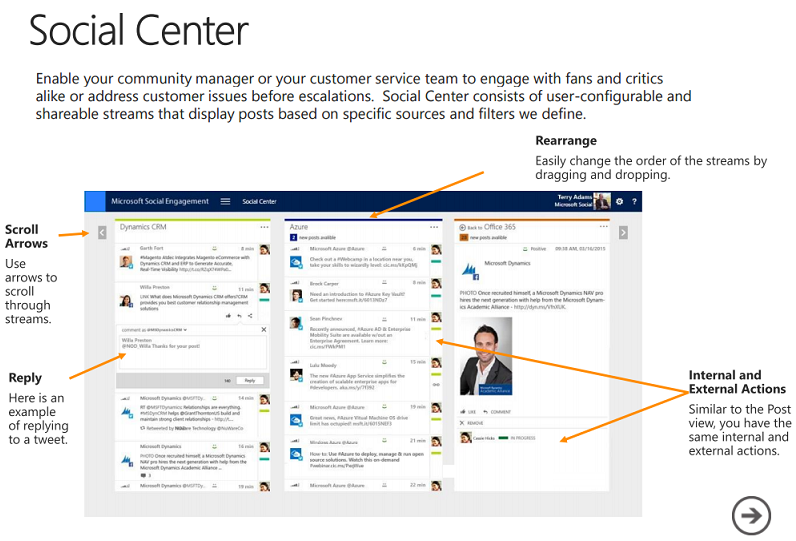 Want to know how people are feeling about you and your competitors over a specific time period? This information, called sentiment history, will be displayed in a graph highlighting specific time periods (days, weeks or months), locations and phrases used. We've included a sample below.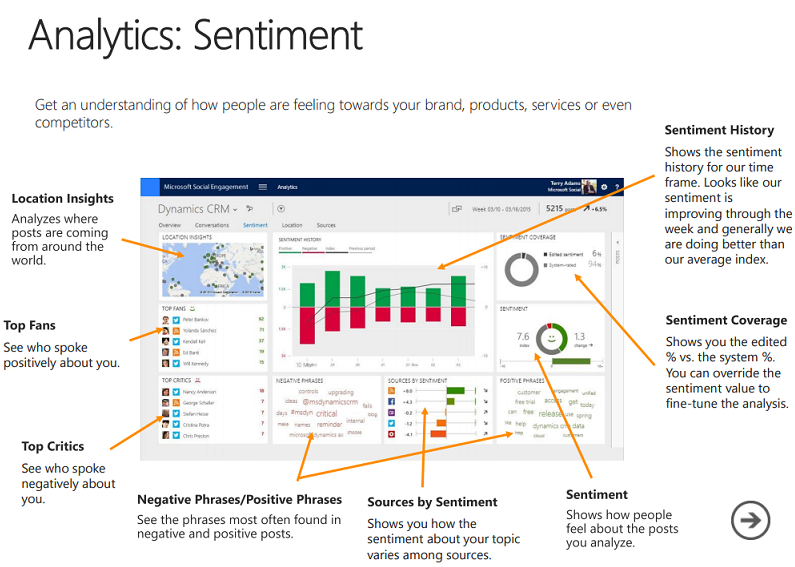 3. Listen to the Competition
We've given you a fairly good summary of this social listening tool, but we've only scratched the surface. There's a lot more your company can do with Microsoft Social Engagement and CRM Online. Staying up to date with the competition is an important feature. Here are a couple of ways you can listen in on the conversation.
To get a good handle on the competition, create a dashboard feed to list the most recent social posts where your competitors are mentioned. Not only will you see the latest posts your competitors have shared, but you can also highlight recent entries that mention any competitor name that you've defined in the Social Engagement tool. They might even be talking about your company!
Maybe you'd like to see what your competitors do after hours. There's an extension in CRM called Social Insights. It feeds data from the Social Engagement tool to the records you have in CRM for customers, prospects, competitors, partners and other companies. You can then use this feature to view your competitors' social activities such as product launches, acquisition announcements, personnel appointments and even awards.
Does it Really Work?
We know what you're thinking. This all looks pretty snazzy, but can it really help me attract more customers? Here's the thing. A recent study posted on LinkedIn has shown that 51% of salespeople who use social selling techniques perform better than their peers. That's a pretty good statistic. Microsoft Social Engagement is free for all Dynamics CRM Online customers who have at least 10 Professional user licenses.
B. Integrating Email Marketing and CRM
We've said it before: email is still one of the most popular ways of doing business. Your sales people send out an incredible amount of email messages to their customers and leads every day. Combining email marketing with CRM gives you access to important metrics that you can use to increase your email campaign open and click-through rates. Here are a few examples.
1. Improved Customer Insight
CRM gives your sales reps real-time insight into customer behavior. They can see which prospects have opened email as well as click-through rates for specific campaigns. Your CRM can also alert your team about upcoming marketing initiatives, such as an upcoming email campaign or marketing event. This gives them important information that will allow them to tailor their calls to a prospect's particular interest. They also have a clearer idea of what their customers are looking for. Maybe your client attended one of your webinars. However, when the sales team followed up, they found out that the customer hated the webinar and never wants to attend another one. This kind of insight is useful for any future contact with the customer. This is how CRM can increase customer engagement and accelerate your sales cycle.
2. Targeting Your Messages
If you want to target your customers correctly, you have to know where they are in the sales funnel. This is the process companies use to lead customers from the initial awareness stage about their products to the final purchase stage. Use this information in CRM to segment your audience and send them email messages that contain content that is most relevant to their needs. A recent case study published by Marketing Sherpa showed that segmenting email can improve open rates by an average of 40%.
3. Create Specific Campaigns
You can also create campaigns based on specific data in your CRM. For example, if you monitor your clients' contract expiration dates, you can create a specific email campaign for those clients and perhaps uncover other sales opportunities.
We can't stress it enough. By combining the power of email marketing and up/cross-selling opportunities with CRM, you can substantially increase your email marketing ROI. A recent study by SuperOffice shows that email marketing has an average ROI of $40 return for every $1 spent.
C. Keeping All Your Data in One Place
Let's face it. If your company is going to generate serious revenue, you have to build a foolproof sales process. One that allows you to track interaction with your prospects starting from their first contact right down to the moment you close the sale. CRM Online can help you streamline your sales cycle. Its Guided Processes feature maps out each step of each sales opportunity so your team knows exactly where each lead stands in the sales funnel and when it is expected to close. Gone are the days when sales teams hunkered over Excel spreadsheets trying to tell the difference between their leads and their prospects. CRM Online can greatly improve your sales process by making it easier for sales people to negotiate with prospects and understand where they are in the buyer's journey. Here are a few examples.
Better Lead Generation
If you've worked in sales for a while, you're probably familiar with lead generation. You know how long this initial step of the sales cycle can be and how important it is in the process of getting a prospect to try your product. CRM helps you cut to the chase by allowing you to connect with good quality leads. By using real-time data, your marketing teams can create personalized campaigns that will motivate your customers to connect more directly with your brand. As we mentioned earlier, your sales team can use the information they gather to create marketing campaigns that will target a prospect's likes, interests or purchasing habits. The numbers speak for themselves. According to a study conducted by Demand Metric Research Corporation, 84% of companies surveyed said CRM was beneficial in determining lead quality.
As you can see, CRM is no longer a passive tool that simply collects customer data. If your sales people want to be more competitive, they need to do more than just view customer profiles, pull up call notes and schedule a list of to-do items. They need a CRM system that can be integrated with other marketing tools so they can make better business decisions. And the use of CRM shows no signs of slowing down. Gartner, a leading information technology research company, has predicted that the market for CRM will reach $36.5 billion by 2017.
Sherweb's Dynamics CRM Online can help your company improve its marketing strategies and close more deals.
Give us a call today to get started with Dynamics CRM Online at 1.888.780.0955.