Your business has reached the moment you dreamed of and thought you were ready to take on. Despite all the roadblocks, you made it this far with a patchwork of business and financial solutions, your hard work, and a dedicated team. Your business is expanding into markets you could only wish you were in a year ago.
However, your financial solutions are starting to hold you and your business back. You struggle to handle your expanding team and they are not able to keep up with all the requests and your business's growing demands.
That is where Dynamics 365 Financials comes in.
Taking your accounting solution to the next level
Dynamics 365 Financials is a simplified Enterprise Resource Planning (ERP) solution built for businesses that interested in ERP but are not ready to take on the burden of more complex systems. Financials offers what you need to build a solid foundation for future growth by giving you tools in five distinct categories that give insight into every aspect of your financial activity:
Financial Management
Inventory Management
Purchasing Management
Project Management
Sales
Dynamics 365 Financial management: Super-charge your accounting
When you first started keeping track of your company's financials, you kept it simple. A couple of excel files or maybe even a physical ledger book. That was fine and you got by, but business picked up, the workload started to pile on, and you had to string together solutions.
Those Excel ledgers shared over email and a small, dedicated platform like QuickBooks helped to manage all that content. Because your team was small, it worked well enough but, as you brought in more staff, those files started to multiply with different versions sent around and chaos building.
Financial management simplifies all that by giving you tools to control invoicing, build detailed digital ledgers, and control accounts receivables and payables without a drop. With the seamless interaction between Dynamics 365 and other Microsoft products, you will not have to worry about a single missing file or an outdated file; everything is up-to-date and in the cloud.
Dynamics 365 Financials: Inventory management: Unprecedented product control
With the Inventory Management Solution, you can track products from your warehouse to delivery. Does your customer have a problem with a product or want to make a return? Dynamics 365 Financials can handle that.
Dynamics 365 Financials allows you to endlessly categorize and filter your inventory to know what is in stock and what need restocking. Instead of having to waste time tracking down an item through a temporary solution like a basic ledger or logbook, your team can update items and have that information available to everyone on your team.
Dynamics 365 Financials: Purchasing management: Control purchases and pricing on the fly
Purchasing management gives you the ability to automate and track purchasing across your entire company. You can keep track of vendors and implement systems to stop unnecessary purchases before they happen. With everything tracked in Dynamics 365 Financials, you will have the most up-to-date information about who is buying your inventory and what they are stocking.
Having everything tracked means that you can reduce duplicate listings and double-check your purchase information in Dynamics 365. Forget about trying to figure out who has the most recent price list; Dynamics 365 Financials will keep track of all that and give you the ability to go back and make purchases fast.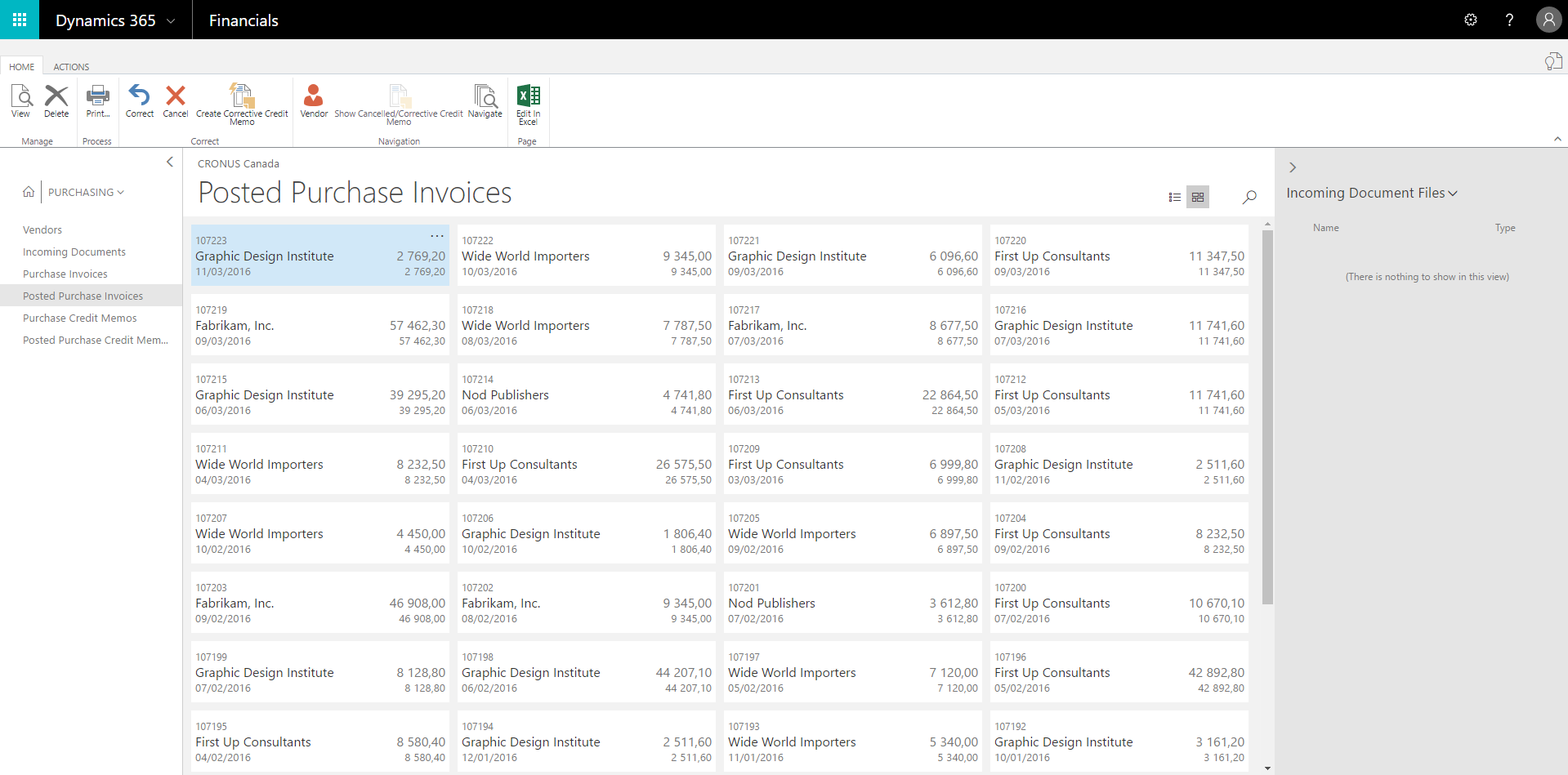 Dynamics 365 Financials: Project management: Fully integrated planning and budgeting
Without proper management of your budgets and resources, your team is always going to lag behind your goals and demands. No matter how well your inventory and budgeting are handled, projects will stall and will not start again without proper management. Dynamics 365 Financials Project Management lets you track your costs and manage what projects your team is undertaking and what resources they are using.
Your project manager's performance can make or break a deal. Your sales team can sell, your inventory can be in place, and your people ready to roll out the project, but if timing and planning are not right or, even worse, if you do not know whether the budget is available, you stand to lose a lot more than just good customer relationships.
Dynamics 365 Financials: Close deals while growing leads
The main driving force in any business is sales, and Dynamics 365 Financials Sales gives you an unmatched solution for empowering your sales team to do more. Your sales team will be able to organize and prioritize leads, create fixed sales processes, create contacts, and even pull information from the web and Outlook automatically.
Once your sales team has all the information they need, they can follow through on their sales without having to worry about invoicing, pricing, and managing orders. All those tools are available and, more important, they are integrated with the rest of Dynamics 365 Financials.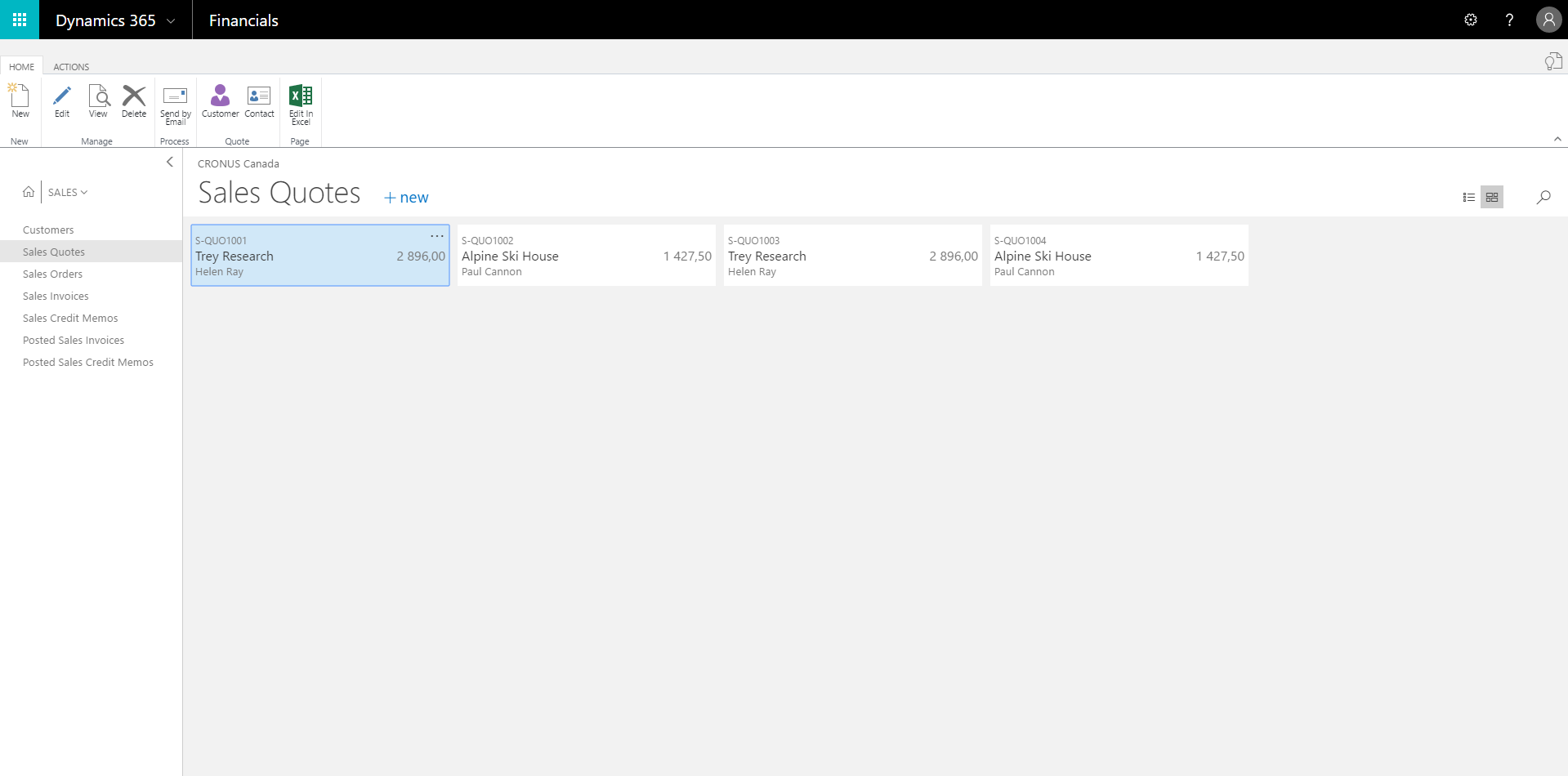 Less time spent writing down notes and ticking off boxes means that your sales team can focus more on selling.
Dynamics 365 Financials is the way for all growing businesses to ease their way into ERP and unify their work solutions and is the next step in growing your business. No yearly commitments, flexible plans, and pricing that is customizable to fit your growing business.