The digital era has arrived and, according to the World Economic Forum, the digital economy is expected to be worth $100 trillion within next 10 years. The digital economy is underpinned by data and this is why the volume of data is increasing exponentially day-by-day; therefore, the businesses that make sense of the flow of information have a competitive edge in the marketplace.
Are you familiar with the super powers of data reports?
The crucial thing is to have access to the data in a way that makes business sense and helps the managers to resolve business problems, understand customer patterns, and, more important, discover an opportunity.
There are few data analytics case studies from the retail industry:
milk was found to be the most purchased item so it is always placed at the back of the store, making the customers walk past everything else before they get to milk
bananas are at the front of stores because they are found to be an impulse buy
 men who buy diapers for their kids are more likely to have beer in their carts
To get to this kind of discovery, a data mining exercise and the combining of data from multiple systems is necessary; however, the precursor is a strong foundation of data.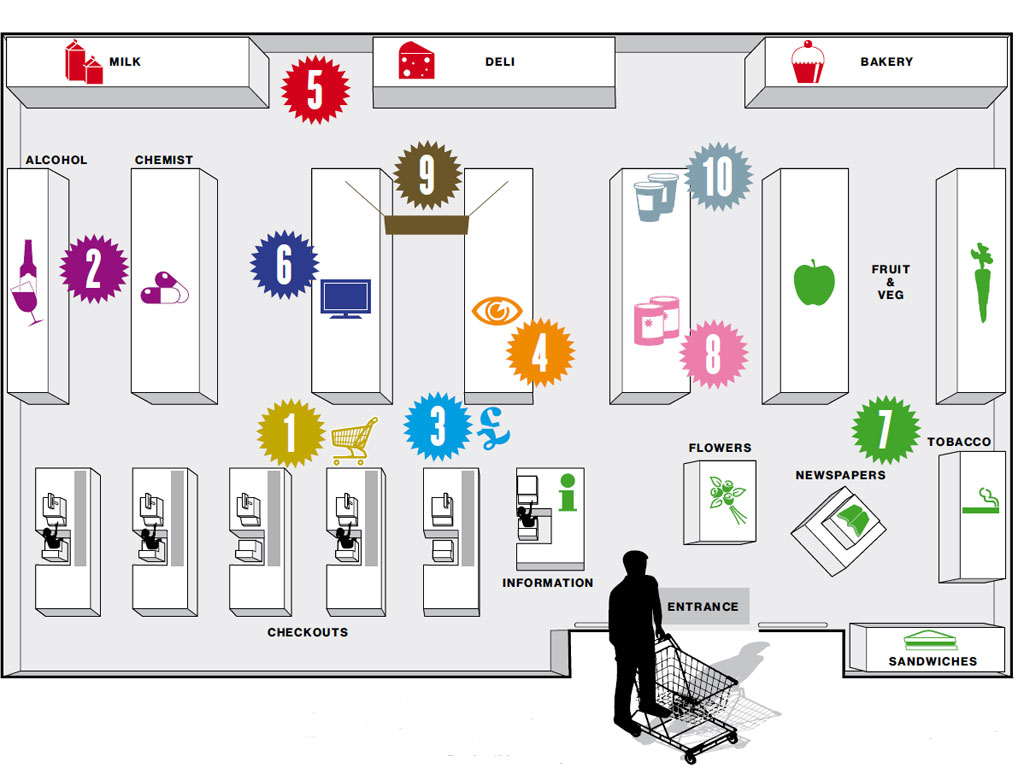 Microsoft Dynamics 365 platform offers a robust and flexible foundation that captures and reports on the business data to be further used for business analytics. In this article, we will explore Microsoft Dynamics 365 (CRM) capabilities that enable business users to get easy access to data via reporting without IT or vendor help. Business users have the capability to configure their own reports at a lower cost rather than undergoing a change via IT. The custom reports, however, require technical knowledge.
Have You Heard About The Incredible Reporting Capabilities of Dynamics 365 (CRM)?
Microsoft Dynamics 365 (CRM) is seamlessly integrated with Microsoft SQL Server Reporting Services (SSRS), enabling the platform to host complex business reports based on the data residing in CRM.
Two types of SQL Server Reporting Services (SSRS) reports can be generated in Microsoft Dynamics 365 (CRM).
Report Wizard Reports
Custom Reports
What do Wizard Reports look like?
These reports are comparatively less complex reports and can be created by using the Report Wizard within the Dynamics 365 (CRM) web application. This functionality enables the business analysts and business users to create reports quickly without a developer's help. The wizard can summarise and display data from two types of records at once.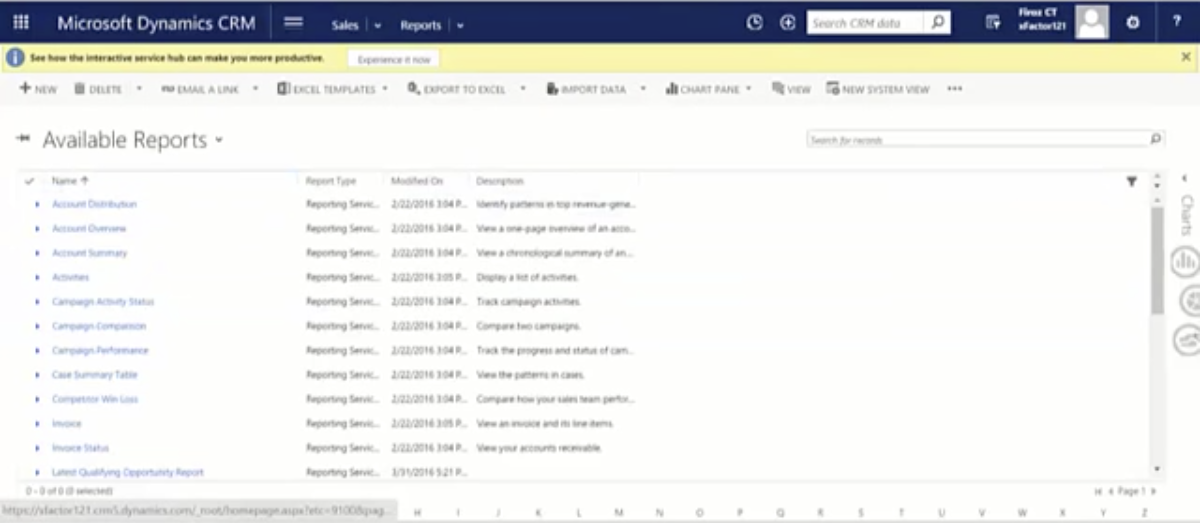 Some capabilities of the Report Wizard's reports are listed below.
The report can have tables and charts with a clickable reference to the specific CRM record.
Report data can be grouped by any field and summarized by aggregations such as sum, average, minimum, maximum, and percentages.
Report Wizard allows users to configure filtering criteria using logical operators such as "AND" and "OR".
Report Wizard also allows users to configure filtering criteria using:

Data comparison operators such as "Equal", "Does not Equal", "Is Greater Than", "Is Less Than", "Contains Data" and "Does Not Contain Data".
Date comparison operators such as "On", "On or Before", "On or After", "Next X Days", "Last X Days", "Today", and so on.

Advanced users, such as business analysts, can write comparatively complex reports utilizing logical operators, comparison operators, and grouping options.
Report creation is controlled by Dynamics CRM's Security Model. The users with appropriate privileges will only be able to create custom reports either using Report wizard or SSRS reports.
Report Wizard has some limitations and is designed to enable users to create comparatively less complex reports.
What are Custom Reports?
The complex SSRS reports can be developed and imported into Dynamics 365 (CRM). Under the hood, the custom-developed SSRS reports and Report wizard reports are structured in a similar XML format.
As mentioned earlier, Report Wizard reports have some limitations and there is a clear distinction between configuring vs. customising, i.e., writing a custom SSRS report. For example, a Report Wizard report cannot group data from more than two record types.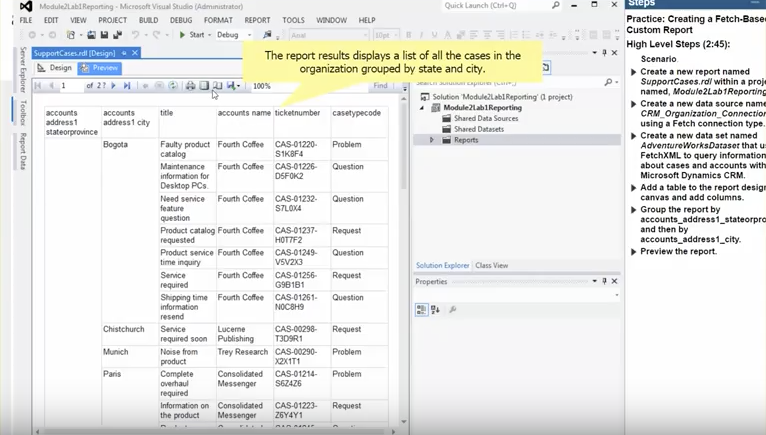 Therefore, it is recommended to create Report Wizard reports if the requirement is limited to the configuration scope. Business users can also minimize the cost by configuring a foundation report enabling the technical people to extend it further for complex grouping or aggregation using Microsoft SQL Server Reporting Services (SSRS).
How does it work in a business scenario?
Consider a scenario that a business user wants to report on the open cases with its key data points grouped by the account (customer). The guide below covers the steps required to configure the report.
Step-by-Step Guide
Step 1: Click "Service"

Step 2: Click "Reports"

Step 3: Click "New" to create a new report

Step 4: Specify a name and configure as shown in the screenshot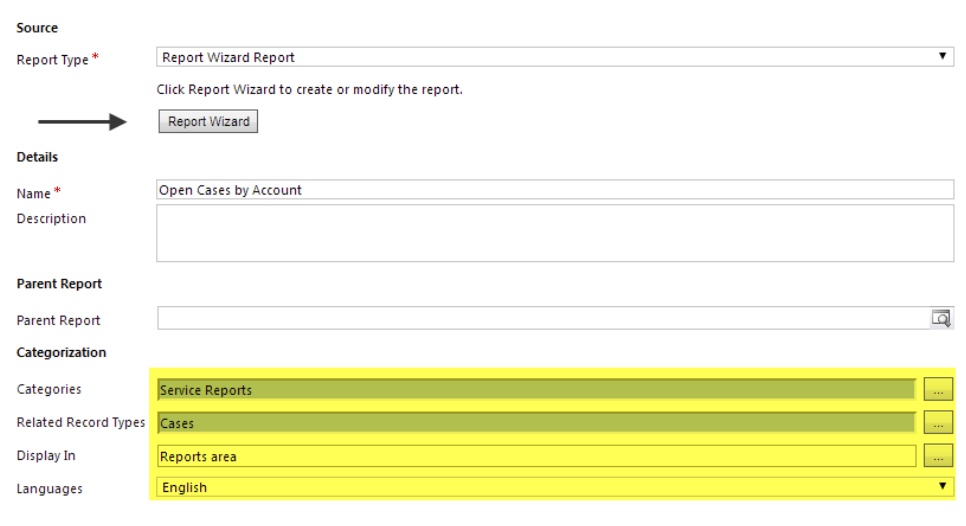 Step 5: Select "Start a new report" and click "Next"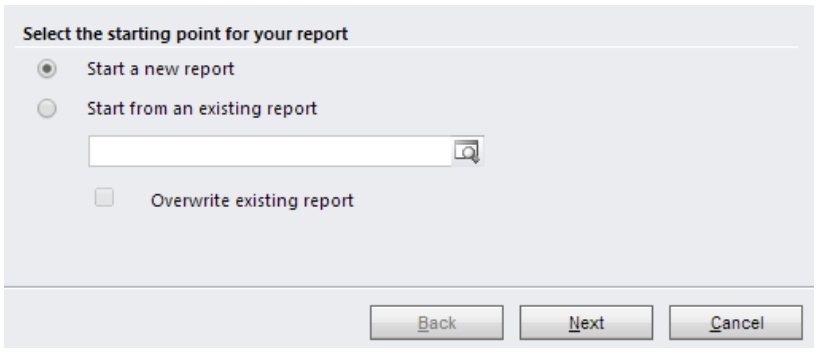 Step 6: Select "Case" as "Primary record type" and click "Next"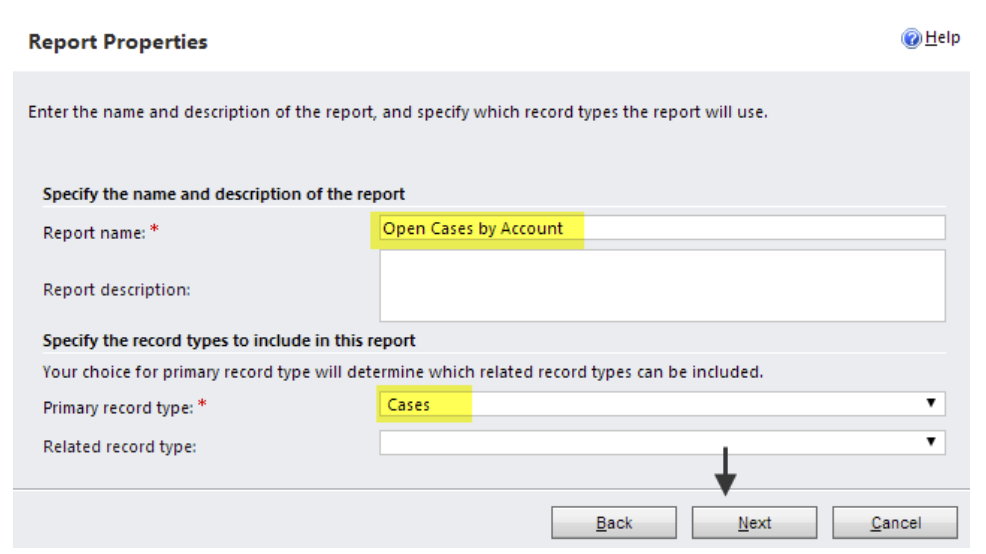 Step 7: Specify the filtering criteria 

Step 8: Click "Click here to add a grouping" to specify the grouping object in the report 

Step 9: Add Grouping as shown below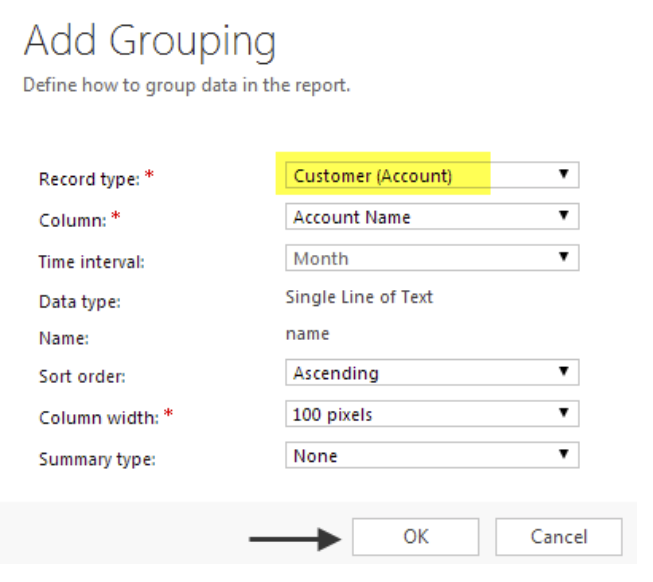 Step 10: Click "Click here to add a column" to add columns from the Case entity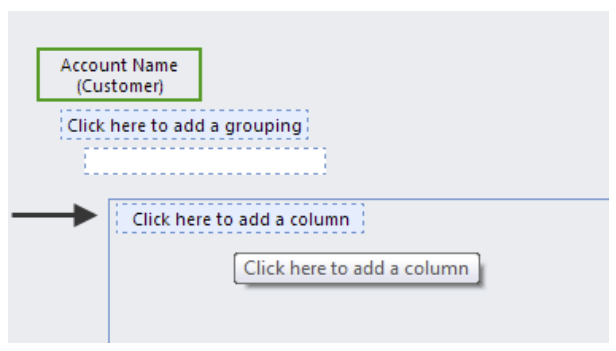 Step 11: Add columns as shown in the screenshot
Step 12: Select "Table Only" and click "Next"
Step 13: Proceed with the wizard and then Click "Finish" to create the report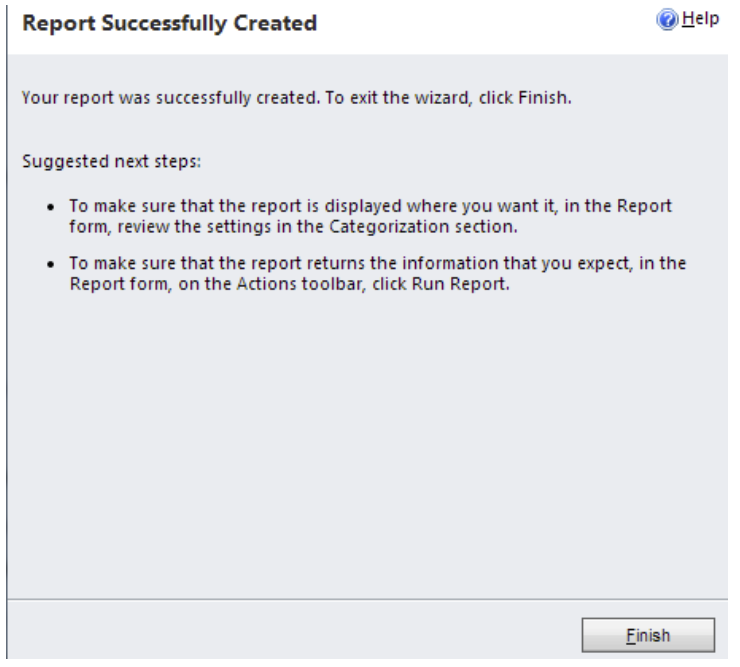 Step 14: Click "Run Report"
Step 15: Review the newly created report