Whether you're managing multi-million dollar projects or just handling a tiny one with very few resources, it's always stressful to visualize and design an end-to-end journey. Not only are you trying to maintain the rapid progress, but you are also managing stakeholder issues, team morale, short-term to mid-term planning and so on. No pressure.
Ask any project manager what it's like to manage a project and they'll likely tell you that it's not an easy task, especially when they are engaged with multiple projects, which is often the situation.
Therefore, choosing the right project management tool and intertwining it with the organizations' DNA is the most important digital transformation piece you should deal. It will help you ensure that your customers are satisfied and your team members are happy. It will also give you confidence that your organization will exist in 5 years' time.
Why Do I Need a Project Service Automation Platform?
Many people assume that project management is a practice that applies strictly standardized processes to every single project and the overall success depends on how well these processes are applied. After all this is the main idea, right?
This might seem natural, but it's wrong. Because it disregards the end to end customer journey.
In this modern business environment, management of pre-sales, post-sales and post-delivery phases are much more important than the actual delivery piece. To stand out in the market and have a sustainable growth rate, the first thing you need to achieve is complete communication. You need to communicate your strategy to every single member of the team and share information effectively. Therefore, taking a holistic approach in project service automation and tying that into your organizational culture will enable you to get the most of out of your team and realize the true potential of your business. Sounds good, right?
The bad news is that a project management tool alone wouldn't result in this, because the real problem is not the actual management part but the broader environment. Well…the good news is Microsoft launched a project service automation module built right into the Dynamics 365 ecosystem last year.
What is Project Service Automation?
Microsoft Dynamics 365 Project Service Automation (PSA) is a one-stop shop for all project-based organizations enabling them to integrate project delivery teams with the rest of the organization. As part of the whole Dynamics 365 ecosystem, PSA provides all the required features of a project management system, and at the same time brings visibility into other areas of the business.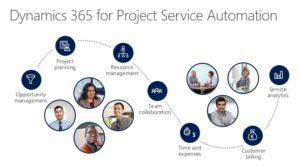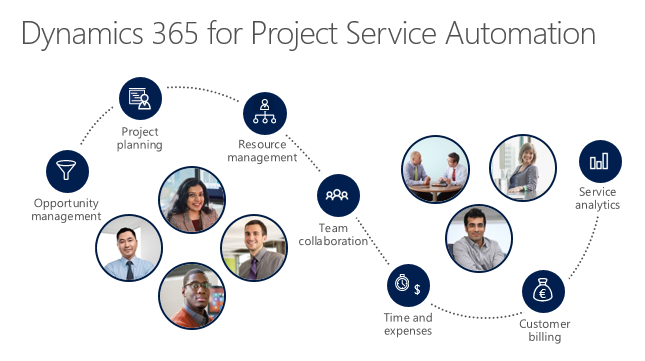 What Can MS Dynamics 365 PSA Do for You?
It basically covers everything about a project. When I say everything, I mean it. Let's take a closer look:
It Can lead Your Pricing, Quoting and Proposal Structure
Being part of Dynamics 365, PSA offers an integration of projects and sales pipeline where you can create high level project estimates and surface this information on your opportunities. You can use project templates to re-use this information for similar opportunities as well. The best thing about working with a well-designed Dynamics 365 is that, you will always be looking at consistent data, so by implementing PSA you'll be on top of your sales structure from the very start of the preliminary discussions.
You Could Plan Projects and Implement Your Work Breakdown Structure (WBS)
PSA enables you to create project phases, tasks and milestones, with the option of being integrated with other project management tools like Jira. These items are tracked against the actual progress by allowing individual consultants to log in time and expenses. The result of this is that these can also be monitored, reported and used for stakeholder or management presentations. At the end of the day who doesn't want to have a dashboard that forecasts load for the following 6 – 12 months?
Want to get involved reselling Dynamics 365?
Download our complete guide
and learn everything you need to know!
Maintains All Your Resources, Their Skills, and Their Availability
PSA provides visibility into your resource pool and brings a structured approach for finding the best fit for a project by introducing numerous variables into the process like characteristics, ratings, skills, roles and territories. With the help of schedule board and schedule assistant, you'll have no issues defining who is best for a project. You can also track the availability of your resources in real-time. This is particularly useful when you have a large team with is made up of diversified skills and proficiency levels.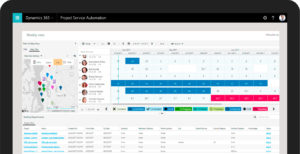 Provides an Easy to Use Communication & Collaboration Platform
Taking full advantage of being a part of Office 365 ecosystem, Dynamics PSA allows users to communicate using both internal Dynamics activities and external collaboration tools like Skype for business and Teams. Using SharePoint and OneDrive integrations, consultants can create documents, keep them in a single repository and access the same centralized and structured information through SharePoint or OneDrive. Obviously, there is no shortage for collaboration tools but PSA creates an enhanced communications history and file repository which will actually make sense when you revisit the record.
Handles the Whole Invoicing Process
After you've spent all that effort, you will need to invoice your services to your customers. For this part, PSA uses the out of the box Products module where you can define all your services and products along with your price lists. That brings flexibility to apply different pricings for the same product or service. An approved project will create a contract under PSA module which will cover all the associated product line items including prices. Contracts can also maintain information about the billing method, whether it is a fixed price contract or a time & materials basis type of contract.
Additionally, PSA allows organizations to provide the invoicing schedule like milestone based or on a monthly/quarterly basis. The user interface is designed to cater for the combination of almost all possible scenarios, providing users with a seamless experience.
Keep in mind that the goal here isn't just using another platform to manage projects, but rather finding a way to make everyone involved a part of it. The purpose of using MS Dynamics 365 Project service automation is not managing the project more effectively, it is bringing a people first approach to the overall process.