It can be challenging to manage the communication capabilities of additional hardware. Installing a new PBX system can cost a company thousands of dollars. This doesn't include software costs and management requirements. Enter Skype for Business. It offers an alternative to PBX systems by providing employees the opportunity to instantly call clients directly and collaborate via messaging, video conferencing and more. As of October 2017, Skype has 300 million monthly active users, and there have been 1 billion downloads.
Skype for Business can call any phone number—the recipient does not need to be a Skype user. Most consumers already have Skype installed—making customer communication convenient when using Microsoft Dynamics 365.
Business benefits of Skype
Nothing compares to simplifying customer and coworker interaction. With the integration of Skype and Dynamics 365, you can contact your colleagues or CRM contacts in a jiffy by clicking the phone number field of your record. Think of how much time you'll save over picking up a traditional phone and dialing—and possibly getting the number wrong a few times too.
Skype will let you know who is online and who isn't. Plus, you can't overlook Skype's value and affordability.
Through Skype, you can video conference, host online meetings, send instant messages, and even make free long-distance phone calls. Those features alone can be invaluable for a small company interested in scaling their business with limited resources.
It's hard to believe that two trillion minutes have been used for Skype video calls. For enterprise businesses, Skype offers an affordable communications tool that easily integrates with Dynamics 365 within a user-friendly platform.
Skype is hard to beat is because of its capabilities. For instance, it can host up to 250 users on one conference call. Imagine all the possibilities allowing collaboration with larger groups. It's essentially a virtual channel for holding large or small meetings. And, no one has to be in the same room.
But, what if you need answers now? With the breathless pace of the global market, no one wants to wait any longer than they have to for answers. In these situations, Skype's instant messaging system is gold. You can get your answers instantaneously, and you can segment your contacts by unique categories and modify your status based on availability.
If you want, you can even record your conversations for future reference—something essential for sensitive and regulated industries like finance and healthcare. If there is one thing all businesses want, it is reliability. You can't afford to have your calls dropped or your chats disconnected. As long as you have a stable Internet connection, Skype will be dependable.
Dropping a call can lead to lost sales; especially when you are trying to convince the client about the benefits of your products and services. It's nice to know that traffic on Skype for Business is always encrypted with Advanced Encryption Standard (AES). Every business wants peace of mind knowing their communications are secure. On top of that, Skype is designed to be user-friendly. It is simple to set up and use right away.
Integrate Skype for Business with Dynamics 365
To begin integration, you must have a subscription to Skype for Business. To get started with Skype's click-to-call features, just click on Settings > System > Administration > System Settings. Under the General tab, and under Set the telephony provider, choose Skype for Business.
You can also configure your IM options by clicking on Settings > Administration > System Settings. Then, go to the General tab and Set the IM presence to Yes or No.
Skype for Business is already enabled in Microsoft Dynamics 365 by default. Each user must have the Skype for Business client installed on their computer. You can also use the Dynamics 365 and Skype click-to-call feature on any of these supported devices and web browsers:
Google Chrome
Internet Explorer
Firefox
Safari
Windows-based tablets
Microsoft Dynamics 365 for iPad
Dynamics 365 for Android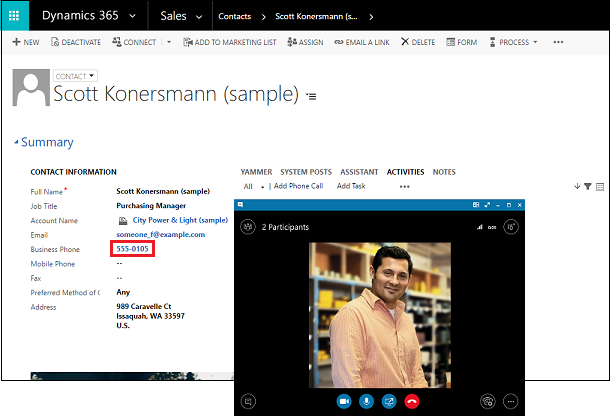 More capabilities with Skype and Dynamics 365 integration
Contemporary businesses must always find ways to maximize the customer experience. When reaching out to customers and prospects, time is of the essence. Instead of struggling to dial, and memorizing every phone number, you can simply click-to-call straight from Dynamics 365 CRM—no fuss, no muss. It is the ideal way for calling customers.
And, you never have to pick up an actual phone. Since Skype integrates with Dynamics 365, you don't have to switch between one application or the other. Everything is available right at your fingertips.
Picture a conversation with a client and the client asks about their purchase history. Since you already have Dynamics 365 open, you can quickly scan for their records and offer an immediate answer to their inquiry.
If you are calling a prospect and want to get background information for your call, your CRM system has it right there for you without the need to open and search through multiple applications. You also have more availability because you are not reaching across your desk to pick up or answer the phone. It's simply clicking, and you are talking.
You can type away messages to your clients and colleagues. If a client has a question but prefers to send it in message form, they can. In fact, you can talk on the phone with one client while typing an instant message to another. And, you have all their information readily available on the same screen. Customer communication could not be smoother.
Final thought
Instead of having to deal with installing and managing new phone system hardware, why not use Skype for Business? It already seamlessly integrates with Dynamics 365 to ensure full interoperability. Plus, the enhanced flexibility you gain from the Skype and Dynamics 365 integration offers improved efficiency, reduces hardware and software costs, and increases customer satisfaction.