Many businesses still use several software applications to manage different departments, functions, and lines of business. But this can hamper growth if the systems aren't scalable and are legacy. If your company is ready to enhance productivity while cutting costs, then it may be time to implement an ERP system. There are still a few questions to ask. Keep reading to learn more.
How to Know if You Are Ready for an ERP System
Think of all the ways your company's departments communicate, collaborate and access data. Are there any hold-ups to address? Is business growth making it more difficult to stay organized? Are you still relying on spreadsheets to store and manage information?
End-to-end business visibility and communication is essential for a growing business. If your company needs that type of visibility, then is it time to implement an ERP system. It's the only way to make sure all your systems and employees align with your business objectives. A well-executed ERP system does not require additional employees for management.
It is cumbersome and costly to manage multiple systems for invoicing, inventory, customer data and more. With the right ERP system, there is no need to hire an ERP manager. Companies with warehouses and stock require full visibility over all business activities. It affects both customer satisfaction and distribution.
In today's fast-paced digital world, it is critical to have real-time data on stock levels. And, if you have a mobile workforce and plan to grow, you need a centralized ERP system that offers reporting activity and access to every location, department, mobile device and employee.
Benefits of an ERP System
The right ERP system will centralize all your company data, from every department, to unify the flow of information. End users can access real-time information to improve decision making such as whether specific items are in stock right now and even forecasting future scenarios.
Another benefit of the right ERP system is scalability. You want a solution that can grow with your business and can support varying needs like more locations, more users, and more customers.
The right ERP system will also be user-friendly, easy to set up and easy to customize. Another benefit is built-in functionality and easy integration. Implementing an ERP solution is worth it if it integrates with your current infrastructure solutions.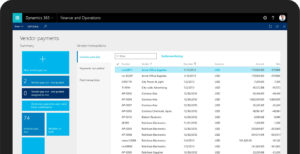 A real advantage of an ERP system is greater product traceability. This is the ability to track products from the raw material stage to final delivery. It can be used to monitor sales processes from a warm lead to a satisfied customer.
Plus, ERP solutions can break down communication barriers from within the organization–between full-time employees–and, also with remote employees. Since an ERP system can integrate company communication systems, every employee–whether full-time or contract–can communicate and collaborate in real-time with access to live data.
One of the most important benefits of an ERP system is the cost savings. It helps to make all your operations more efficient and timely, so your company can take advantage of long-term savings and cost-reductions that come with faster and centralized data access.
Questions to Ask Before Buying an ERP System
Naturally, you don't want to purchase an ERP system without making sure it is the right solution for your company objectives. You want to gather information to help you make the most informed decision about your ERP solution. Nonetheless, choosing the right ERP system is imperative for growth.
Is the solution scalable and flexible?
Throughout the years, businesses must change to reflect the needs of changing markets. A business that never changes can quickly become an industry dinosaur. It is essential to not only determine your current needs but also to forecast future requirements. Your ERP system should have the ability to scale along with your business.
Does the solution fit your industry?
You want an ERP system that is proven to work well in your industry. Ask for customer testimonials and references. If your company manufactures baking equipment, see if your vendor has another baking equipment customer. You're not looking for other bakeries.
Some vendors are better suited to one industry over another. This is an important question because it helps you see whether the solution provides relevant services that will improve current processes. You want to know if your vendor develops best practices for other clients in your industry.
How much training is involved?
Even if an ERP system saves your company money, you still need to get buy-in from your employees since they will be using the solution daily. You want to know about training details. Ask your ERP vendor if they provide training and how they provide future support. This can be customer support via email, on the phone or in-person.
Can you test out the software?
Many companies want to "try before they buy," and for a good reason. It takes time to choose the right ERP solution. And, many businesses are operating on limited resources.
You want to see first-hand whether the solution is user-friendly, easy to integrate and easy to implement. Test whether the functionality and capabilities align with your business needs. Ask for a personalized demo or test drive.
How much does it cost?
Cost is certainly significant. You don't want to spend more money than is necessary. At the same time, you don't want to purchase the least expensive option only to find out it is not the solution you need or want. Solutions can vary in price depending on functionality, modules, and the number of users.
Evaluate the actual cost. This includes the long-term savings you will reap with the right solution. Remember, you will have access to more centralized and real-time data than you had before.
How will that affect decision making? How much do you save as your business becomes much more efficient? How much does it cost to send an employee to a warehouse or stockroom opposed to seeing inventory on-hand, digitally?
Final Thought
The right ERP solution should help your company respond to customers more quickly and with more accurate data. You should be able to determine items that are in stock and when it is time to refill at a glance. You will get much better traceability features. And, an ERP system that can incorporate CRM makes customer relations easier to manage.
Don't forget about the significance of strategic decision making. It is challenging to make thoughtful company decisions without readily available data–from all departments–on hand. Now, you can make critical decisions quickly.
You can't forget the advantage of the long-term savings that come with more efficient management. When you can improve all your business processes with a scalable and flexible solution, it is a win-win.