Proposing Dynamics CRM to small and large scale business organizations has been much easier because of the system's capability of integrating with different Microsoft products and third party applications. The integration is easy and doesn't require much configuration with Microsoft products. This article will discuss the integration capabilities of Dynamic CRM Online and Dynamics CRM 2016.
Using Dynamics CRM allows you to store information and activities related to customer interaction or give services to your client.
But now you are able to store documents related to leads, opportunities, and services.
This can be achieved by storing the attachments in the "Notes" entity of the Dynamics CRM. But now when I need to search for my document in the CRM, I have to go through all my notes to get the information.  Similarly, this storage issue increases when you use the Dynamics CRM Online; storage is filled in instantly when you use CRM to store the attachments.

This is where SharePoint comes into play. Dynamics CRM allows integration with SharePoint in two ways, i.e. server-based integration and client-based integration. Client based integration uses a sand box solution that will be obsolete in the future. Whereas server based integration is supported on both On-Premises and Online Integration. The diagram shows the two-way path of integration between SharePoint and Dynamics CRM.
Dynamics CRM supports the following server based integration:
SharePoint on – Premises to Dynamics CRM On-Premises
SharePoint online to Dynamics CRM On-Premises
SharePoint online to Dynamics CRM Online
SharePoint on – Premises to Dynamics CRM Online

2. Microsoft Outlook
I remember my client complaining about how hard it is for him to track the email activities with his client in Dynamics CRM. He wasn't at all comfortable with sending or receiving the emails through the Dynamics CRM Web interface.
Moreover, most business users aren't comfortable with logging in to the CRM Web Interface and managing their email activities.

Dynamics CRM offers an Outlook add-on which can heal the pain of tracking email activities or creating leads directly from Outlook.
Following are the benefits of integrating Outlook with Dynamics CRM:
Automatically link Outlook emails to associated CRM records including contacts and opportunities
Create personalized CRM views in Outlook
Access all CRM end-user functions in the Outlook interface
Open CRM records from any linked Outlook email
Rely on the familiarity of Outlook to reduce training costs & gain rapid user acceptance
The above add-on can be used with both Dynamics CRM On-Premises and Dynamics CRM online.
To use Outlook with Dynamics CRM, we need to integrate Dynamics CRM with Exchange.
Dynamics CRM can be integrated with Exchange and Exchange Online using server-based integration as shown in the diagram.

With the Exchange integration, the user will be able to sync all the contacts, appointments, and tasks at a single place in CRM. And similarly, automated emails can only be generated from CRM if the integration is done with Exchange.
4. Yammer
I am the kind of person who usually works with different sales team on an opportunity. I like communicating with my colleagues on a lead, opportunities, or even on services. All these communications are on email or phone calls, although we can track the phone calls and emails in the Dynamics CRM. But what about my users who are not a part of Dynamics CRM?
Using activity feeds in Dynamics CRM allows you to be social with the Dynamics CRM users, but not other users.
Dynamics CRM allows integration with Yammer so you can collaborate with the users inside CRM or users who aren't part of CRM.
Dynamics CRM Online and Dynamics CRM On-Premise allows integration with Yammer. But for that, you need to purchase a Yammer Enterprise subscription per user.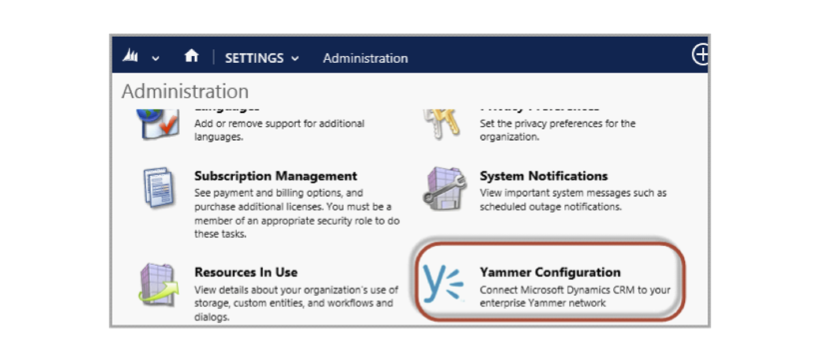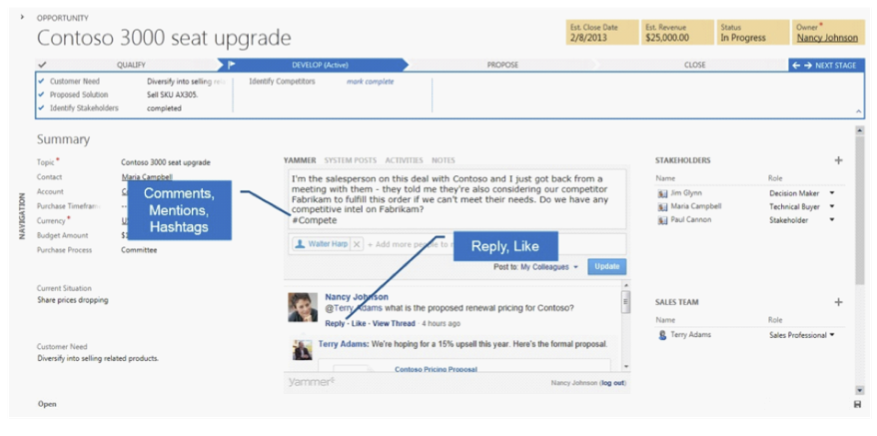 5. One Note
Getting notes while working on tasks is a day to day routine for us. One of my clients had complaints that it's hard managing multiple leads, because he needs something to remind him of the last work he had done with a lead, opportunity, quotes, orders, cases, etc.
Dynamics CRM Online allows integrating One Note, and this requires the Subscription of Office 365. Integration with One Note:
You can easily take notes for each opportunity, lead, or any other entity
No more hassles when coming back to the pending leads
Easy interactive, capturing of notes.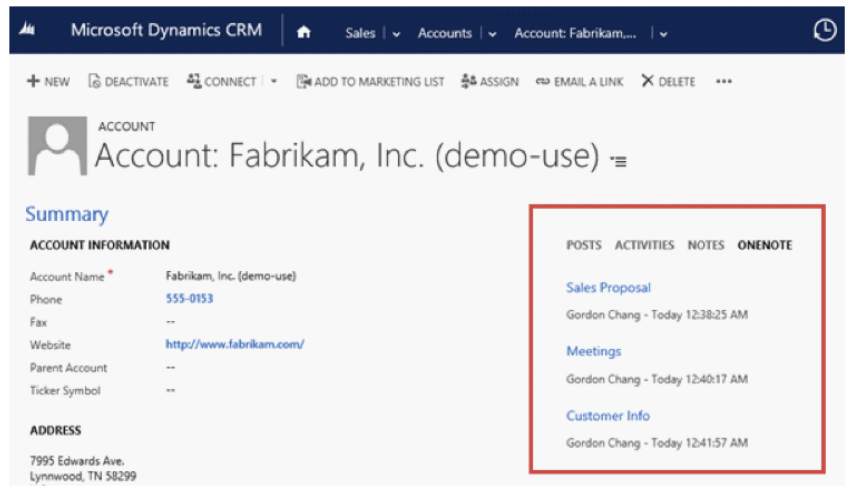 6. Power BI
It's a world of Big Data, and the next big thing in the future is to analyze this data to extract pattern. And the main goal is to increase revenue.
Dynamics CRM offers rich dashboards and charts, but they have limitations. With the help of Power BI, this limitation can be remedied. Reports on Power BI can be generated using Dynamics CRM ODATA Layer.
Dynamics CRM displays its data using the ODATA Web service Layer, Power BI can extract the data and based on it create reports and dashboards for executives and employees.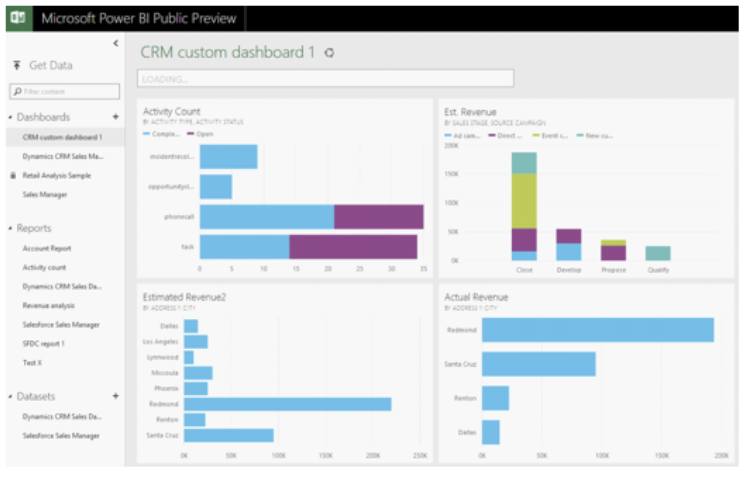 7. Office and Microsoft 365
Managing hardware has been problematic for corporations since they have to hire an IT team to manage the resources, which in turn brings costs in software, hardware, and resources to manage them.
Microsoft 365 being a cloud solution offers Dynamics CRM Online to easily integrate with the following:
SharePoint Online: Integrate for document management
Exchange Online: Integrate to generate emails from CRM to customers
Skype For business: Communicate within a team and contact clients directly using Skype for business by getting rid of traditional calling methodologies
One Note: Track notes for leads and opportunities
Yammer: Collaborate and work
Power BI: Rich Dashboards and Reports
Outlook App: Use Outlook with Dynamics CRM Online for creating leads directly from email and much more
8. ERP Integration (Dynamics AX, Dynamics GP, Dynamics NAV)
Microsoft has released a data integration tool for linking Microsoft Dynamics NAV/AX and Microsoft Dynamics CRM—creatively called the Microsoft Dynamics Connector.
The connector allows for out of the box bi-directional integration between ERP and CRM entities such as Customer, Invoices, Sales Orders, and Items. The connector works with both on-premise and online and uses web services for the data integration.
The integration will look at the following entities in the Microsoft Dynamics ERP and Dynamics CRM:

9. Integration with ESB
Dynamics CRM exposes the SOAP based Interface through which the external entities can connect and communicate with Dynamics CRM.
Following are the areas in which integrations can be done:
Custom Workflow Activities
Plug-ins
Discovery Service of Dynamics CRM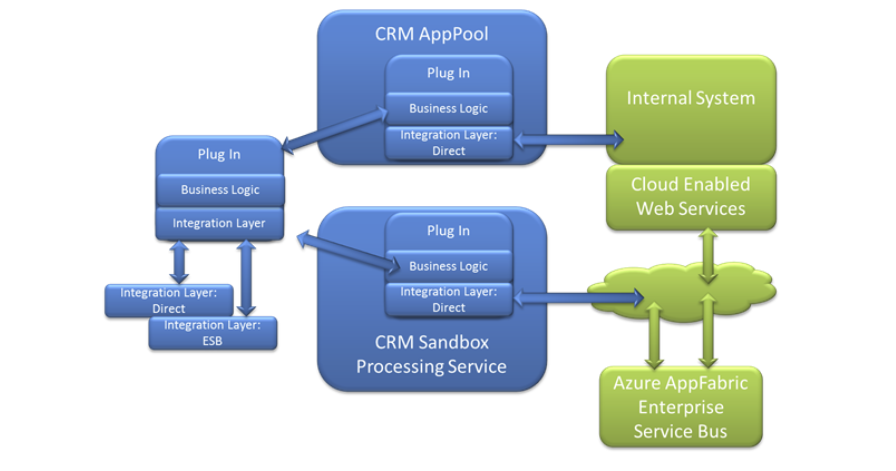 To integrate with the ESB, the following are products that can be used to perform the operations in the corporate environment: