Implementation of a business automatization system (one that gathers information about your customers and automates all possible business processes) is just the first step toward reaching your business goals. The next step is to use the information you get for decision making and strategic planning.
You have the following options to choose from:
Hire a person who will work on your data and analyse it.
Improve the existing customer relationship management (CRM) system by investing some money in the development of analytical instruments.
Complete specialized courses so, as a business owner, you can do all analytical work yourself.
Each of these options has its own pros and cons, but they have at least one thing in common: They all require extra time and financial resources from you. For a small business, it's usually a tough challenge but, on the other hand, limited use of CRM cannot lead the company towards growth and optimal business results.
Dynamics 365 by Microsoft makes it easier for small businesses to get all their data analysis done with the help of its new function, Relationship Insights. All you have to do is to buy a license and then you just set up the analytical instrument in several clicks.
What is Dynamics 365 Relationship Insights?
It is a set of functions that constantly analyze a huge collection of data of customers' actions previously saved to Microsoft Dynamics 365 and Microsoft Exchange. This analysis is aimed at finding out what kind of business relations you currently have with your customers, evaluating all the actions that lead to business success, and choosing the best way for even better results.
Let's take a look at five cases to understand how it all works. Let's go!
Scenario 1: Use Dynamics 365 for all Sales Operations
One of your daily tasks is to avoid missing the due date of your deals. How can you do that? Set special instructions and then make sure they work properly on a daily basis? Or maybe you should apply for special solution from Microsoft partner to solve your problem? Create a business rule…? You may choose any option, but each of them will still demand time and money from you.
Now consider this option: You go to Relationship Insights settings and easily select a number of days when you want to get notifications about all your due dates of the deals. Starting from this moment, the system will analyze your deals and, when the due date comes, you will be notified through a Relationship Insights web application or directly on your phone/tablet. Easy. Fast. Flexible! You will be able to modify the number of days needed for notifications anytime you want! All the options mentioned above would never let you do this that easily!

Scenario 2: Dynamics 365 to Manage your Sales Department
Your task is to evaluate which deals get the least attention from your sales team. Then, based on this information, you have to make a fast decision about what you should to do in order to save your customer. In the Dynamics 365 system, there is simply no record of communications between your customer and your team (let's say you need all data for all 14 days/2 weeks of communication).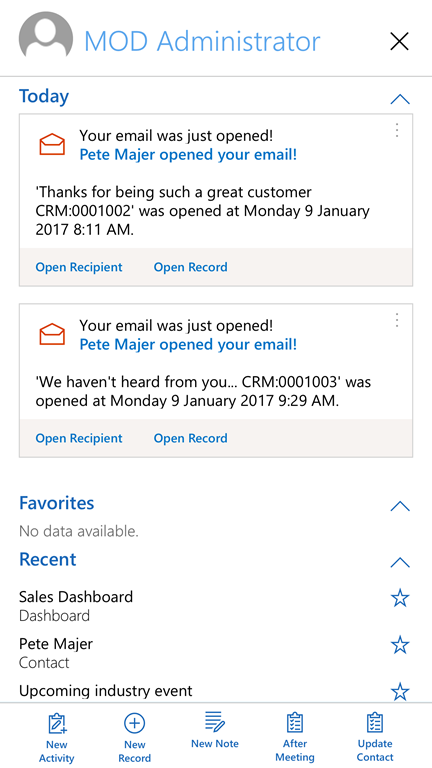 To manually set up the instructions for data analysis in Dynamics 365 is more than difficult. All communications consist of all kinds of records: calls, meetings, tasks, e-mails, SMS, and social network messages. It's hard to unite all of them in one command. To create several is simply not comfortable: You may confuse yourself while working with the data of several different customers.
What does Dynamics 365 Relationship Insights suggest?
A special card that needs only the number of days from you: "No activity with opportunity." Let's say you insert "14" as the number of days needed. The system activates monitoring of all records of all potential deals with the customer. On the 14th day of a "no communication period" you will receive a personal notification. For example, you get the message early in the morning while preparing for a business day. You are able to use the received information to discuss the problem with the team member responsible for it.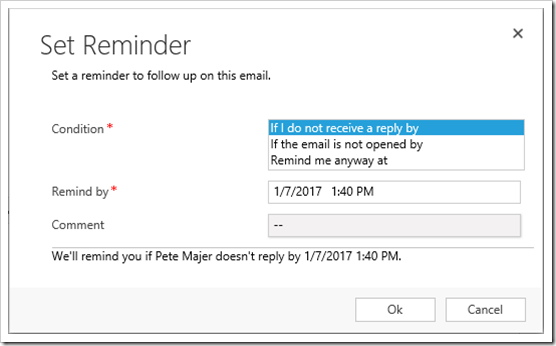 Scenario 3: Manage your Opportunity in Dynamics 365
You have prepared a commercial offer for your customer and are waiting for his reply. You start to wonder why the customer hasn't replied to you yet. Has he opened your letter? Has he seen the offer? Let's say your email also included a link to all of your services that the customer might possibly have been interested in. Has he followed the link? To get all of these answers, your manager can call your customer and try to get the information you need.
But we all know that in the modern world direct calls is not the preferred means of communication for a lot of clients. So what can you do? Use Dynamics 365 and Exchange Online and activate Email Engagement. You will be able to see all information about your customer behavior concerning your business emails.
For example, you will be able to get the following data:
Information about whether your letter has been opened or not;
Number of times that all links were opened;
Number of downloads of all attachments in the letter;
Your customer's reply to the letter, etc.
As you see, you can get enough information about your customer's reactions to your letter using Microsoft 365 tools. Moreover, you will be able to activate two more functions:
Postponed sending of a letter: first you compose a letter and then choose the time when you want this letter to be sent to your customer;
Receiving information about whether your customer opened your letter by a certain time of day. For example, suppose you need an urgent reply. If you see that a customer did not open your letter by a certain time, you can find a way to get that answer in another way.

Scenario 4: Plan your Meeting and Travel
Let's say you have planned a meeting with your customer outside your office. In order not to waste time, you try to get information about other potential customers that may be close to the place of your meeting. Not an easy task to do, even if you have a high-quality database with customer addresses. But Relationship Insights has a special tool for that: "Productivity cards." Activating this tool will make it easy for you to get all information about potential customers nearby.
You will see a map with special dots on it (your customers' location) directly in your phone/tablet. This is a really useful tool even when your meeting with a customer was not planned: Being in the right place often leads to unexpected but productive meetings!

Scenario 5: Relationship Assistant in Dynamics 365
For many business owners/directors, one of the most important tasks is working with a lot of e-mails. Not all directors can afford an assistant to deal with all of them. Moreover, it's very easy to miss an important email that needs an immediate response or reaction. Relationship Insights offers you a special set of tools: Email Cards. After you activate this function, your "invisible" assistant will start checking your emails on a daily basis.
When it finds an email that meets the criteria you set for it, you will receive an immediate notification card. These are some of the available notification cards:
Competitor mentioned;
Issue detected;
Customer question;
Meeting requested;
File requested;
New lead/upsell opportunity;
Importing email;
Shareholder recommendation, etc.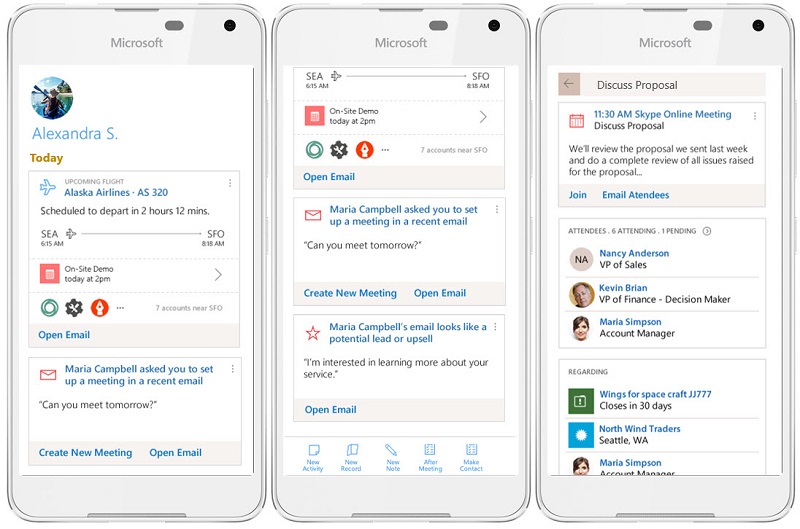 Every notification card, besides sending you a link to a letter, will also suggest certain actions to take.
Let's say your customer wrote you a letter requesting an order form: You can create it immediately and send it to the customer. Or, your customer wants to buy some of your services: You will be offered the opportunity to create a potential agreement and send it to him. This tool will increase your email effectiveness. There will be no important email left without being answered, even if you don't have time to analyze all your emails.
As you see, there are many tools you can start using right now to improve your business results and solve business problems. If it demanded lots of your time and money before, now you just have to successfully implement and then properly use a professional business automatization system. Imagine an assistant that works 24/7… Well, it's here!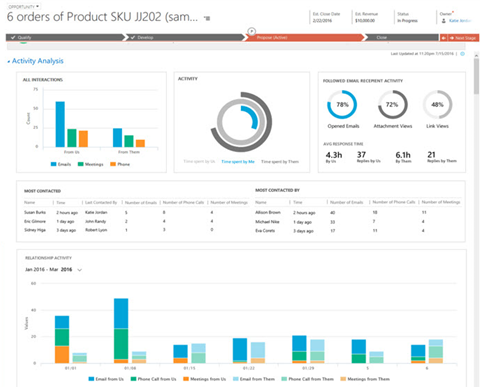 Microsoft 365 keeps developing fast and, besides Relationship Assistant, Auto Capture, Email Engagement, you can get Relationship Analytics in the next release. You will not only obtain useful analytical insights, but also get informative charts that will let you harness the potential of your Microsoft Dynamics 365 system.