One of the biggest challenges that business of all sizes face is the task of project and team management. Efficiently assigning work to people and tracking tasks to completion requires lots of time and effort. It doesn't matter if your team consists of three or forty people—if you don't have a clear picture of what's going on, you'll quickly find yourself swamped between email threads and countless meetings.
Having a solution that can help organize teamwork by planning and running projects is not only convenient but also necessary in a business landscape that's constantly shaped by technology. Companies are increasingly relying on a mobile and remote workforce and require tools to help them collaborate no matter where their workers are located.
That's where Asana shines—it's a cloud-based app for tracking and assigning tasks, sharing information with colleagues, setting up timelines, and managing all your projects, big or small, as efficiently and profitably as possible.
What Can Asana Do?
With Asana, you can easily create your own company workspace where you can invite colleagues to participate in projects. You can create teams with different people and assign project-related tasks. You also benefit from an integrated system that lets you share attachments, notes, and deadlines.
Asana's goal is to make project management easier. By providing a single location for all your project-based needs, it makes it easier for you and your team to coordinate content creation and distribution, task management, and more.
All of this is achieved through a very simple and intuitive user interface that helps you focus on getting work done. The project panel gives you a clear idea of what tasks remain and to whom they're assigned. Inside every task, you have the option to add notes, attach documents, and edit details. That way, everyone on your team has access to the same information at the same time.
Asana for G Suite
One of the most powerful features of Asana is its ability to integrate with other applications you're already using. Asana is part of Google's third-party Recommended for G Suite program, which allows you to manage projects from start to finish with minimal configuration by seamlessly integrating Asana with other G Suite collaboration tools.
Google Single Sign-On
If your company uses G Suite, you already have the option to have your members authenticate via their Google account without ever having to create a separate Asana account. This reduces the number of credentials you have to juggle and makes it possible to manage account security through the G Suite admin console.
To force your users to authenticate through Google, you'll need to enable an option in Asana by following these steps:
Access your Asana account (as an organization admin).
Click your profile photo.
Select Organization Settings.
Navigate to the Administration
Select the option Members must log in with their Google Account.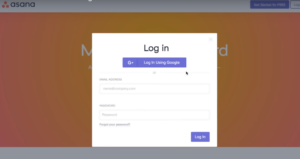 Google Drive in Asana
As a G Suite user, you'll have all of your company and projects documents already saved on Google Drive. And as you start working with Asana, you'll find that it makes it extremely easy for you to attach those documents. Simply follow these steps:
Click the Attachments (paper clip) icon at the top of task pane.
Select Attach From Google Drive.
Select a file from your files stored in My Drive or your Team Drive.
Once selected, your file will show up in the Attachments section of the task pane.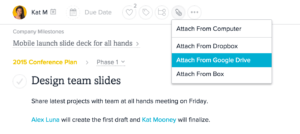 Gmail and Asana
To coordinate email communication and project management, Asana lets you turn emails directly into tasks, assign responsibilities to team members, set due dates, and sync emails with projects. With the G Suite integration, this is made even easier as you can do all of this directly within your Gmail Inbox.
Asana and Google have developed the Asana for Gmail add-on that can be downloaded and installed for free from the G Suite Marketplace; it also works with the Gmail app on Android. Once the add-on is installed, you'll have access to the Asana icon in the upper-right corner of Gmail. From there, you'll have the option of creating a new task from an email. You'll be able to change the task's name, search for assignees, add it to a project, and set a due date.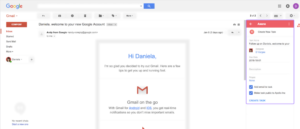 Google Calendar Integration
Once your projects and tasks have been created, you'll naturally want to control their timelines and due dates. Asana takes care of this for you by automatically syncing tasks to your project calendar. Your calendar and deadlines can in turn be synced with your Google Calendar so you have the same information everywhere and can see when work is happening, plan your time, and always keep an eye on due dates.
You can sync any project or tasks list to your calendar, and tasks with due dates will be listed as all-day events. From the calendar, you'll then be able to click on the events to open up the task in Asana.
There are two ways to sync Asana with your calendar:
Project sync: This option will sync a specific project calendar with your Google Calendar. You'll be able to see all tasks from all people working on the project and monitor milestones and deadlines.
To sync an Asana project:
From the sidebar, select the project you want to sync.
From the project header, click the dropdown arrow to access the project actions menu.
Hover over the Export option, and then select Sync to Calendar.
From the popup window, highlight and copy the entire link found in the Google Calendar
In Google Calendar, click the + icon next to Add a coworker's calendar.
Select From URL, and paste the link you previously copied from Asana.
Once you're done, click Add Calendar. You're all set!
My Tasks sync: This option will add to your Google Calendar all the tasks you've been assigned, no matter which projects they belong to.
To sync your Asana My Tasks:
From My Tasks, click the dropdown arrow to access the actions menu.
Select Sync to Calendar.
Hover over the Export option, and then select Sync to Calendar.
From the popup window, highlight and copy the entire link found in the Google Calendar
In Google Calendar, click the + icon next to Add a coworker's calendar.
Select From URL, and paste the link you previously copied from Asana.
Once you're done, click Add Calendar.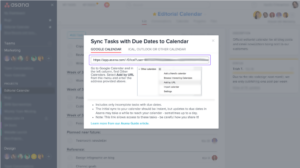 Google Sheets and Asana
Google Sheets is a powerful spreadsheet app that's used for tracking data, calculating expenses, and much more. Sheets is especially powerful when combined with Asana—it can help you create custom reports to monitor the progress of projects and key milestones.
Here's how to enable Asana reporting using Google Sheets:
In Asana, navigate to Portfolios.
Click Open Report in Google Sheets. (You'll see this prompt in small font in the upper left).
Allow Asana to view and manage your spreadsheets in Google Drive.
Data from your portfolio will then open in an organized Google Sheet in a new browser tab.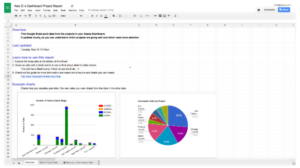 Taking Project Management to the Next Level
Notice the pattern? G Suite and its supported apps are designed to help you keep your data and accounts all in one place, making it simpler and more intuitive to manage your work in the cloud.
Asana is a powerful addition to the many third-party apps that G Suite integrates with—you can search for content, take notes, assign tasks to team members, track progress, sync tasks to your calendars, and so much more. Once you give Asana a try, you'll wonder how you ever managed to keep projects on track without it.