Whether you're selling products or providing services, effective communication is the key to operating a healthy, growing business. And when companies grow, they need to maintain a single communication channel. Teams also need a platform for collaborating, sharing files, holding meetings, and discussing ideas and business plans. Google has a solution for all of that: it's called Google Hangouts, and it's part of the G Suite collection of products and services that help boost your company's productivity and organize all of your resources in one place.
Let's take a look at what Google Hangouts is and how can it make your life easier.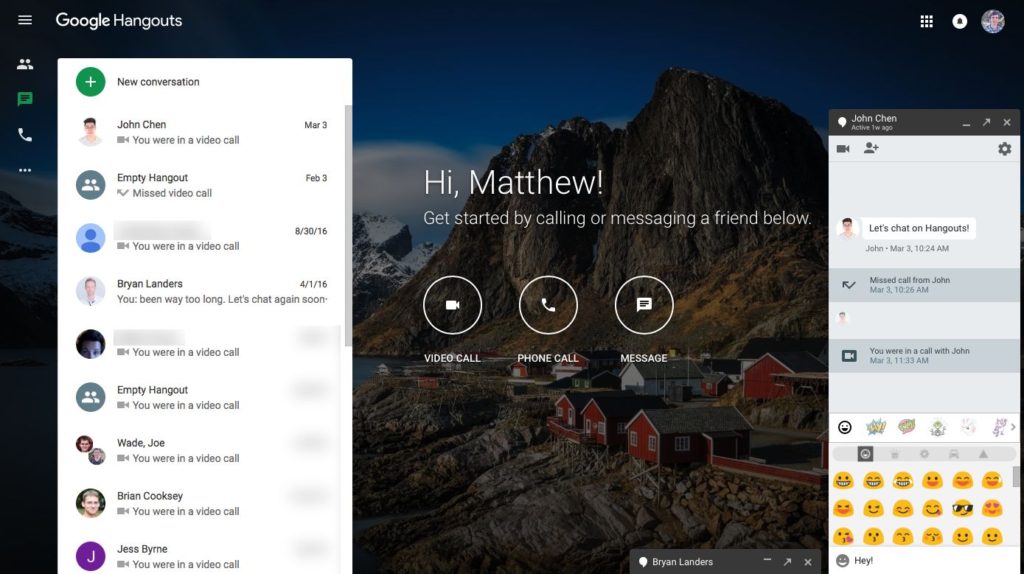 What is Google Hangouts?
Hangouts may sound familiar, as Google initially rolled it out as a messenger to compete with popular apps like WhatsApp, Facebook Messenger, and Skype.
But Google also noticed great potential with the app and decided to upgrade Hangouts for business communication needs. The product was thus split into two categories:
Hangouts Chat
Hangouts Meet
Hangouts Chat
With Hangouts Chat, your employees gain access to all the one-on-one and group messaging services they need to stay in touch.
You can access Hangouts Chat from any device (browser, desktop, Android, iOS).
Direct messaging. Send private messages to your colleagues to discuss anything.
Chat rooms. Invite others to join the conversation, share files, and collaborate. You can also create multiple conversation threads in one room.
File sharing. Upload files from your device or Google Drive and share them in one place.
Third-party integration. Hangouts Chat integrates well with other Google services such as Google Drive, Docs, Slides, Sheets, and more. Hangouts users can easily collaborate on shared documents, request access to files, and save meetings in their Google calendar.
Security-first philosophy. You never want to worry about your data security. Hangouts Chat is a reliable, compliant solution where all files and chats are highly secure.
Hangouts Meet
The internet makes the world a lot smaller—there's no need to travel the world to meet a person face to face when you can do it directly from that five-inch screen in your pocket.
Hangouts Meet is here to meet (pun intended) the needs of people working from remote locations around the world. Lots of companies expand their offices to cover multiple regions and countries. And when phone calls aren't enough, they turn to video conferencing.
Hangouts Meet has all the features a business needs from a video conferencing app:
Video meetings. The core of Hangouts Meet. Also accessible from any connected device just like Chat.
Calendar scheduling. Since it integrates so well with Google Calendar, Hangouts Meet allows you to easily schedule video conferences and add attendees without worrying about sending reminders or creating calendar entries manually.
Ease of use. No need to worry about the meeting invitees having accounts, special IDs, or anything of the sort. Simply share the meeting URL or send the calendar invite to have other people join your meeting and start collaborating.
Meetings on the go (only for Enterprise). The Hangouts Meet for Enterprise edition automatically generates a dial-in phone number for every meeting so users without an Internet connection can simply call and join the meeting.
Flexibility. Are your teams using different platforms? No problem. Anyone using Skype for Business or meeting systems based on the SIP and H.323 standards (e.g., Polycom and Cisco) can easily join a Hangouts Meet meeting through the Pexip Infinity platform.
Hangouts Meet hardware
Google is no longer just a software company. We've seen it make phones (Pixel), develop connected devices (Chromecast, Nest, and Google Home), routers, and more. Why stop there? Well, they didn't—they also created conference room hardware to complement Hangouts Meet.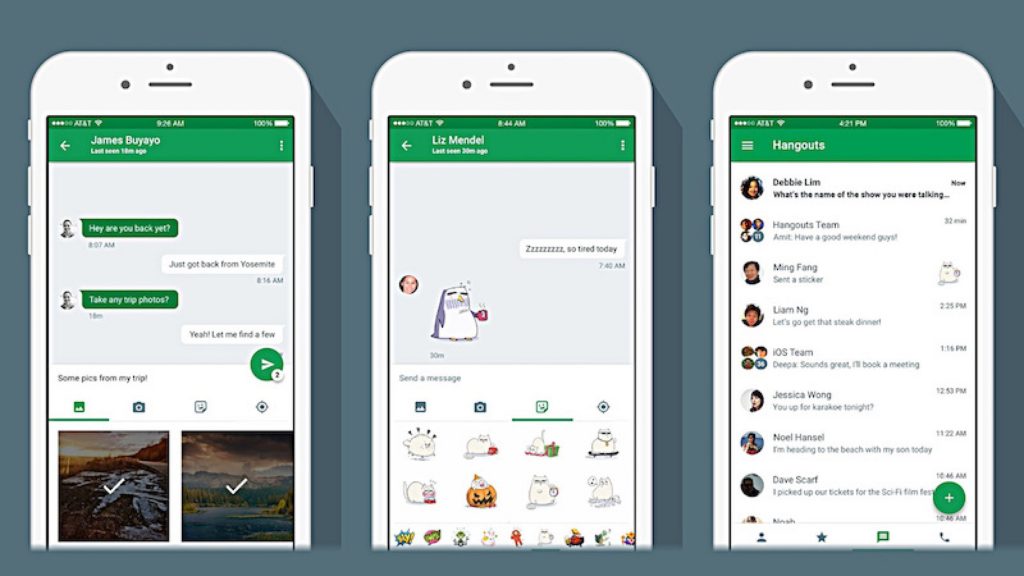 Hangouts Meet hardware makes it easier than ever to set up a conference room. This set of hardware was designed to provide an end-to-end, headache-free video conferencing solution. Here's a rundown of the main strengths of Hangouts Meet hardware:
Scalable. The hardware is designed to accommodate any meeting room. Components can range from a wide field view camera to a mechanical pan-tilt-zoom camera to cover any room size you put them in. Multiple speakermics can be chained together using one cable to provide crisp sound with minimal wires.
Intelligent. The hardware was custom designed and built by Google, so you know it's going to be clever. Speakermics reduce echoes and background noise to deliver crystal-clear audio. Cameras automatically zoom in and crop the frame based on the size of the room and number of people in the call.
Easy to use. It's simple to set up the hardware and get it going. Hangouts Meet hardware can also self-diagnose issues and automatically download the latest firmware available for all of its components so you don't have to.

There's no shortage of chat messengers available on the market, but few come with as many useful features as Google Hangouts, and even fewer are designed with business communication needs in mind. With its out-of-the-box integration with so many Google productivity tools and services, Hangouts is a business communication platform that can only get better with time.