The growth of social networks and social media opens new doors for salespeople. Instead of interrupting potential customers' lives with cold calls and hard sells, social networks can be useful to develop relationships throughout the sales process. Social Selling helps salespeople use social networks to connect with the right prospects. It plays a huge role in customer engagement allowing your salespeople to have direct one-on-one relationships with potential buyers which could have a positive impact on your business.
Dynamics 365 for Sales is an app designed to streamline an organization's sales procedure. With each iteration of the sales app, new features and improvements are added to increase functionality and bring automation to the entire process.
The Social Selling Assistant is a digital assistant app that can be found in the Microsoft AppSource to help leverage your social networks from Dynamics 365.
What are the benefits of social selling?
Online presence and reputation
When your salespeople are active on social networks, they will be able to interact with potential buyers easily and offer solutions on-the-go. We all know how online reviews affect purchase decisions. Keeping an excellent online reputation is crucial for any serious business to succeed and gain trust.
Stronger Customer Relationships
Building social media presence not only helps you build your brand, but it also allows people to interact with your salespeople. Sharing meaningful content and providing fast responses to customers' questions and needs can instantly increase customer loyalty.
Very few (if any) people are not on any social network today. With accessibility from laptops, phones, and even smart appliances, people are online and connected 24/7. And what are people looking for? Content. With all the tools at their fingertips, it has never been easier to share your content with the ideal audience and generate sales opportunities.
How to install the Social Selling Assistant
Connect your Dynamics 365 instance to Microsoft Social Engagement
The Social Selling app for Dynamics 365 uses Microsoft Social Engagement, so we need to link MSE to your Dynamics 365 Organization first.
On the navigation bar, go to Settings
Choose Administration
Click on Microsoft Social Engagement Configuration
Click Continue
Select the Microsoft Social Engagement Solution you want to connect to (if you're just testing, you'll need to set up a trial social engagement instance by clicking here)
Click Select (it should become grayed out once clicked)
When done, make sure that your Dynamics 365 domain is added to the list of supported domains in Microsoft Social Engagement (In MSE, go to Settings -> Connections -> Allowed domains and add the domain of your Dynamics 365 instance. e.g., https://yourinstancename.crm4.dynamics.com)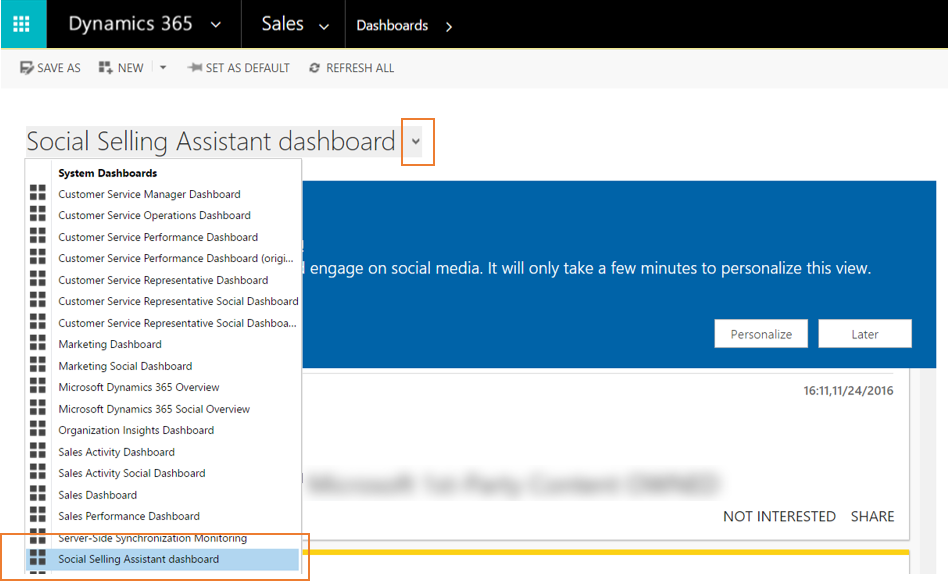 Get the Social Selling Assistant app
Go to the Social Selling app in the Microsoft AppSource here
Click Get it Now
Fill in your basic profile information
Click Continue
Select the organisation you want to add the Assistant to
Select the two checkboxes: Agree to Microsoft's Legal Terms and Privacy Statement and Agree to Privacy Statement and Legal Terms for importing solutions into Dynamics 365
Click Agree
You should be redirected to Dynamics 365 Administration Center
When you refresh your Dynamics 365 instance, you should be able to see the Social Selling Assistant in your installed apps.
Setting up the Social Assistant in your Dynamics 365 organization
Go to Sales à Dashboards
Switch to Social Selling Assistant Dashboard
You will see a new dashboard with the Social Selling Assistant pinned to the left.
Configuration
To get the most of the recommendation experience, configure MSE for the Social Selling Assistant.
Flag social profiles as 'Owned' to indicate they are yours.
Go to Search Setup in MSE
Select the search topic
Select the search rule (or create a new rule)
In the social profiles list, locate the profiles owned by your organisation
Set the Owned flag to Yes
Create unique tags to promote certain posts to the Social Selling Assistant
In MSE, go to Settings
Select Custom Tags
Select the Tag you want to use for promotion
Set the Social Selling Assistant flag to On
Personalisation
By default, the Social Selling Assistant will bring up recommendations for all available search topics (But we don't want that). To personalize the experience, users should choose topics that are of interest to them. To share recommended content to their networks, they need to link their social profiles.
Search Topics
Social Selling Assistant provides two types of content: Share Content and Insights.
Share Content is information you would like to share with your social networks and Insights represents the content you'd like to view to stay up to date on specific topics.
Configuring Share Content
Open the Social Selling Assistant
Click Personalize
Click Share Content
Choose the search topics you'd like to get recommendations about
Save your changes
Configuring Insights
Open the Social Selling Assistant
Click Get Insights
Create Insight Groups with relevant search topics
Save your changes
Social Profiles
Go to Settings
Click Social Profiles
Select Add Profile
Choose the type of profile you want to add (see types available below)
Authenticate the account
You can add social profiles from the following social networks:
Twitter (user)
Facebook (user or page)
Instagram (user or business)
LinkedIn (user of organisation page)
YouTube (user)
Using the Social Selling Assistant
The Social Selling Assistant in Dynamics 365 uses Machine Learning to give you relevant topic recommendations. Therefore, the more you use it, the better it becomes at showing you appropriate content for your business.
Posts will show in card form with the below functionality:
Done: This indicates that no further interaction is needed on this post; it will be removed from your feed
Share: This gives the option to share the selected post to your linked social profiles. (This button will only be visible on your Share Content posts)
View: This opens the details of recommended posts. (This button will only be visible on your Insights posts)
Three dots: This is the 'more options' button. It will give you three additional buttons:
Ø  Not interested: If the recommendation was not relevant, this will help the machine learning engine avoid similar posts in the future.
Ø  Copy to clipboard: Copies the source of the selected post
Ø  Retweet: If a twitter account is linked to your social profile, it allows you to retweet the post.
Conclusion
Social media is a vital part of our daily lives. Integrating businesses with our social networks can bring much exposure and recognition that was not possible ten years ago. Studies have shown that when the buyer and seller have interests in common, the chance of a purchase occurring is higher. It is the idea from which social selling originated.
Dynamics 365 for Sales is an established cloud application that manages the sales process from lead generation to invoice creation. Adding social selling functionality on top of your sales solution can help improve your sales figures and increase your social media presence simultaneously.