You may have come across situations before where you had to share content with external users. These users can be clients, vendors, contractors, or consultants working with you to review and edit content. This blog post aims to help you understand how to enable guest access (also known as external sharing) on your Office 365 tenant and explain how to use it.
Check out our Partner Guide and learn how Sherweb can help your business grow
How to use guest access?
External sharing is an important feature that allows you to collaborate with:
Users who don't have access to your Office 365 account or license but who have been given access to your site or document.
Users who are not employees of the organization.
A client, vendor, consultant or 3rd party with interest in your content or site.
In the past, External Sharing was limited to SharePoint Team Sites. Office 365 Groups is a new feature that extends your standard team sites and document library. It consists of the following five major areas:
Conversations – all your email interactions
Files – your OneDrive-like document library
Notebook – your OneNote for informal notes
Calendar – group calendar
Team Site – SharePoint Site connected to the group
7 steps to enable and use guest access on Office 365 groups
Let us understand each step diligently to enable and use external sharing.
1) Enable guest access at tenant level
You must enable the external sharing option on your tenant. In order to do so, you must be an administrator to identify and activate external sharing.
In the Office 365 Admin Center, go to Settings > Security & Privacy, choose Edit (under Sharing).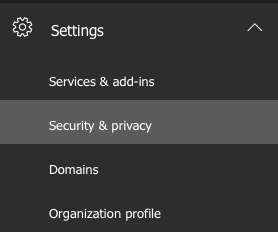 Make sure External Sharing is set to On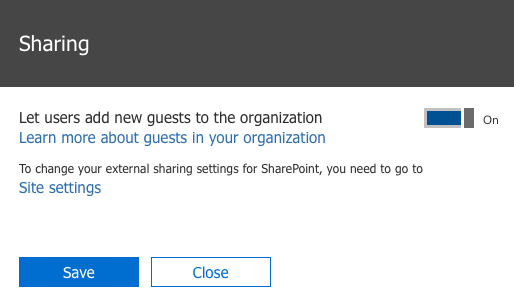 Click on Site Settings to allow users to share SharePoint Online and OneDrive for business content with people outside the organization. The screenshot below depicts enabling external sharing to existing external users (part of your Azure AD), new and existing external users (part of your Azure AD and can add non-existent users) and anonymous users who are not required to sign in to view the content. Once these settings are completed, the tenant is ready for external sharing.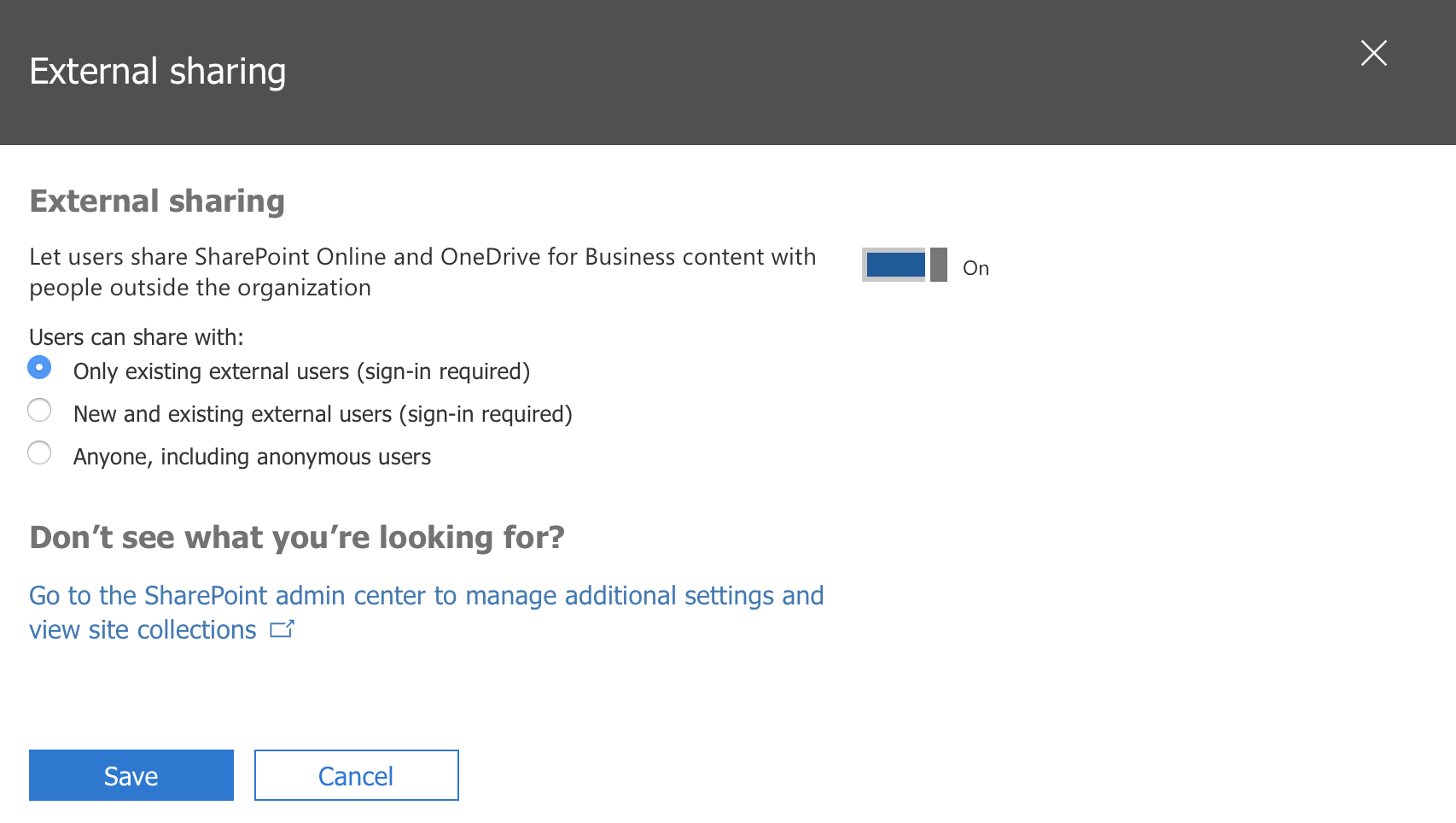 2) Enable guest access for Office 365 Groups
This is an important step towards enabling external sharing to Office 365 Groups. The first step prepares the tenant to share content externally. It enables the user to share content from Office 365 Groups. The following image depicts options that activate external user sharing by Group members or owners. Navigate to Services & Add-ins in the Office 365 Administration Center and select Office 365 Groups.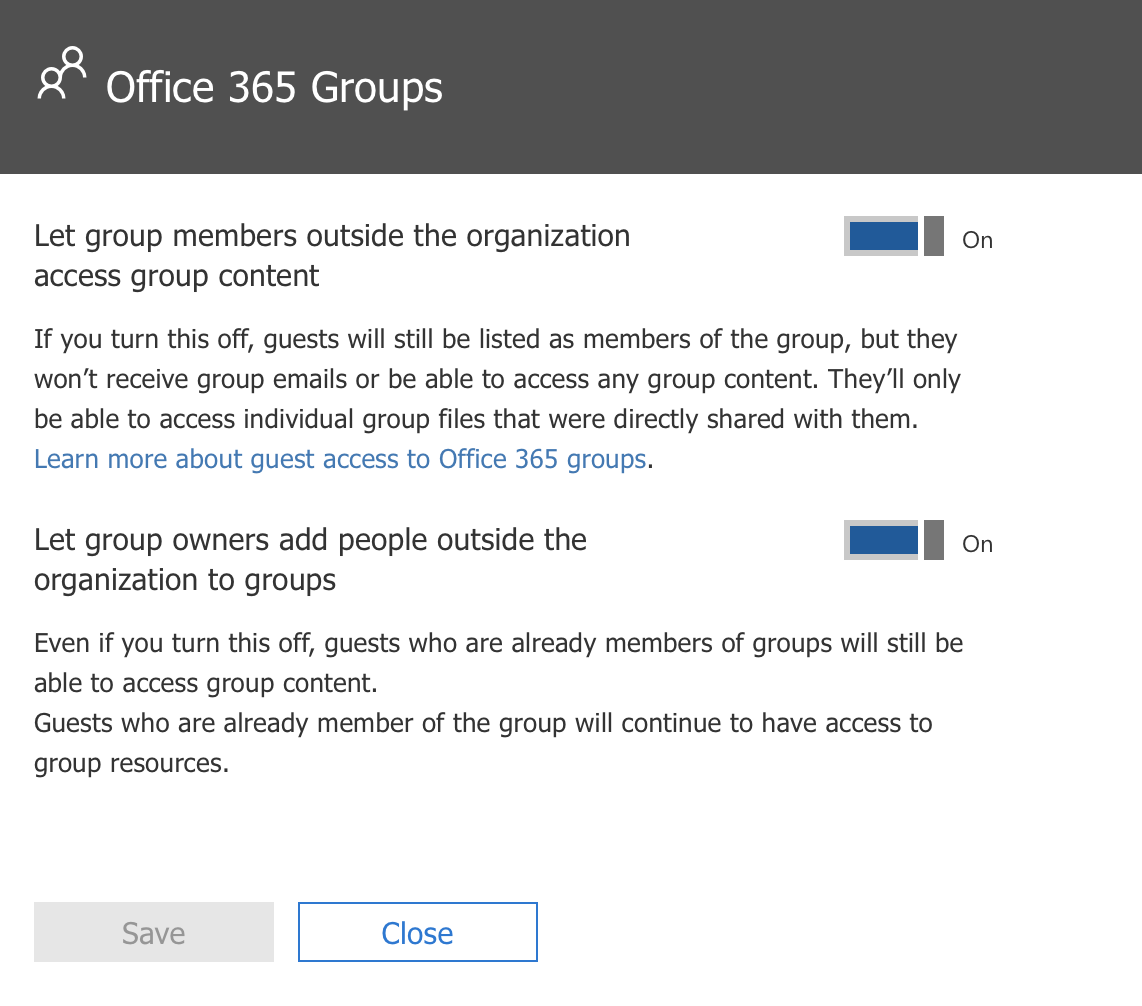 3) Invite external members to Office 365 Groups
The user must be a group owner in order to invite external users to Office 365 Groups. Unlike SharePoint sites where any site contributor can invite an external user, this one has more control and governance on external user access. The following screenshot shows how to invite external users on an existing group.
Select the Office 365 Group Members list and click on the Add members icon.
This should take you to the next screen where you can add members as depicted in the image below and invite external users.
You should be able to see all external users in your member screen below.

Once the above steps are completed, the Office 365 tenant is now configured to allow the licensed users to invite and share content with external users. The subsequent steps are for external users to access the Office 365 Group content.
4) External user files access
The external user will get an email message telling them they are invited to participate in an Office 365 Group.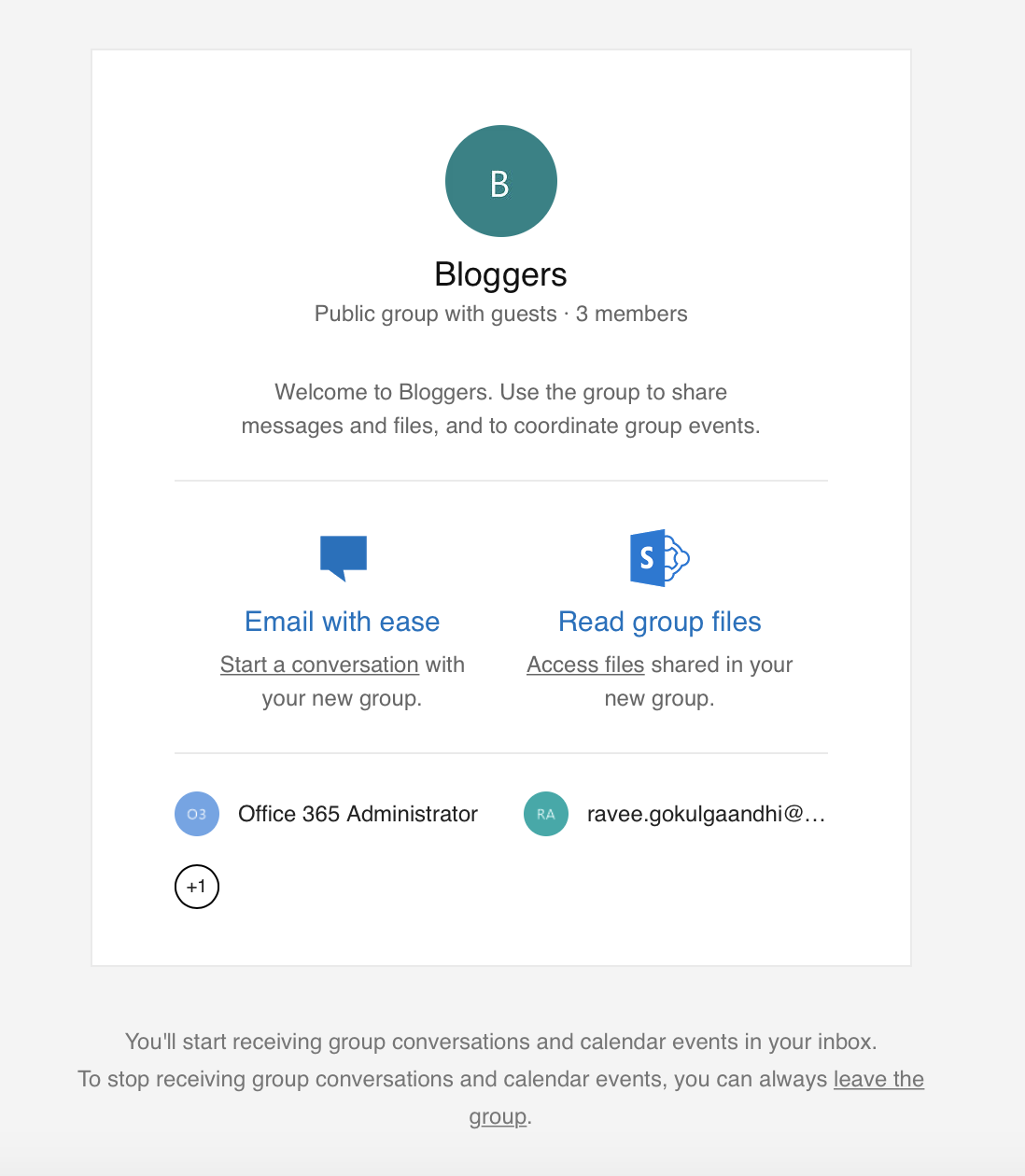 When the user clicks on the Access files shared in your new group link, they are asked to follow a one-time registration and verification process with their name and email address. Enter your email address and click Next.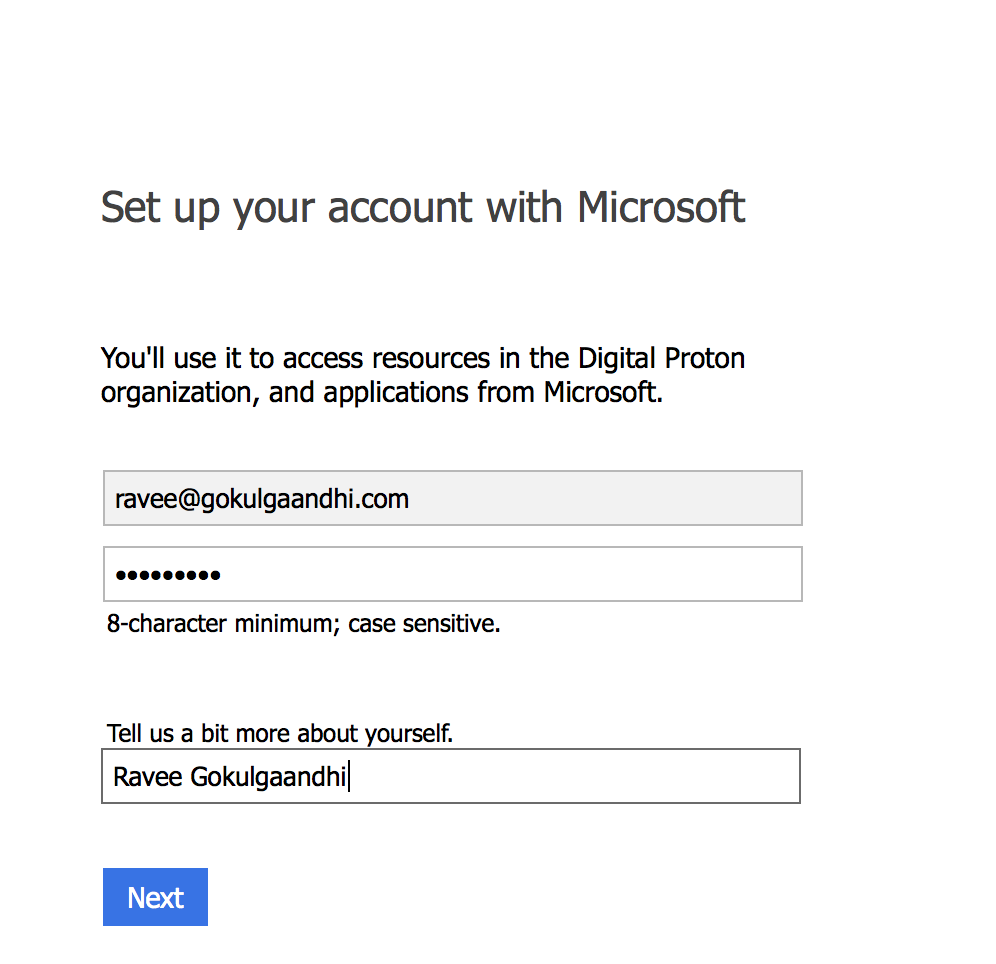 6) Enter verification code
The user will be asked to enter a verification code that was sent to their email address. This step is crucial as the email address will be registered in Azure AD. Once the user is registered as external user on that tenant, he or she would be treated as an existing external user and wouldn't have to go through the whole verification process again.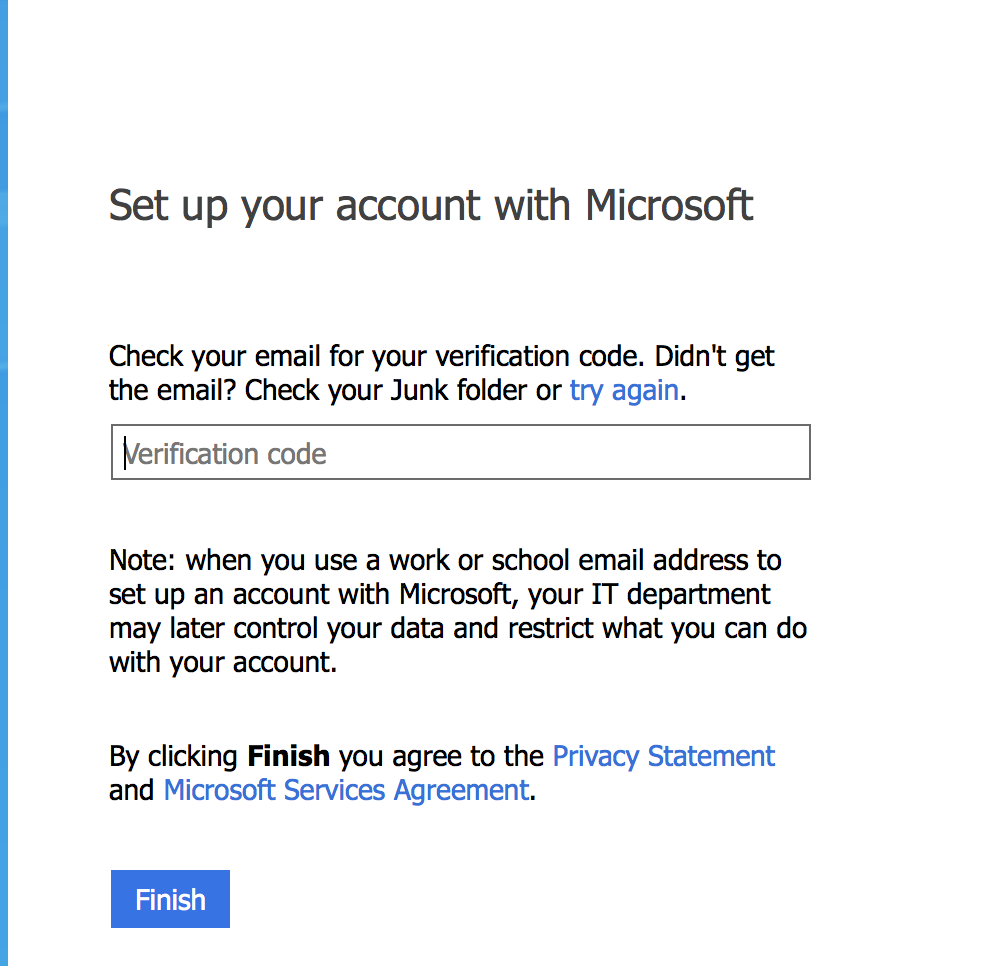 7) External user environment overview
The user now has external access to the invited group. Based on the access rights, i.e. Contributor or Viewer, the user can perform certain activities on the Group.
The external user will have access to the following in the Office 365 group:
Conversations
Although they will not have access to the conversation history, they will become part of the Office 365 Group distribution list, which means they may participate in conversations via emails sent to the distribution list. They will also be able to respond to the distribution list from their email.
Files
They will get the same exact access and privileges (View and Edit) to the files, just like any other member of the group.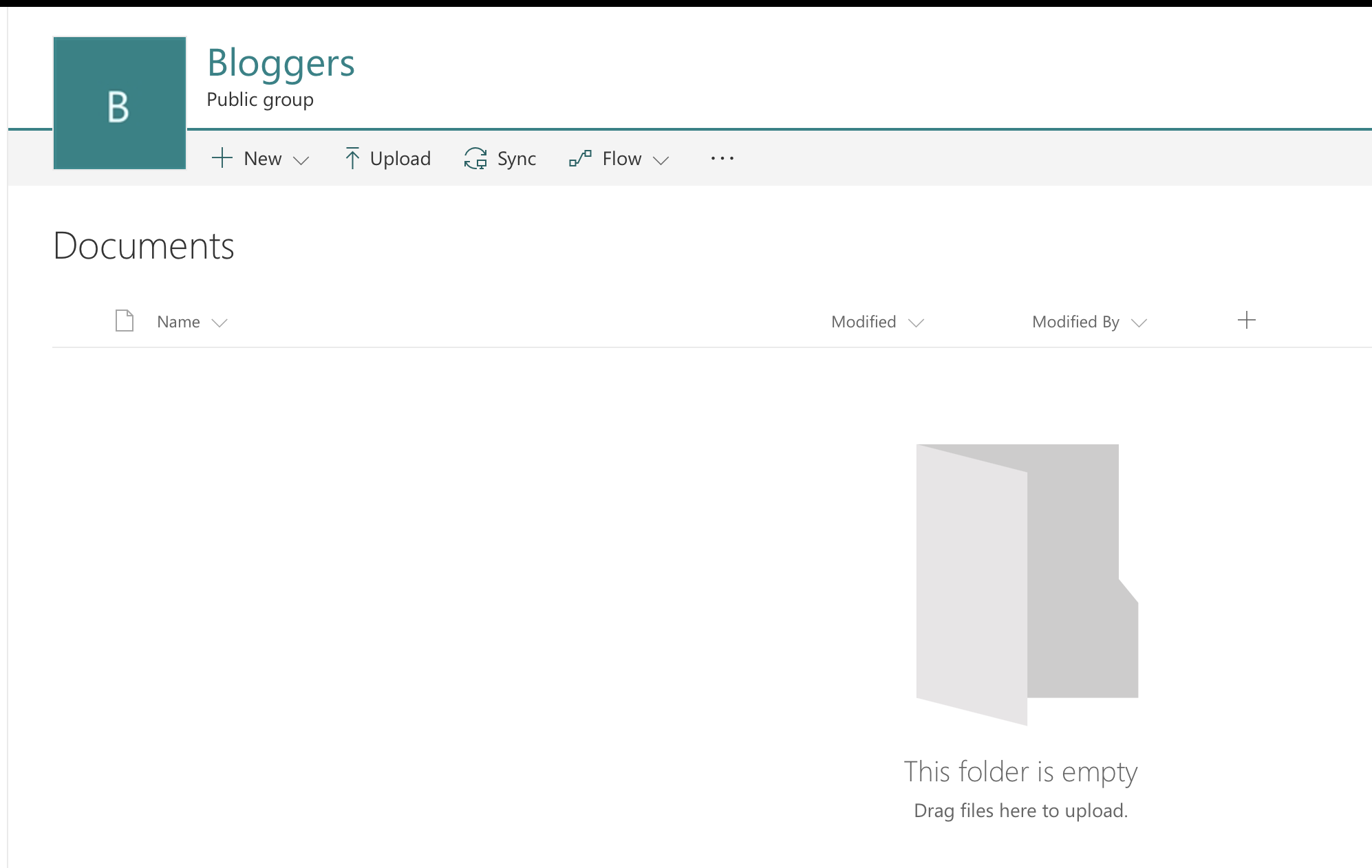 Notebook
They will get access to OneNote Notebook, just like any other member of the group.
Calendar
They will not have access to the calendar since the collaboration of events is very limited for external users.
Team Site
Just like any other member of the group, they will get access to the whole SharePoint Team Site where they can add web parts, content, etc.
External User is an important feature in Office 365 for organizations that prefer to use Office 365 Groups to SharePoint Team Sites. The benefits of using this feature outweigh the efforts to establish governance procedures and policies to control and audit content sharing by accelerating end user adoption.