SharePoint is often the first thing that comes to mind for document collaboration. It provides useful features for structuring content, but requires some site administration—you need to have technical skills to manage and develop on SharePoint. It is also important to ensure that the initial setup is done correctly; otherwise, it is very difficult to resolve issues later on.
To provide an alternative solution, Microsoft rolled out new functionality in 2015. Office 365 Groups (now called Microsoft 365 groups) provides an easy way to collaborate, including site administration, email content, metadata management, storage space security, and calendar sharing.
What is Office 365 Groups?
Microsoft 365 Groups is a platform that provides a shared workspace for team members. It provides options to create and store documents, as well as shared email.
Group administrators can add members to the group or remove them.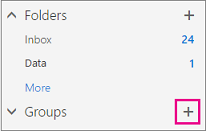 If you want to everyone to see the content of the group, choose the "Public" option from the Privacy drop down list. Otherwise select the "Private" option and click the Create button.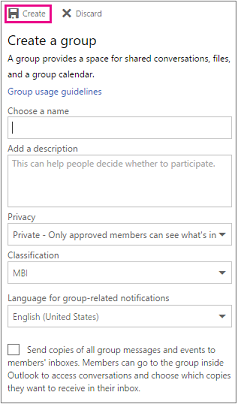 That's it. Your Group is now ready for you to add members. You can also skip this and add them later.
7 Features in Microsoft 365 Groups That You Need to Use
1) Controlling Group Creation
By default, all Microsoft 365 users have the ability to create new groups. A single user can create up to 250 groups, which is why you need to limit group creation.
Many services offered by Microsoft 365 create groups for certain functions. For example, when a user creates a plan in Microsoft Planner, it will create a group.
These policies provide you with the ability to control the creation of new groups. You can disable group creation in Outlook, SharePoint, Planner, Microsoft Teams, and Yammer.
2) Adding Group Members
If the group is set as Public, any user can discover and join it without needing to send a request to the site owner. If you want to join a Private Group, an email request will go to the group administrator, who can accept or reject it.
After joining, users get access to the group mailbox, OneNote notebook, team site and calendar.
3) Adding External Guests
Using the Guest Access feature lets you share files, messages, and the calendar with people outside your organization. The group owner can provide access to partners, suppliers, consultants or vendors.
Microsoft 365 allows access to anyone with a valid email address.
Guest Access is enabled by default. A guest receiving an invitation to join will see a welcome email with information about the group. The guest member is not able to view the group site, but can receive information via email. The individual can receive meeting invitations, view shared files, and send replies to conversations.

4) Dynamic Membership
Microsoft 365 Groups provides the ability to define membership based on users' properties, a feature called Dynamic Membership. It creates group membership by using Azure Active Directory. Changing a user's properties will update his or her group membership, which makes managing larger groups easier.
Note that this feature will remove all existing user permissions after you enable it for a group.
5) Restoring Deleted Groups
After you delete a group, Microsoft 365 retains it for 30 days. During this time it is considered a "soft-deleted" group. If you restore the group during this period, it will reappear in the navigation panel on your Outlook profile. The content restored includes:
Planner
SharePoint online files
Shared inbox
Shared calendar
Objects, members and properties of Azure Active Directory
Simple Mail Transfer Protocol (SMTP) address of the group
Yammer Group
You can also delete the group permanently before the full 30 days, if you wish. Note that it may take up to 24 hours for the group and the content to be deleted.
6) Managing Labels
Labels help categorize different types of emails, files and content. You can create a retention policy based on the classifications, allowing you to keep, delete or push content to the archive.
For example, there are various types of content such as:
Employee credit card details, which can't be modified or deleted.
Income tax forms, which are retained for a certain duration.
In all of these cases, labels in Microsoft 365 will help you take the actions appropriate to the content.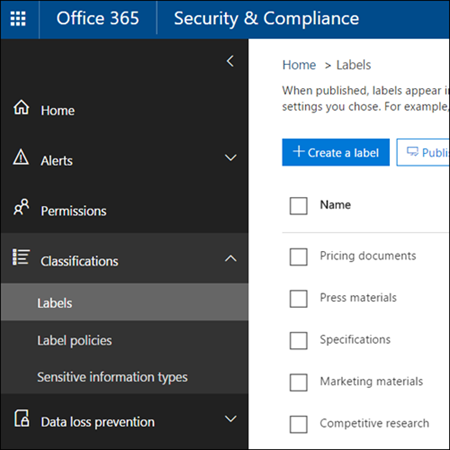 You can do the following with labels:
Apply labels to content when it matches a predefined set of conditions.
Apply a default label to a document library in Microsoft 365 group sites and SharePoint.
Enable people to apply labels to content present in Outlook, SharePoint, Office 365 Groups, and OneDrive.
Implement and manage records in Microsoft 365 on documents and emails. You can use labels to classify a particular content as a type of record. After a content is classified as a record, it can no longer be modified or deleted.
7) Activity Report
The report dashboard allows you to view activities for the different products, which helps you gain insights into all of the activities in each Office 365 product. It also gives you information about ongoing activities in each product offered by Microsoft 365. For example, it will show you the details of all groups that were newly created and used.
You can see reports for the past 7 days, 1 month, 3 months, and 6 months. Only Microsoft 365 global administrators, SharePoint admins, Skype admins, and Exchange admins can see the reports.
To view a report:
Sign in to your Microsoft 365 admin account.
Go to the Admin Center and choose Reports -> Usage.
Select "Microsoft 365 Reports" from the "Select a Report" drop-down list.
You can analyze the report by looking at the Groups, Storage and Activity chart.The Groups chart will show you all the groups that were active on any given day. The Storage chart shows the total amount of storage space used by all group mailboxes. The Activity chart provides details on the number of messages received in a conversation.
You can insert or delete columns in the Activity Report by using Manage Columns. There are various columns to choose from, such as Group Name, Deleted, Group Owner, Messages Received, Item Size, Members and Last Activity Date.
These are just a few of the features that makes Microsoft 365 Groups a useful tool. While it resembles some other tools, like Microsoft Teams, the two are actually complementary. Find out how they compare in our article called Microsoft Teams vs. Groups vs. SharePoint: Pros and Cons (and When to Use Which).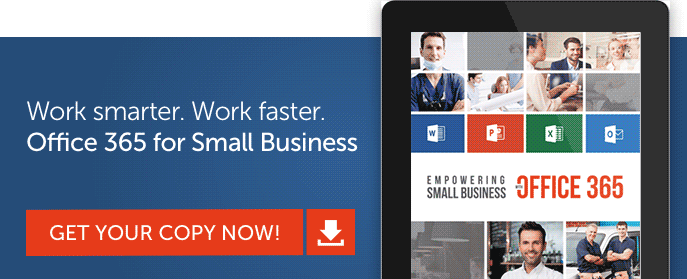 ** This article was updated on May 13, 2020