After five years of extensive research and iterative testing, Microsoft recently unveiled a pack of fresh app icons for Office 365 that it plans to roll out in the coming months. These icons will replace the old versions of Office 365 app icons, beginning with the mobile and web versions. Let's dig into the details to see what this means for the future of Office products and their design.
What's New in the Office 365 Icon Redesign?
Jon Friedman, Head of Design for Microsoft Office, explains it well: "Strong colors have always been used at the core of Microsoft Office, and these new icons give us a chance to evolve our palette."
With these new icons, Microsoft aimed for simplicity, consistency, and modernity; it sought to make each icon unique while still maintaining a recognizable Office theme. These new design choices give us a clearer glimpse into the creative efforts that go into Microsoft products, as well as some beautiful applications of the Fluent Design System.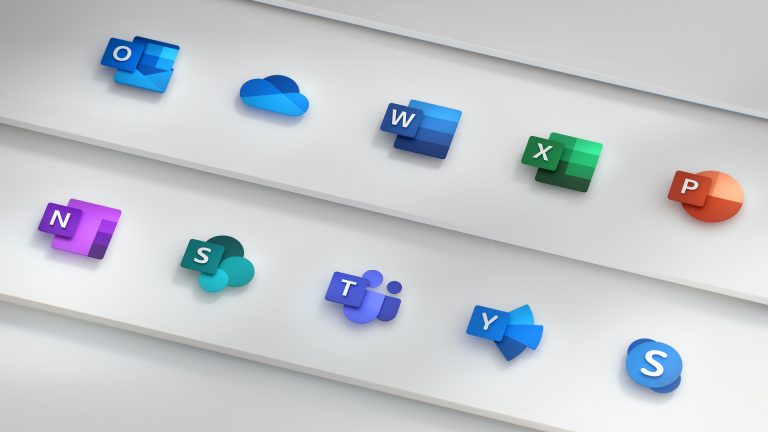 One of the most evident changes is the separation of the letter and icon from each other (at least for most of the apps), with the letter now occupying its own box that overlays a unique, shaded background. The sharp colors and seamlessly interwoven borders are also well executed. Overall, these consistent design choices give the Office app icons a more modern, fresh look.

Here's a rundown of the aesthetic improvements these new design choices bring to Microsoft Office:
The new icons feature colors that are friendlier, lighter, and more consistent.
Traditional tool formatting has been removed—e.g., there is no Excel format sheet behind the letter X, but a more 3D and aesthetically pleasing table behind the letter.
The letter-to-symbol ratio has been carefully tweaked. Where the letter used to overwhelm the icon, it's now a more subtle, yet important part of the design.
New Office Icons Foreshadow Other Updates
"Today's workforce includes five different generations that use Office on multiple platforms and in different environments," said Friedman. He explained that his team was looking for a design that "emotionally resonates" with each generation and maintains its beauty across all platforms and devices.
These new icons were rolled out with a major Office redesign in mind. Ultimately, Microsoft wants to see how people respond to the new and more modern aesthetic; if these icons are widely accepted, Microsoft plans to give Office a major overhaul, starting with minimizing the Office ribbon.
On June 13, 2018, Microsoft revealed its intentions to gradually roll out updates for Word, Excel, PowerPoint, OneNote, and Outlook over the next few months with more customer-driven innovations. Their primary focus will be to give users more control over their content with the help of an improved, context driven dictionary, and spell checker.
Microsoft has now diverted its attention from Windows Phone to PCs, Android, and other platforms. The Office suite is available on almost every platform, be it iOS, macOS, Android, or even the web. These web apps (namely Office Online) create documents almost identical to those you'd create on a Windows PC. Microsoft has also said that it wants to have a common design language that's compatible across all platforms, giving users complete flexibility in their work.
The Future of Microsoft Office
These new icons and updates give us insight into a new Microsoft—one that'll focus more on giving users a fun, productive, and aesthetically pleasing experience. With the coming updates, the reduced ribbon size, smooth input and cursor transitions, and a number of other features will combine to place more emphasis on modern design choices. While these updates are sure to roll out for the Office 365 suite soon, Microsoft is yet to announce whether they will be added to Windows 10 users.
In addition to mobile Office 365, Microsoft's Outlook app for mobile is also about to get a major overhaul. The new app will support shared mailboxes, new and improved gestures, and much more. Microsoft is also working on giving Windows users a better experience by improving upon the number and duration of its updates.
In any case, Microsoft's icon redesign is a bold move. And as with many other changes, there will be those who appreciate it and those who see it as a step in the wrong direction.