Have you tried Office 2016 for Business? Microsoft just launched it on Sept. 22. It contains a lot of new features that will help small companies like yours be more productive.
Did you know that four out of five small businesses use mobile devices every day to get their work done? A recent blog post by SurePayroll showed that SMBs are moving away from their desks and spending more time on smartphones or tablets to read email messages, share files or even do product demos.
Want to see what are the new features of Office 2016 for businesses? We've put together this quick list to help you out. If you're already working with Office 365, you might recognize a few features. Do you already have Office 365 with Sherweb? If so, just sign in and you can use these new features of Office 2016 right away!
What are the main new features of Office 2016 for businesses?
1. Real Time co-authoring
If you run a small business, you and your staff probably spend a lot of time collaborating on documents. How many times have you tried to figure out which was the latest version and who made the last changes? Now you can see it all in real time. There's a new co-authoring feature in Office 2016 Word and PowerPoint that allows you to see exactly where your colleagues are working in any document and what they're typing as they type it.
2. Tell Me Box
Here's a new way to find the commands you need with the new features in Office 2016. Just go to the Tell Me box located at the top of the page in Word, Excel, PowerPoint or Outlook and type in what you want to do. For example, if you type "change how table looks", Word will automatically provide a dropdown menu that displays Table Styles, Add Table and other related features. You can even get more help if you need it by clicking on the "Get Help" line in the dropdown list.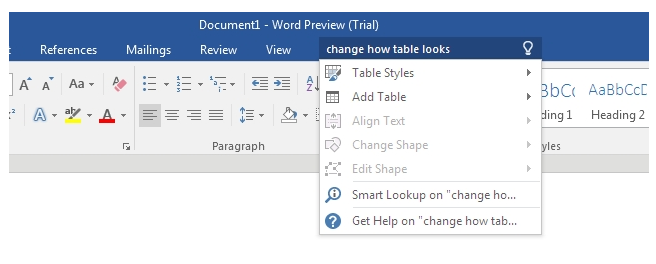 3. Clutter Email Organizer
This tool, which is already available in Office 365, helps you manage your email inbox more efficiently. It monitors who you interact with on a regular basis and where they're located. Other email that isn't part of this group isn't considered a priority and is filed away in a separate folder. Clutter doesn't remove spam, it just helps you understand which messages are more important for your day-to-day operations.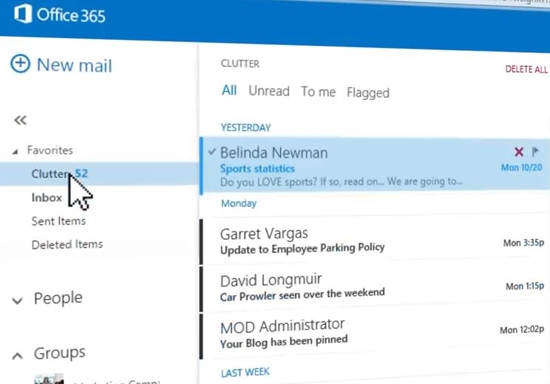 4. Business Security
Security is a big concern for all companies and, among the new features of Office 2016, many improvements will make you feel more comfortable about saving your data in the cloud. Data Loss Protection has been built into Word, Excel, PowerPoint and Outlook to give you more control over your data. Worried about the wrong people accessing your files? Rest assured. Office 2016 has a new Multi-factor authentication feature that will make it harder for just anyone to sign in to your account. Those who want to access files will be required to provide more than just a username and password each time they sign in.
5. Smart Lookup
If you're working on an Excel spreadsheet or a PowerPoint presentation, you might not feel like leaving the page each time you want to check facts or find more information. With this new feature you don't have to. Insights, powered by Bing, brings the web to you. Just right click on any word or phrase and select "Smart Lookup." Insight displays a quick answer to your questions.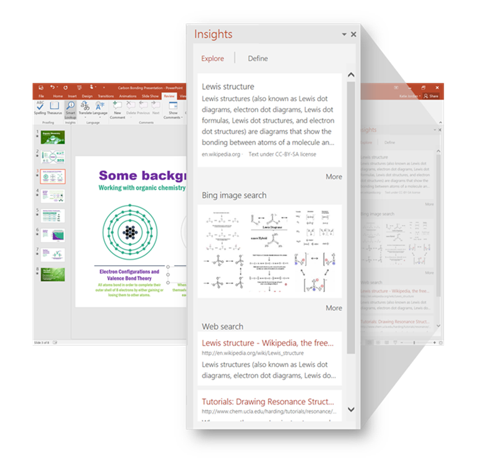 6. Access business files anywhere
If you are using Office 365, you know how easy it is to access documents anywhere at any time. Roaming documents in Office 2016 lets you switch from one device to another without missing a beat. Office knows which document you were working on last and where you left off before you closed it. You can also read and edit Word, Excel, PowerPoint and OneNote documents in a web browser. You just have to make sure you store them in an online location like OneDrive for Business or SharePoint online. Just go to File > Save As > Add a Location and pick your team site and sign in. Once you've chosen the location, it will always be listed as one of the places where you can save a document.
Want to know more about the new features of Office 2016 and how it can help your business be more productive? Download this ebook and read our review.