Running a small or midsized company is not an easy task, as it requires managing various aspects of a business from a limited space. What if you could shift the entire process to the cloud and take advantage of multiple applications, managing everything from a single portal? The Office 365 Business Center lets you do just that, and much more. Whether you're looking to track your sales, manage clients, or run marketing campaigns, the Business Center is a flexible online platform that helps you streamline your business.
Another key area of focus when running a business is maintaining customer relations. This includes marketing a product well, addressing client needs, and delivering quality post-sales services. Again, all of these can be managed efficiently from the Business Center platform.
How Office 365 Business Center Apps Can Help Streamline Your Business
1. Listings
The main motivation for running a marketing campaign is to increase your presence. In the digital world, most marketing initiatives target social media platforms such as Facebook or  Twitter to increase online awareness. The Listings app in the Office 365 Business Center is a useful tool for increasing the number of online listings for your company. It's very simple to use, all you need to do is fill in some basic information. Then the app posts your information to common business listing sites and helps you track various metrics, such as page views, reviews, and more.
What's convenient about this feature is that it keeps information up to date so you don't have to manually change every listing yourself. All you have to do is edit the information in the Listings app, and it will automatically update all the information on the pages where your company is listed.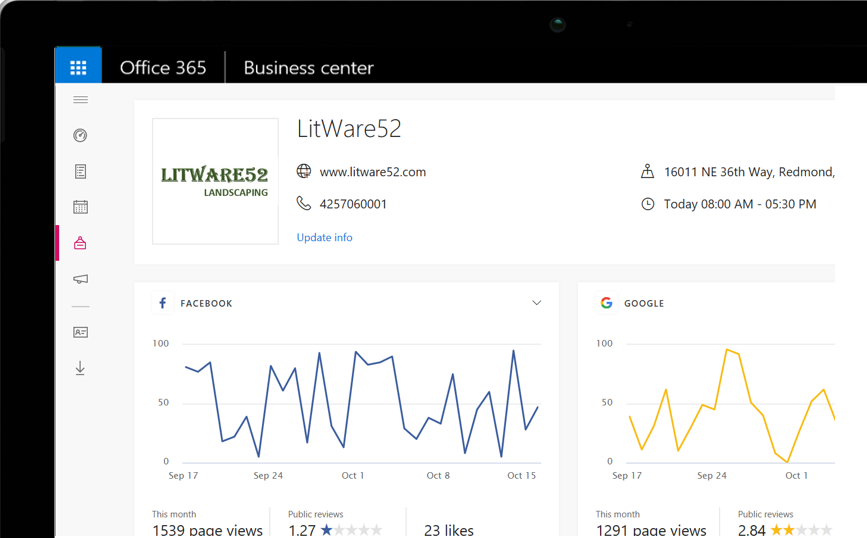 2. Bookings
How often have you found yourself juggling client bookings and appointments? Often, this is a source of frustration for many business owners. Fortunately, the Bookings app lets your clients easily book appointments with you through the virtual platform within a matter of minutes. This, first and foremost, saves you lots of time.
Moreover, managing the booking system online means clients can stay informed of your availability in real time.The app provides clients with information about your services, operating hours, and more. You'll also get notifications from the app every time someone books an appointment, helping you stay on top of recent changes.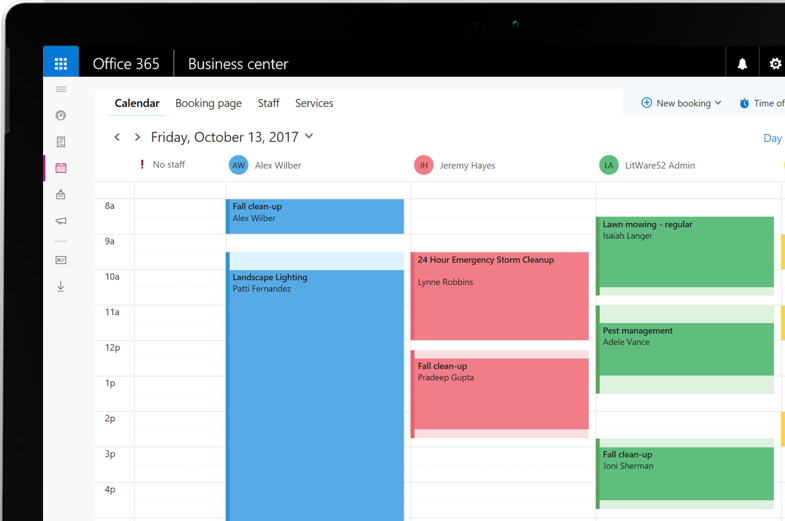 3. Invoicing
Gone are the days when businesses relied of hard copies and logbooks to maintain their invoicing records. Which thankfully means the messy piles of records that went with them are also gone. The Invoicing app lets you easily generate electronic invoices that look professional and include all relevant information. The app also conveniently lets customers pay directly through this platform using PayPal.
Of course, the other aspect of invoicing involves maintaining records. It's surprisingly difficult to keep track of which clients have already paid and which ones have yet to pay with other platforms. With the Invoicing app, though, you can maintain a clear record of your invoicing history. If you ever want to go back a few months and pull up some old data, you can do so by generating annual or monthly reports. All the information is stored in QuickBooks Online.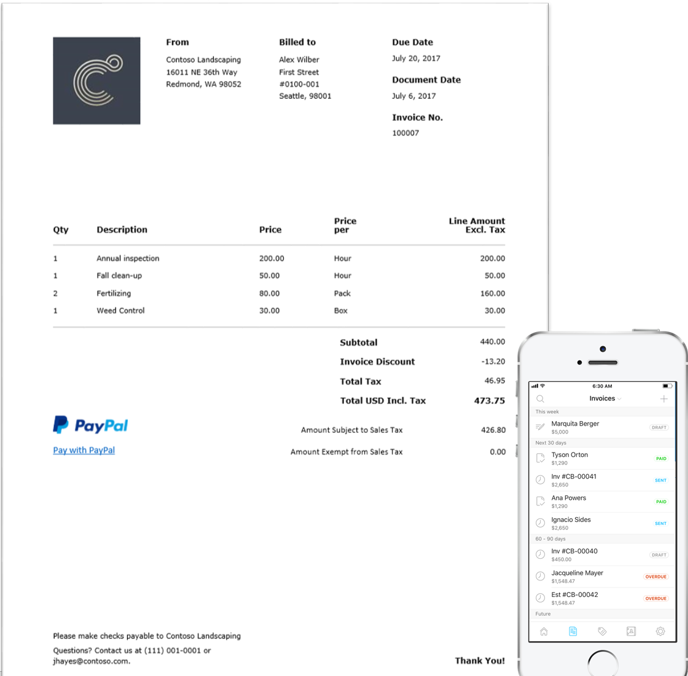 4. Connections
So, you've secured a new client and have successfully delivered your product or service. What's the next step?
There are two key steps to continuing this growth. First, you need to gain your client's trust and confidence so they continue to use your services for years to come. Second, you need to work on getting them to refer potential clients.
The Connections app helps you accomplish both tasks. By making use of the app's marketing and management features, you can establish customer loyalty, maintain connections with clients, and grow your business with promotions and referrals.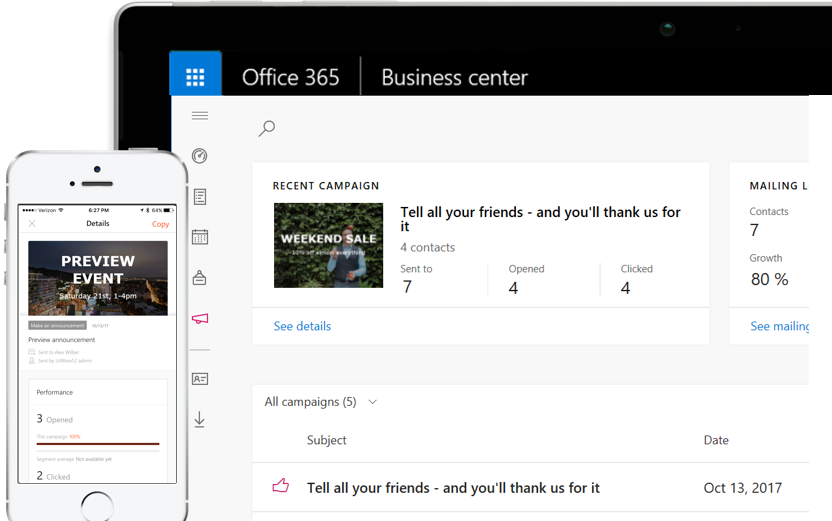 5. Customer information
Storing customer information, contact details, and other data is vital. After all, keeping in touch with clients and reaching out to prospects helps you stay in business. The Connections app helps you manage your clients, send new offers, and launch marketing campaigns to expand your clientele.
When you use the Office 365 Business Center, client information and contact details remain separated from your usual email contacts. You can manage what kind of client information you see on your dashboard. If you want to schedule a meeting or send an invoice, you can do so straight from the contacts list.
6. Activity Feed
This is a rather useful Business Center app. In short, the Activity Feed provides an activity summary for all apps, notifying you of any recent developments.
How does it work? Basically, you get updates in the form of activity cards. All activity on an application will be recorded on an activity card. If you perform multiple tasks in one app, all of these will be combined together on a single card.
Each activity card presents two aspects of an activity. The first lists a brief summary of the activity. For instance, it may simply state that a client booked an appointment online. The action section of the card is more specific and may list the details of a booking, the name of the client, the time, and other relevant information.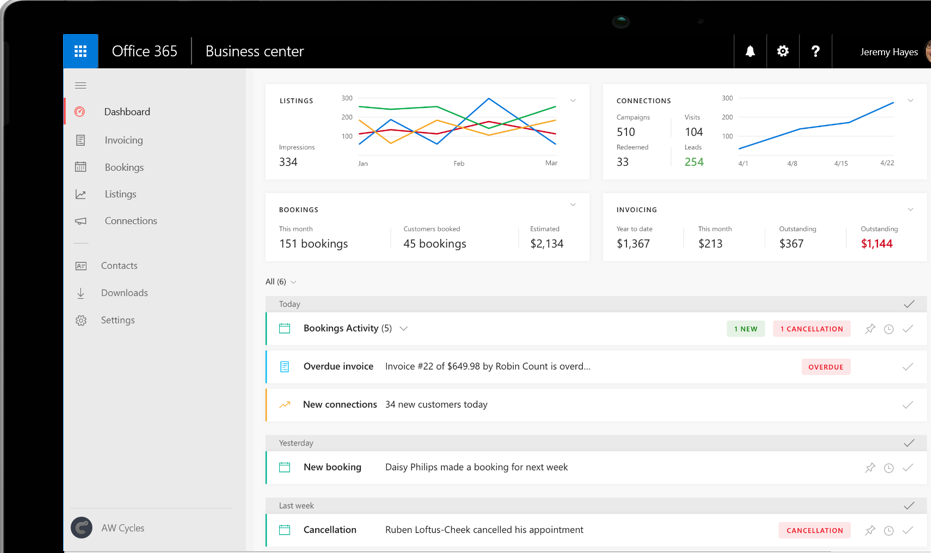 Nowadays, information technology is relying more heavily on cloud computing, cloud storage, and online information management. With the Office 365 Business Center, IT professionals and business owners can better manage their business operations than they've ever been able to before. All you need to access the Business Center is an Office 365 Business Premium License. Which is open to all global admins. Your admin profile then gets synced with your business profile in the Office 365 Business Center, so all your information stays updated on both platforms!