Did you know that 57% of the SaaS market in 2015 was startups and SMBs? This might be one reason why you sometimes feel caught between the needs of your users for more collaboration tools and your need to keep your company's digital environment safe.
Email is no longer the only tool for communication and collaboration; while it won't disappear anytime soon, there are now faster and more practical ways to cooperate with members of your team and others as well. And Office 365 is ready to provide the best there is in this area, while respecting your concerns about security.
1) Collaborative Workspace with Microsoft Teams
Microsoft Teams is a chat-based workspace that brings together people, content and conversations. It's a new experience for those of us who are used to working with rigid tools. Native to Office 365, Microsoft Teams is seamlessly integrated and was built from the ground up in the cloud.
Teams provides a modern conversation experience where you can create public or private conversations depending on your need for confidentiality. It supports persistent threads, but also threaded chats to keep everyone involved. Teams can also leverage Skype integration to start audio or video conferences for those occasions when IMs aren't enough.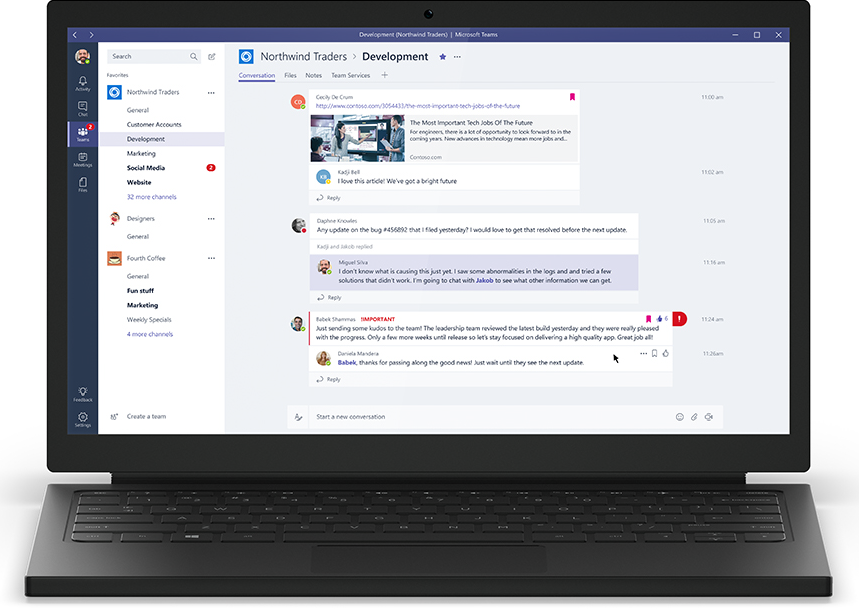 Microsoft Teams also brings together the full extent of Office 365 in a customizable way. Besides having rich extensibility and open APIs, you get an abundance of built-in functions. For example, you can receive updates and feeds from GitHub or Twitter, because they share the same Connector handle as Exchange.
2) Collaborate with Office 365 Groups
Office 365 Groups is another service that has already been leveraged by millions of users. From Outlook to SharePoint to Planner to OneNote, Groups help you structure and store information in a way that is easily accessible from any of those applications, thanks to their low-level implementation in Azure Active Directory.

Once users select the people they want in their group, the system will automatically set up a team site where anybody involved can get access to shared apps and content.
It's not only easy for users to create groups; it's also easy for you to control them, especially since Microsoft revamped its list of attributes last April. You are now able to restore deleted groups or apply labels and retention policies to them as a way of ensuring data compliance.
This adds to the wide array of other functions that were already rolled out, like creation policies that you can set if you don't want users to create more groups than they can handle. You can also set dynamic membership rules so that groups can "self-manage" their membership using updates of users' properties.
The list of features and capabilities that these Office 365 Groups possess is exhaustive and growing. Microsoft is planning for still more functionality, so if a feature is not already present, chances are good that it's planned for a future release. Microsoft Groups is a truly powerful tool for any Office 365 user.
3) Connect with Yammer
Remember when social networks were blocked for employees? Yet now, more than ever, employees rely on their peers and the outside world to help them in their work. Yammer was built precisely for this purpose.
At its core it remains a social media network, but with the full integration of Office 365, it's much more. For example, when you receive an email that you think needs open discussion and sharing, you can forward it to Yammer by typing the name of the group in the recipient list. The same is true of Planner, OneNote, and so on.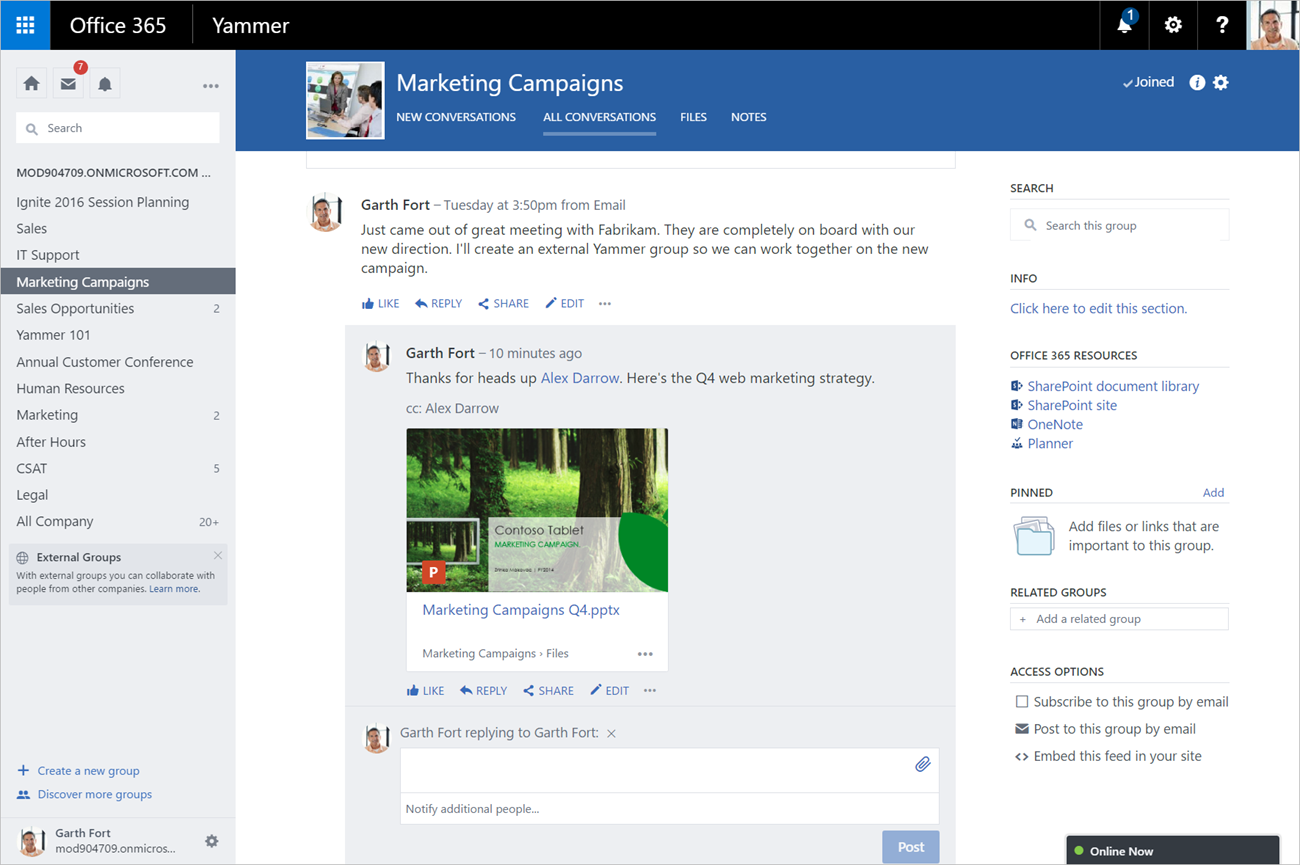 Yammer is tied to Office 365 Groups, so all of a groups' properties—such as name, description, membership and public/private settings—are available in Yammer as well. For example, whenever admins or users update the membership of groups in Yammer, this change will reflect across the rest of Office 365, and vice-versa. For tech-savvy admins, there is also plenty of PowerShell to let you bulk edit these groups.
4) Real Time Co-authoring
Microsoft co-authoring is a technology allowing the same document to be opened and edited by multiple users at the same time. It has been available for some time now in SharePoint, but the feature is much improved and more powerful in Office 365.
All your users can make changes to their documents and have the edits synchronized automatically so everyone is aware of who's doing what.
To co-author in Office 365, the document needs to be stored on SharePoint Online or OneDrive for Business. It is enabled by default and so is active unless you turn the feature off.
You don't even need to have Office installed on your laptop—you can also use Word, Excel or PowerPoint mobile from the Office Web Apps suite. You can even join with your iPhone or Android phone if you have Office installed.
5) Inter-Tenant Collaboration
Collaboration is no longer limited to peers and teams. Your users can now team up with other organizations as well.
If all the involved parties run Office 365, you can:
Set up a centralized location for files and communication.
Share calendars.
Use IMs, emails and audio/video calls.
Secure common access to resources and applications.
There are many other features and options that your users can also choose from to connect to their valued customers or suppliers. However, each enterprise maintains its own user accounts, identities, licenses and storage. Office 365 just adds the links between organizations to provide synergies for everyone.