When it comes to internal communications, it's not always easy to keep up with everyone's demands, especially if you are in charge of setting up these communication channels.
Remember when you had to share a recorded meeting with some employees? It might have been a struggle for you to host videos on your intranet portals. While it was possible, this approach was flawed on many levels.
Starting from content security to storage capacity to availability across different devices, end users had a low level of satisfaction when using videos. Delivering content on shop floors, in warehouses, and in remote offices was also a challenge.
Office 365 Video will solve all the problems and issues.
What is Office 365 Video?
Office 365 Video is a website portal that allows people in your organization to post and view videos. This service is available with SharePoint Online in Office 365.
It's a place to share videos of executive communications or recordings of classes, meetings, presentations, or training sessions. All you need to do is select a thumbnail to view a video.
The image below shows the high level architecture of Office 365 Videos. It illustrates how closely it is integrated with SharePoint Online for security, metadata, and search and with Azure Media Services to enhance video streaming and the playback experience.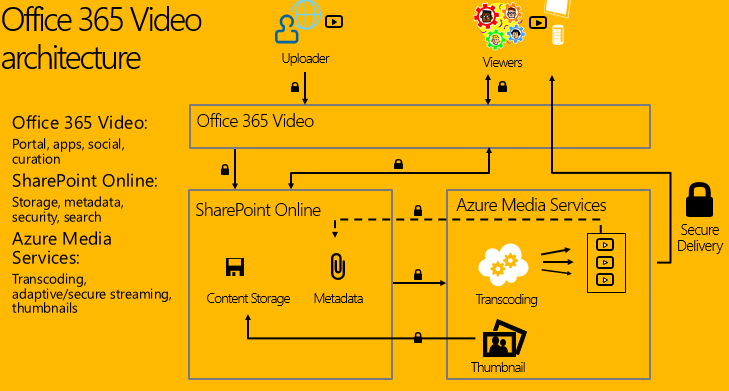 Key uses for Office 365 Video include:
Mission and vision statements
Team spirit lifting
Company announcements and other events
Internal trainings
How-to videos
Product presentations
Launch videos
Video blogging
New employee introductions
Best practices from the field
10 Reasons Why Office 365 Video is the Best Tool for Corporate Communication
1) Security & Access Management
Office 365 Videos offer a comprehensive administrative permission management that clearly demarcates Video Admins & Channel Admins.
Video admins – A user or security group that have video admin permission can perform the procedures described in this article. SharePoint Online tenant admins for your organization have video admin permission by default.
Channel admins – A user or security group that have channel admin permission can create new channels. By default, everyone in your organization has channel admin permission, but a video admin can change this so that only certain people have channel admin permission.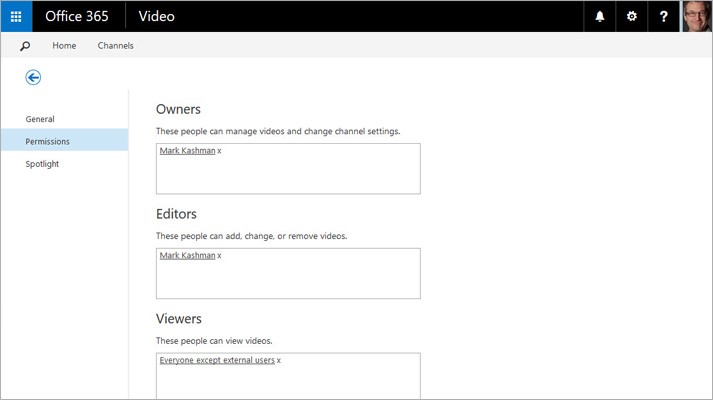 2) Mobile Ready
Office 365 Videos provide HTML5 Mobile Playback in Browser as well as Mobile Responsive pages to access Videos through a Mobile Browser. In addition, and to increase adoption, Microsoft has provided an app for iOS to stream, upload, and record videos to enhance your video experience.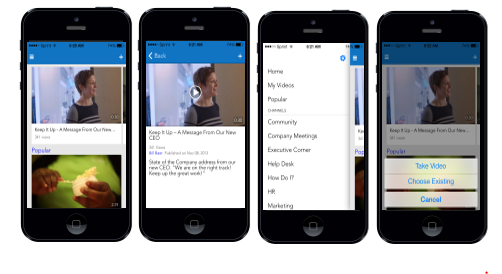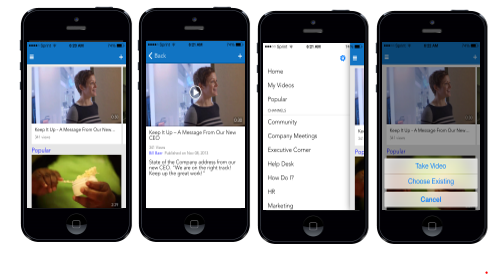 3) Collaborating with Other Users.
It is imperative to have the right content sharing mechanism to make collaboration more effective.
Embed an Office 365 video on your site – You can display a video that is stored in the Office 365 Video portal on a SharePoint Online site or another website by adding the embed code for that video to the page where you want the video to appear.
Post to Yammer. –   If your organization uses Yammer, you can post to Yammer about a video while you're watching it, and your post will automatically include a link to the video that you're watching.
Send a link to a video in an email – To get a link for a video, select the video in Office 365 Video and then copy the URL from the browser address bar.
Depending on the permissions and access, users are able to view the videos shared with them.
4) Scale and Reach
Office 365 Video is powered by Azure Media Services, which scaled to millions of users for the Olympics live and recorded content. Additionally, videos can be found using SharePoint Search and proactively presented to users using Delve and Office Graph. As an enterprise, how much is too much is always a concern. A word of caution here is to consider network bandwidth and quality of services when a huge user-base is rendering Videos over the corporate network.
5) Support for Varied File Formats and Audio/Video Codecs.
Office 365 Video is built on Azure Media Services. Therefore, Office 365 Video supports only the codecs and file formats that Azure Media Services supports, but it's a comprehensive list. The following video file formats are supported by Office 365 Videos.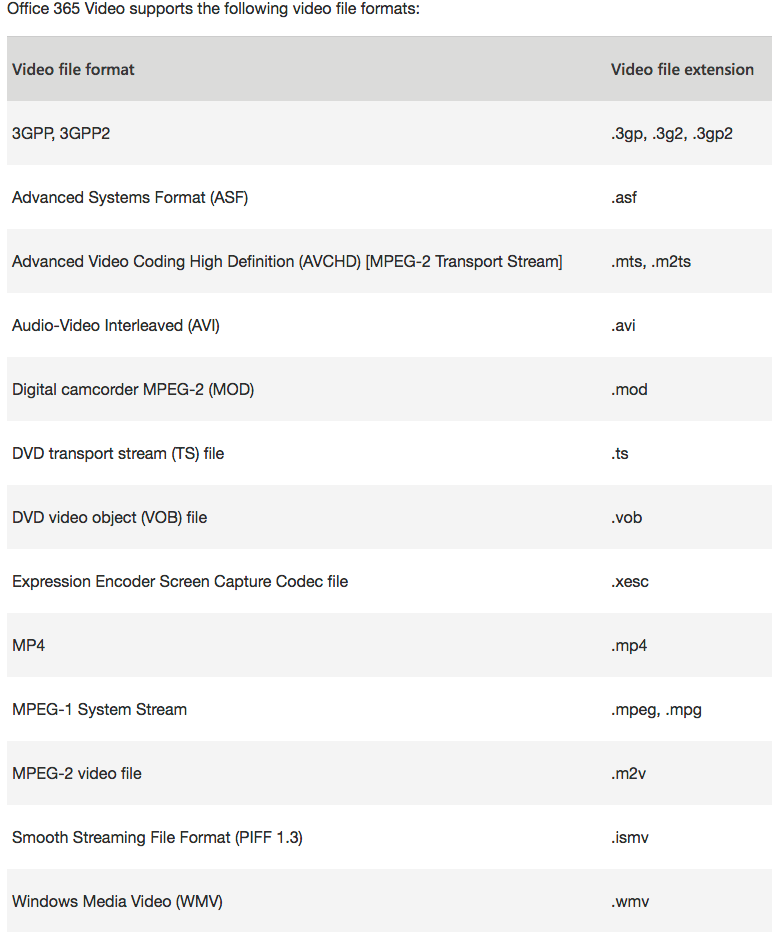 6) Upload Your Own Subtitle Files
Multilingual and subtitle management is an important feature for any Video streaming platform. Office 365 supports subtitle videos in webvtt format, supports multiple languages, and subtitles are indexed to SharePoint search. This empowers content owners to deliver their content to a multi-lingual audience by having correct subtitles in place.
7) Video Viewer Analytics
Imagine you just published your company earnings or keynote address by your president and would like to track the viewership of the video. The new video viewer statistics gives people insights into how their videos are being viewed—highlighting viewing spikes where shared via email and Yammer or discovered within Office Delve. It shows aggregate data on how many people have watched your video and how long they spent watching it, and visualizes the drop-off rates over time.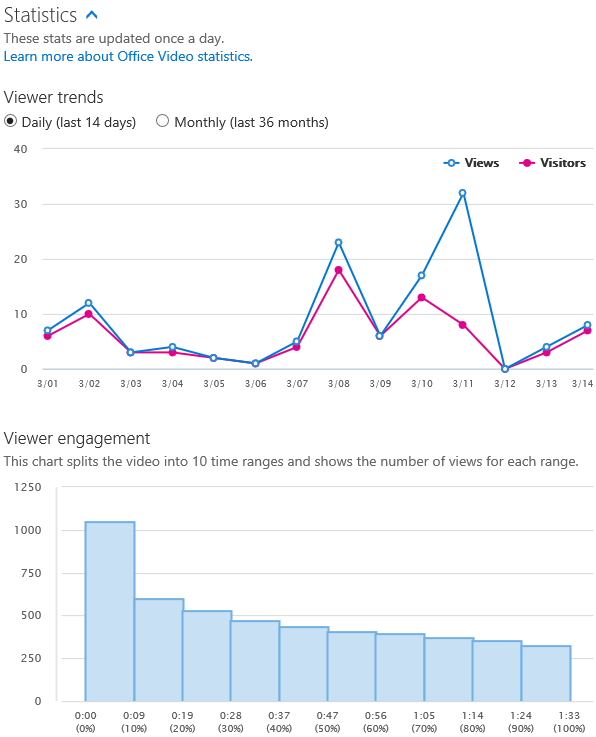 8) Download for Offline Viewing
Stay informed and up-to-date even when you are not connected to the Internet. Office 365 Video enables you to download the file to your local machine or easily transfer to your smaller device for times when you need to view a video offline or show a video in a location without Internet access. Channel admins can control who is able to download videos based on the same permissions for the channels (owners, editors, and viewers). This helps publishing videos that are viewable during travel or at remote office locations with limited internet connectivity.

9) Rich Metadata and People Tagging
In addition to title and description, Office 365 Video also shows who uploaded the video and the various people who are in the video. This enhances the discoverability of the video and highlights the main speakers as well as when and how your videos appear in other users' Delve activity feeds pivoting from the relevant context of who knows who. This makes it easy for your audience to search for videos by people or by meta tags for content.

10) Retention & Governance
Last but not the least, every organization faces constant challenges around governance and content retention. Office 365 Videos offer a channel-specific recycle bin that allows you to recover content within 90 days of deletion. In addition to this, Office 365 Videos provide channel storage metrics, an administrator tool that lets you see how much space the videos are currently consuming. The Office 365 Videos mobile app is set to use device security policies and access rules configured by Mobile Device Management policies if the mobile device is configured to use MDM.
Office 365 Videos offer superior video portal experience
The portal experience combined with integration capabilities with your Office 365 tenant and, given the videos support the same authentication and authorization as Office 365 while using SSO across Azure AD or third party tools like Okta, these videos can be embedded in Dynamics CRM as well as Dynamics 365 to augment the end-user experience with rich media capabilities.
Research indicates when your enterprise is vying for the next generation intranet portal, rich media experiences like Videos play an integral role in end-user adoption, as well as managing change. Office 365 Videos is available with Enterprise & Government tenants, as well as for users hosted on China data center which makes this platform truly global.
These are just a few of the reasons that make Office 365 Video a definitive tool for internal communication. Do you have any others to add? Let us know in the comments.