A number of companies use Outlook for their email handling. As a consequence, many helpdesk managers list Outlook among the so-called first-call generators (FCGs)—software, services, or products that frequently lead corporate users to call helpdesks to resolve any issues they experience. In this article, we'll explore two approaches for troubleshooting Outlook if it refuses to open.

Explore our Partner Guide to find out how Sherweb can support your business
Problem: Can't open Outlook, no error message
In some situations, when the user tries to open the Outlook client, the application attempts to run but immediately closes or crashes.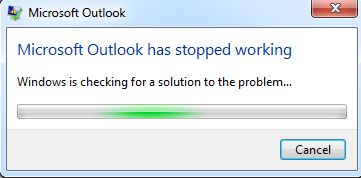 Let's look at 3 possible reasons why this happens.
1) Cause: Outlook desktop installation is corrupted
Troubleshooting steps:
Launch Outlook in safe mode: Click Start. In the search box, type "Outlook.exe/Safe" and hit Enter.This loads Outlook without many of the extra customization files and add-ins that are loaded by default.If Outlook works properly in safe mode, the problem is likely related to one of your add-ins or customization files.
Repair the Outlook desktop client: Start >> Control Panel >> Programs >> Programs and Features.
Select the Office Pack you want to repair and click Change.Choose Quick Repair or Online Repair.
Repair your Outlook 2013 profile: In Outlook 2013, click File. Select the drop-down arrow next to Account Settings and select Account Settings.
On the Email tab, select your account (profile) and click Repair.Follow the prompts in the wizard, and restart Outlook when you're done.
2) Cause: Outlook add-ins notifications are preventing Outlook from opening
Certain Outlook add-ins can cause a wide range of errors, which can prompt warning messages or trigger Outlook to restart and/or freeze.
Troubleshooting steps:
Check your add-ins: In Outlook, click File on the top left menu and select Options from the left-hand navigation.
Next, go to Add-ins >> COM Add-ins >> Go.

Clear all add-in checkboxes. Then, select an add-in and click Add. Restart your computer, and repeat these steps for all add-ins in the list until you're able to identify the source of the problem.

3) Cause: Another program is conflicting with Outlook
Perform a selective startup to determine if another program is conflicting with Outlook
When you start Windows normally, several applications and services start automatically and keep running in the background. These applications and services can interfere with Outlook. The Selective Startup Process, or "clean boot", can help you identify issues with conflicting applications.
If you use the Selective Startup option in System Configuration (Tab Startup), you can turn services and startup programs on or off individually to see if the problem occurs the next time you restart your computer. If you select the checkbox for a particular service in System Configuration, it will run when you restart Windows. If the checkbox is cleared, the service or startup program won't load when you restart.
In the Control Panel, click System and Security, then Administrative Tools, and double-click System Configuration. If you're prompted for an administrator password or confirmation, type your password or provide confirmation.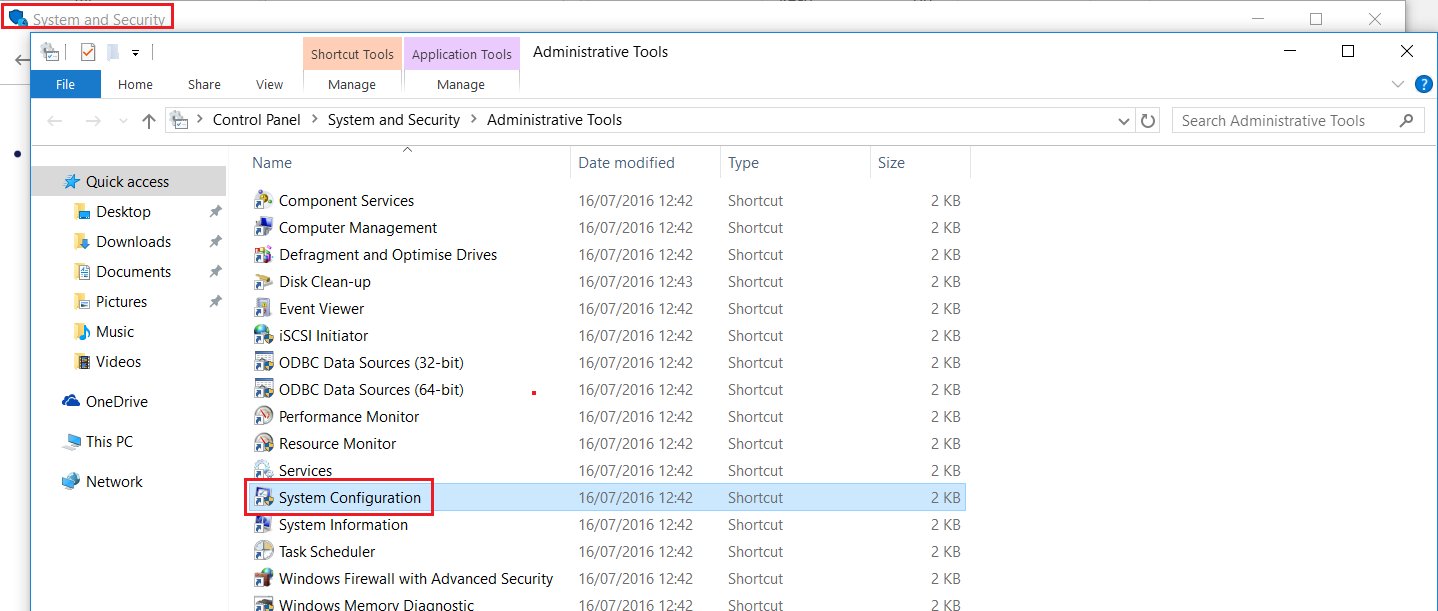 Select the General tab and click Selective startup. To begin, clear both the Load system services and Load startup items checkboxes.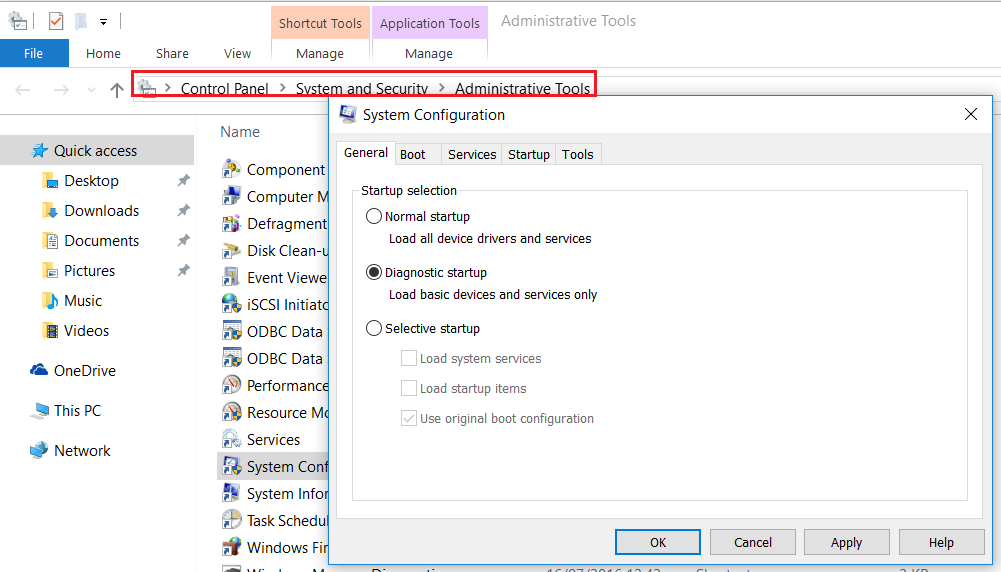 Next, select the Load system services checkbox, click OK, and then restart.
If the problem recurs after restarting, proceed with the following troubleshooting steps:
First, we'll identify the system service (if any) that is causing the problem.
In System Configuration, click the Services tab, choose Disable all, select the checkbox for the first service that is listed, and restart your computer. If the problem doesn't recur, then you can exclude the first service as the cause of the problem.
With the first service selected, select the second service checkbox and restart your computer.
Repeat this process until you reproduce the problem. If you can't reproduce the problem, you can eliminate these system services as the source of the issue.
Next, we'll attempt to identify the startup item that is causing the problem using a similar approach as above.
In System Configuration, click the General tab and select the Load startup items checkbox.
Click the Startup tab, choose Disable all, select the checkbox for the first startup item that is listed, and restart the computer. If the problem doesn't recur, you can eliminate the first startup item as the cause of the problem. Continue adding items and restarting your computer until you are able to replicate the problem.
Problem: Cannot connect to Outlook (Outlook trying to connect)

Let's look at the 2 possible causes of this issue.
1) Cause: No Internet connection available or network connectivity degradation
Verify the Proxy Auto Configuration (PAC): Not all networks are the same. The PAC setup defines how web browsers and other user agents (like Outlook) can automatically choose the proxy server assigned to them. Thus, the PAC configuration is the primary network check that we need to perform to ensure that we are complying with corporate network policies and configurations.
Open Internet Explorer >> Tools >> Internet Options >> Connections >> LAN Settings >> verify PAC configuration:
Check if your network infrastructure relies on a proxy server. If everything is OK, try opening any Internet page to check if your internet is working. If you cannot connect to the internet, check if you can open another network resource like a network share.
If you cannot open any network resource, there might be an issue with one of the following:
Network cable
Network Interface card
Network Infrastructure
Internet Service Provider
2) Cause: Autodiscover service failing
Microsoft Exchange 2013 includes something called the Autodiscover service that automatically configures user profile settings for clients running Microsoft Office Outlook, as well as supported Windows Mobile phones. It also provides access to Exchange features for Outlook 2013 clients connected to your Exchange messaging environment.
The Autodiscover service uses a user's email address and password to provide profile settings to Outlook 2013 clients and supported mobile phones. If the Outlook client is connected to a domain, the user's domain account is used. When a user's Exchange information is changed, Outlook automatically reconfigures the user's profile using the Autodiscover service.
Verify Office 365 service health

Sign in with your Office 365 admin account at https://login.microsoftonline.com
In the Office 365 admin center, go to Health and select Service health.

The site provides lots of information about known issues and maintenance activities in progress by Microsoft for each Office 365 environment. It's a good habit to always keep it on hand, as it can spare you long (and worthless) troubleshooting sessions to pinpoint a server-side problem.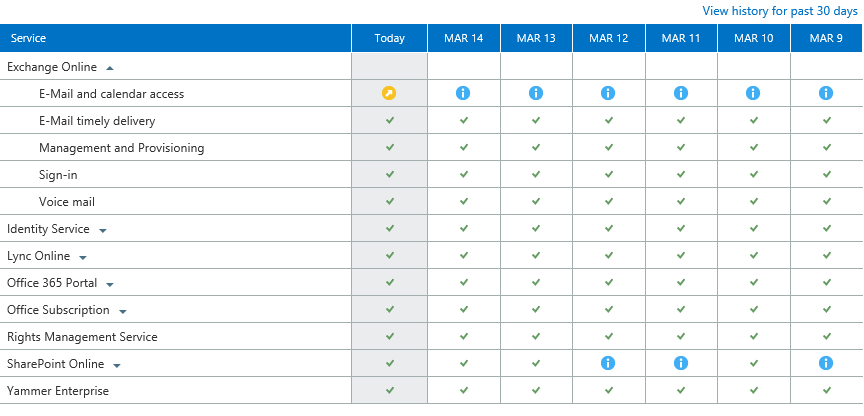 The red, green, and yellow statuses for any Office 365 environment allow you to check if there is any known DNS problem or any work in progress in the area you are troubleshooting
Verify Exchange autodiscover DNS: You can use the nslookup tool that comes with any version of Microsoft Windows to view the DNS records for your domain.
Check firewalls and PAC configuration: Firewall or internet proxy restrictions enforced on your corporate internal network may prevent the nslookup tool from functioning properly.
Check the MX records: Open a DOS Command Prompt (Start >> Programs >> Accessories >> Command Prompt)
Type "nslookup". Your computer's DNS server name and IP address will be displayed.
Type "set type=mx". This will cause nslookup to only return what are known as MX (mail exchange) records from the DNS servers.
Type "hotmail.com" or your domain name.
The results should look similar to the following:
Use the Remote Connectivity Analyzer tool: Go to https://testconnectivity.microsoft.com/
The Remote Connectivity Analyzer is a collection of web-based tools that help identify connectivity issues affecting the Exchange Server environment. It's easy to use and quite intuitive, but before running any tests, make sure that you have cleared your Internet Explorer cache.
We hope you found this article helpful. Let us know if you have other problems with Outlook!