If you're an MSP reselling Office 365, your biggest challenge is getting to market before the competition. Your clients are asking about Office 365 every day and if you're not ready to sell it, they'll find someone who is. You've probably heard about the new Cloud Solution Provider (CSP) program and how it lets you set your own prices and profit margins for reselling Office 365.
But how are you set up for technical support? To qualify for this program, you must have a track record of providing 24/7 support for all your customers. Do you have the resources to do this? Many resellers don't. But there is a solution: You can partner with a 2-Tier provider who can support your customers for you.
How different is going to market with a Microsoft CSP 2-Tier provider like SherWeb compared to selling directly with Microsoft? Here's quick summary: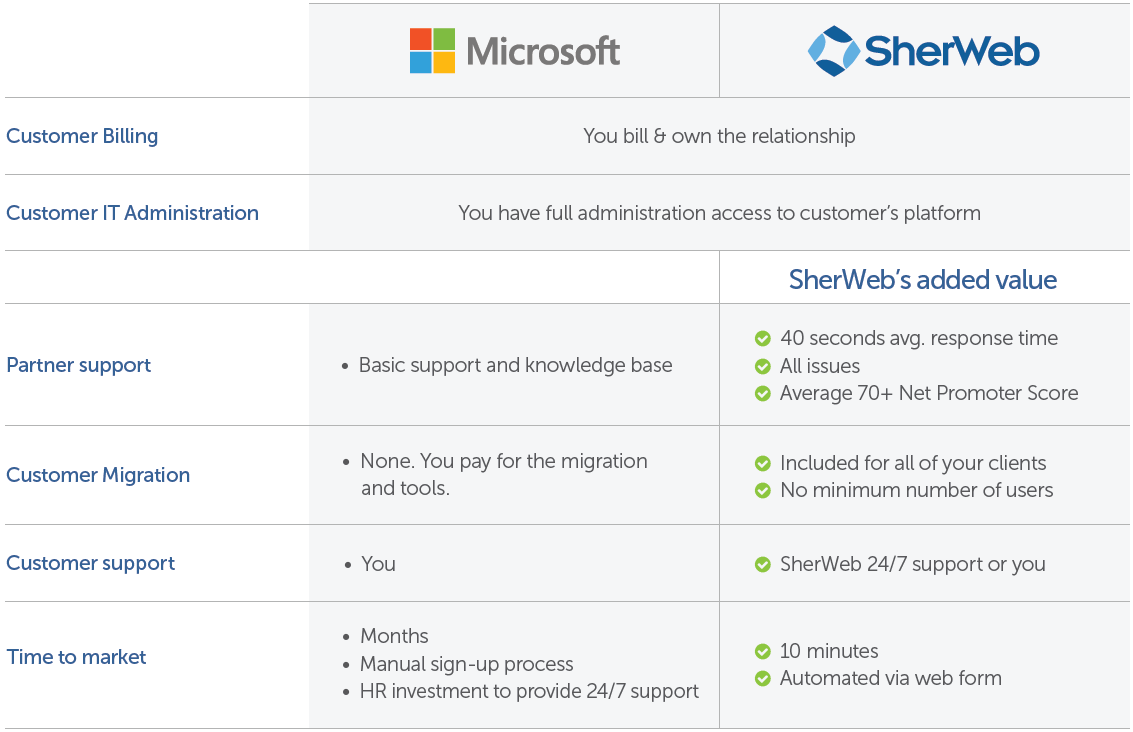 Sign Up for SherWeb Indirect CSP Partner Program:
Login to Cumulus, our customized partner portal
Sign up your first customer
The real cost (and delay) of providing 24/7 support
As we said earlier, few resellers are able to provide technical support around the clock, 365 days a year. To give you a better idea of what we're talking about, here's an example. To run a 24/7 support shift, you'd need a minimum of 5 technicians (ideally 11). If you pay each technician about $40,000 a year, you're talking about an annual investment of $200,000-$400,000 just to get started! Add on further costs for training, overtime and emergency support and your human resources budget would literally fly off the radar!
Go to market faster with free migration
Data migration is another issue. Microsoft charges partners for both the migration process and the tools. On the other hand, SherWeb offers free and seamless migration with no limit on the number of users. This is another way to get to market faster and attract more clients. Depending on your strategy, you can either charge your clients a reasonable fee to cover some of your setup costs. Or, you can promote migration as an added service to sweeten your offer.
Signing up with Microsoft isn't easy
Have you ever tried to sign up with one of Microsoft's partner programs? Many resellers have complained that navigating Microsoft's website to find their Online Services Partner Agreement can be pretty difficult. On the other hand, becoming a CSP partner with SherWeb is a whole lot easier. You can register for our partner program on our website in less than 10 minutes. And once you join, you just log into our customized partner portal and you're ready to go!
Transfer clients in minutes
If you have Office 365 customers in other reseller programs, such as Microsoft Advisor, you can transfer your clients to the CSP program right away. No need to create a new tenant or do a full migration for each client. The process is so streamlined, your customers won't even notice. SherWeb is one of the very few providers in the world allowed to resell to partners in North America the CSP program. Aside from the technical support requirement, the CSP provider must also be enrolled in at least one Gold Productivity competency from Microsoft and sell a minimum of 5000 new seats a year.