As part of our commitment to being a Partners First company, we're always looking for ways to improve our partners' experience and make it easier for them to grow their revenue by selling Sherweb's impressive cloud portfolio.
Keeping in line with that philosophy, we've just released a new feature that is sure to please our many Advisors. Starting today, when you use your Advisor ID with one of our website URLs, you can easily track and claim which clients you referred to Sherweb.
Let me walk you through this new feature and give you examples of scenarios where it can come in handy for your business.
How to Add the Advisor URL Parameter
The first thing you'll need is your Advisor ID. If you don't know what your ID is, just follow these quick steps:
Login to your Partner Portal.
Click on Administration.
You'll find your Advisor ID under the Account Information section.

With your advisor ID in hand, you can now configure URL referrals that will be linked to your organization. Just add this parameter to the URL pointing to Sherweb's website: ?aid=YOURID
For example, if you want to send customers to our Office 365 Product section, you'd use the following URL:
https://www.sherweb.com/office-365/?aid=YOURID
This also works with links that go directly to the cart. Again, using Office 365 as an example, you could send customers to a specific plan and have your ID attached to it. In this example, we are looking at the Business Premium plan:
https://shop.sherweb.com/sherweboffice365/?offer=office365_business_premium&Culture=en-US&aid=YOURID
This will automatically populate the Advisor ID field in Sherweb's cart when your customer buys a new product. Note that the referral expires after 90 days. To reactivate it, your customer would have to click again on the referral link.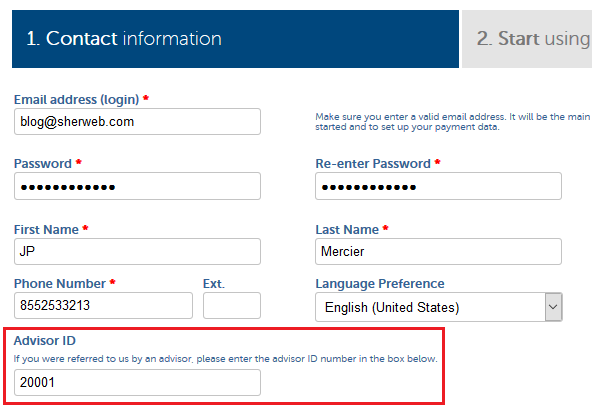 How to Leverage This Feature to Grow Your Monthly Commissions
Now that we've covered the how, let's jump into the why! We'll give you some practical use cases but in reality, there really is no limit. This feature can be leveraged through most of your marketing campaigns.
Email Marketing
You run a marketing agency and you think your current list of customers could benefit from Office 365? Prepare a quick email campaign highlighting the benefits of Office 365 and Sherweb's 24/7 support. Then link it to Sherweb's website using your Advisor ID.
Product Section on Your Website
If you have a page on your website that talks about one of our products, you can add calls-to-action to redirect the customer to Sherweb's cart where they can complete the transaction. This is a great way to make sales and boost your commission with minimal investment. You might get new deals without even talking to the customer!
Banners on Your Homepage
You can create banners promoting our services and place them on your website's homepage. This way, you can refer new business to Sherweb. This is another way to boost your revenue with little to no effort.
First Things First – Become a Sherweb Advisor!
Want to take advantage of this new feature? Become a Sherweb Advisor! It's easy. Just sign up on our website. There's no commitment or no minimum requirement to qualify. As a Sherweb Advisor, you'll also receive a 150% one-time commission and a 7% recurring monthly commission for the life of the customer's contract.
Our Advisor program is definitely the most rewarding program in the cloud market today! And with a full suite of best-of-breed cloud services available, Sherweb can cater to all your customers' needs, from email to the Office Suite, to cloud servers to CRM Online; the list goes on.
Do like thousands of partners before you— become a member of the best cloud channel program in the industry.
Learn how to be successful in the Cloud. Get your infokit.