You've probably heard all the talk about converting licenses for Office 365 to Microsoft's Cloud Solution Provider program (CSP). You might have read about the multi-channel feature and how you can use it to transfer existing client subscriptions for Office 365. You might even know that you can add tenants from other reseller programs, such as Microsoft's Open and Advisor.
But, when it comes right down to it, do you really know how to onboard customers as a new CSP partner? We're willing to bet that you have a few questions.
Step 1: Create Your Client Account
Log into Cumulus, SherWeb's partner portal, to create your new client account. Type in the client's name and contact information. Cumulus is SherWeb's one-stop shop portal that gives partners access to many product lines, such as cloud servers, hosted Exchange, Office 365, online backup and more.
Step 2: Select the Office 365 plan
After creating the account, select the product line (Office 365 in this case), as shown in the screen below. Then, choose the plan and the number of licenses you want.
In the Platform Settings tab, add the client's tenant address and indicate that this is an existing tenant. It's important to note that the address must end in .onmicrosoft.com. Add this to the Cumulus account and press Save Changes.
Placing this copy block after the screen shot might be confusing for the reader. Since this is an instructional blog, the way the steps are presented has to be uniform throughout.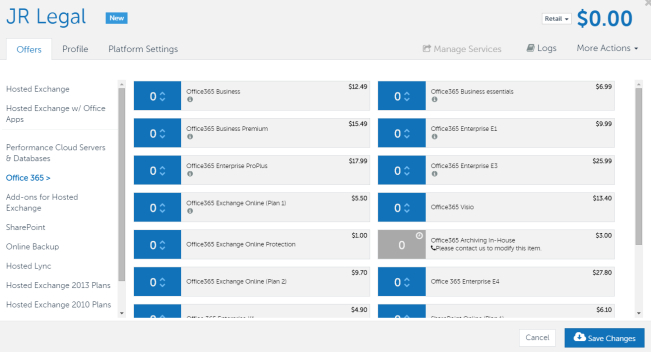 Step 3: Activate invitation to join CSP
Now that you've selected the Office 365 plan, enter your client's current tenant address. Click on authorize Sherweb Inc. to be your Microsoft Cloud Solutions Provider (CSP) to generate an approval link.
If you know your customer's Office 365 tenant administrator credentials, click on Sign in when prompted to authorize you as a CSP.
If you don't know your customer's credentials, copy the authorization web page URL and send it to the client so he can log in and authorize you as a CSP.
Step 4: Accept invitation to CSP
Your next step is to authorize the CSP as your provider. Click on the approval link and log onto Office 365. You'll see a screen with a headline that says Accept Microsoft Cloud Solution Provider invitation. Check the box and then click Authorize CSP to accept the invitation.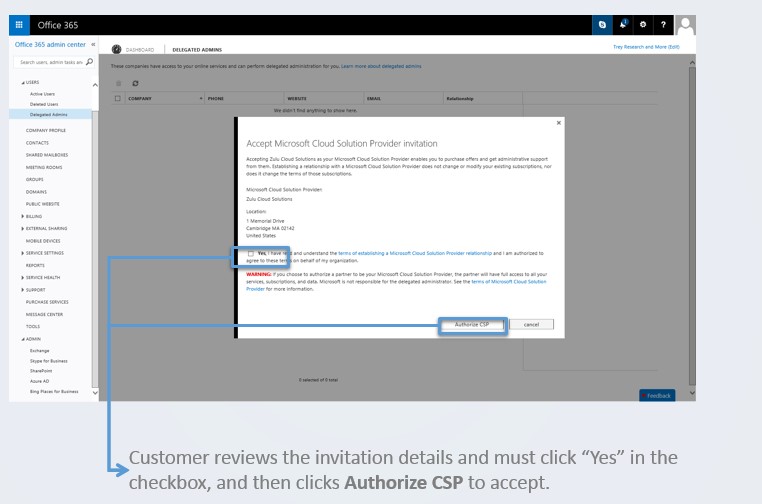 Then, go back into the Cumulus Partner Portal and click on Validate authorization.
Step 5: Remove the Old Subscriptions
Once the subscriptions are transferred and the licenses are added from the Advisor to the CSP program with SherWeb, you should remove the old ones and close that account. If you want to upgrade or downgrade these licenses after, you can do it in Cumulus.
More Information About the Transfer Process
100% seamless – no migration required
It's important to note that this transfer won't affect your clients' existing subscriptions. Before this feature was introduced, resellers had to create a new tenant and do a full migration for each conversion. The new process has been streamlined so that the end user won't even be affected. There is no technical migration required and the client won't experience any downtime.
Choose Matching Licenses for Each User
When you're transferring client subscriptions, make sure they match for each user.
For example, you can't transfer a Business Premium license to an E3 license using this process. As we already mentioned, you can do the upgrade later in Cumulus.
If you have any trouble, SherWeb's migration team is always available to help you.
Why Was the CSP Program Created?
Microsoft introduced the Cloud Solution Provider program 3 years ago to respond to partners' requests to get more involved in the customer sales cycle for Office 365.
Under the CSP program, partners have complete control over the customer relationship and are responsible for customer renewal, billing, provisioning and support.
Now you can transfer your Advisor clients to the CSP program and start a closer relationship with your customers. And the best part of all? It takes only minutes to make the switch!
Want to find the best partner to resell Office 365? Download our free white paper by clicking the banner below.