Something great happened at SherWeb during 2015!
The Technical Support team got an NP Score (Net Promoter) of 84, far above the company average (70) and the the industry average (20) ! The same month, the overall customer satisfaction about the company was rated at 82.5. These are tremendous numbers !
Supporting our customers is very important for us. Along with offering 24/7/365 assistance through phone, chat and email, SherWeb provides a detailed technical knowledge base that is regularly updated, with articles for each cloud service we sell. Getting the feedback from our clients is part of the whole support strategy.
How important is the NP Score?
It is the best single metric available for benchmarking customer satisfaction across industries and companies. NP Score data are collected from customers at the closure of a technical support ticket or a sales request.  Through a single question, customers rate their provider based on their most recent interaction with the staff, using a scale from 1 to 10. The NP Score is then determined by a simple calculation. The percentage of Promoters (very satisfied customers, 9-10) minus the percentage of Detractors (unsatisfied customers, 1-6) gives the NP Score metric. Passives (satisfied customers, 7-8) are not taken into account in the calculation.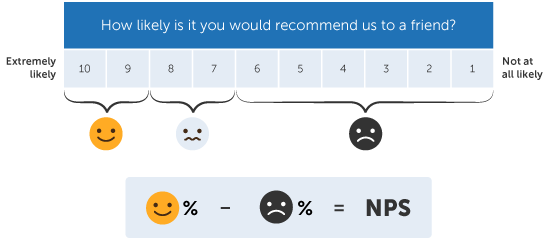 Not all companies share their NP Score metrics publicly. SherWeb has not been afraid to do so over the past years.
We take our NP Score metrics very seriously
We review the numbers on a monthly basis, tracking the least information categorized per cloud service, per agent team, per individual agent, and more. We are able to identify where and when things go wrong and immediately correct the situation, whether it is related to technology or human interaction. Our customers' feedback matters!
SherWeb put lots of efforts when it comes to customer service. We make sure our staff receive the best training from their debut day and they constantly get refreshed on the technologies we are offering. With two dedicated training rooms, our staff are free to update themselves through online trainings and free Internet access. Our employees' wellbeing is also at the center of our strategy. That's why we provide gaming spaces and activities, health insurance, and psychological support, among other benefits, for our staff. We also allow personalized work schedule for a flexible work/life balance.
On November, 26th, the Technical Support team took time to celebrate the outstanding October NP Score record. Along with a delicious snack, all agents received a blue polo shirt, stamped with the month, year, and the NP Score number. That was also the occasion to announce the technical support agents that got the best customer satisfaction feedback and to introduce them to the "Customer Service Wall of Fame".
One year after the addition of Office 365 offers and only a few months after unveiling the SherWeb Cloud Databases product into our portfolio, it is also a good sign that our technical agents have got all the skills and competencies to direct our customers into the usage of Exchange Online, SharePoint Online, Skype for Business, OneDrive for Business, Microsoft SQL Server, and other related products.
Visit our website to know more about out products or contact our sales team to learn more about how SherWeb's portfolio can help your business.