We're proud to announce that we've been named the 2019 Cloud Services Vendor of the year for the Channel Innovation Awards. This is a great honor for us since all year long we work relentlessly to provide the best services and support to our partners to help them grow their business to their true potential. So, with no further ado, here's what makes Sherweb the Cloud Services Vendor of the year based on all the great work our team put in throughout 2018.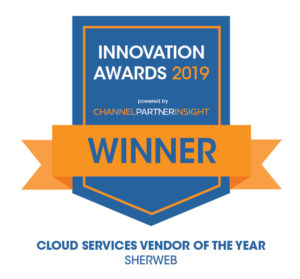 Helping partners be the best they can be
Our company works alongside our partners to help them grow and enrich their managed services offering. We help resellers—no matter their size, scope, or number of seats—maximize value for their end-clients by providing a tailored approach to their individual needs.
We're extremely proud of our customer-first approach. Our partner program has been in place for ten years and represents more than half of Sherweb's overall business. The program's success is due in part to the flexibility it offers to our partners. We create avenues for resellers to build a partnership that works best for them and their customers.
For example, our different partnership levels enable program participants to brand their offerings individually or alongside us. We also offer our partners sales, billing, and technical support, effectively filling service gaps to facilitate their growth.
The continued growth of our partner network in the North American market is a testament to the value and profitability that we offer to our partners. Recognition as Cloud Services Vendor of the Year confirms that our efforts to help cloud resellers reach their full business potential continue to be successful and appreciated by the greater channel community.
Want the scoop on all four Sherweb pillars? Take a look at the Sherweb guide
A partner program focused on growth
Our partner program stands out from the competition through its consistent dedication to improving the partner experience. Not only do we strive to expand the program, but we also work diligently to ensure partners are engaged and satisfied with the program. Continuously introducing products and services that, in turn, create added value for Sherweb partners and their clients is a key element in the ultimate success of our organization.
New products and services we added in 2018:
G Suite: Sherweb began offering G Suite productivity tools for resale as part of its partner program.
UCaaS: Unified Communications-as-a-Service was added to the product portfolio, comprising a seamless integration between Office 365 and our own Cloud PBX.
QuickHelp: Introduced in partnership with Brainstorm, we added an online training solution for partners to increase their knowledge, adoption, and engagement with Office 365.
Sherweb support and continuous learning initiatives in 2018:
26 webinars on our products, services, and business growth initiatives, among other topics.
8 learning sessions hosted across the US in California, Florida, Illinois, Massachusetts, New York, Pennsylvania, Texas, and Washington DC.
Selected partners participated in Sherweb's Partner Advisory Council (PAC), created to collect feedback, insights, and recommendations regarding our partner program from engaged members. The PAC also represents our commitment to continually seek improvement on its products and practices from within.
All the right stuff from the right place
New products and services
We assisted our partners to actively increase their business in 2018 by introducing several new products and services to help diversify partner portfolios. As previously mentioned, these new products and services included G Suite, UCaaS, and QuickHelp. In addition to new standalone services, Sherweb also introduced new product bundles for partners. For example, our launch of an Office 365 bundle combined with online backup and cybersecurity solutions created additional sales opportunities for the entire partner network.
Strategic partnerships
In 2018, we launched a partnership with Nerdio, significantly strengthening our Microsoft Azure offering for partners and their end-clients. By providing capabilities to automate provisioning, management, deployment, and optimization of IT environments in the Microsoft cloud, Nerdio effectively streamlines Azure for resellers and users alike. This partnership therefore increased partners' competitiveness with their Azure offerings, creating new opportunities for business growth and expansion.
Not-for-Resale
Our Not-for-Resale program represents yet another way the organization facilitated business growth for partners in 2018. By having access to the same productivity tools they are reselling at a discount, Sherweb partners reduced their overhead costs, boosted their output, and positioned their operations for growth.
Successful case study testimonials from our partners are a clear indicator of the success of our partner program. The case study videos featured below outline how individual partnerships have been successful and how we helped facilitate that success. Watch their stories:
Maintaining our engagement to partners in 2019
We accomplished all of the above in 2018, and even more over the course of the current year! But one thing we make sure we do absolutely each and every year is listen to our partners' needs. By listening to and acting on the feedback they give, we can provide the right tools and products to help our partners grow their business. To learn more about what Sherweb can bring to your business, take a look at our infokit.