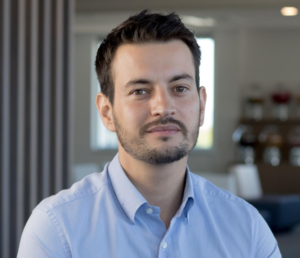 Cyril Courrée has worked as a CRM Product Manager at SherWeb since 2016. Committed to ensuring the success of our unique cloud solutions, he develops and aligns high-level marketing strategies to fit our goals. Celebrating two years with us in July, we invited Cyril to talk about his journey from France to Quebec, his experiences and accomplishments in IT, as well as his ambitions for the future.
Before you began your job search, could you tell us why you were attracted to Quebec? And, why SherWeb?
It's common knowledge that Canada has a thriving job market and plenty of opportunities in IT, which is my field. So I knew that I would be able to find a job quickly. I chose Quebec mainly because I have cousins who live here with whom I can communicate in French. Also, I was drawn to the advantages of being bilingual.
I had visited Quebec when I was a teenager and the memory of my experience stayed with me since. When I moved to Montreal, I decided I wanted to settle in a smaller city. So I chose Sherbrooke!
What are the main differences between the professional dynamics in France and Quebec?
There are some social differences between the work cultures in France and Quebec. In France, people are generally more direct which can often lead to unnecessary conflict or tension in the workplace. From my professional experience in Quebec, there's less of a hierarchy in an organization, people smile more and the atmosphere is very pleasant. I also feel like the working world here focuses on quality of work and performance, rather than putting more hours than necessary to increase your value as an employee.
On a personal note, how are you integrating from a professional, social and cultural point of view?
My integration at SherWeb has been professional and efficient. From the time I came on board and joined my team, I felt welcomed straight away and supported through the process.
From a social perspective, I had an easy time integrating in general because Quebecers are friendly. Interestingly, I notice it's not as common here to have a drink with colleagues after work as it is in France. Maybe that's because Sherbrooke is very family-centric.
And on a cultural level, I think Sherbrooke is ideal for young families. Canada offers very good parental-leave benefits compared with France.
What did you find the most difficult and the easiest?
The most difficult part of my journey has been the application process for permanent residency in Canada because it involves a lot of paperwork and time.
The easiest part has been finding a job. The unemployment rate in Quebec is low in comparison with France. Not only is it easier to find work here but the recruitment process is fast. It took just two weeks to get hired by SherWeb!
In terms of professional development, do the challenges proposed by SherWeb meet your expectations (technologies, possibilities for advancement, etc.)? 
SherWeb has a lot of opportunities and possibilities for advancement, and it's great to be part of a fast-growing company. We also get to work with the best technologies and things get resolved quickly when requested.
My professional development within the company and IT sector has been continuous given the fact that things are so dynamic and constantly changing. I love that my role has a high degree of autonomy, which allows me to make my own decisions about the directions I take.
What advice would you give to an IT professional who would like to do the same thing you have?
My advice is to do your research. Check out the job opportunities in your area and really look into the employer before applying. You can even reach out to an employer directly and inquire about the company and their positions. Also, don't be afraid to beef up your CV. Unlike France, building your resumé here is important, so make sure to highlight all of your technical and interpersonal skills. Lastly, don't limit yourself to settling in Montreal just because it's a bigger city. There are beautiful regions in Quebec with plenty of opportunities, like Sherbrooke where life is good!
Interested in joining the team?
Visit our website to see all available positions: www.sherweb.com/careers/job-openings