Nimble, the simple smart CRM for Office 365 and G Suite users, works within your favorite Office 365 apps to bridge the gaps within your workflows. How, you ask? Well, let us explain:
We won't just help you resell Nimble, check out all our value added services with the Sherweb guide
What is a CRM tool?
A CRM (or Customer Relationship Management) unifies your customer information, calendars, inboxes, and office apps into one, easy to access, relationship manager. Some CRMs (such as Nimble) are even capable of providing a two-way synchronization, working back within your existing Microsoft Office 365 workflows and empowering teams to engage more effectively — everywhere they work.
A CRM can provide:
An up-to-date, centralized access client base
Client-based data that is easily integrated with a number of third-party web services (emails, calendars, documents, etc.)
Analytical tools to measure the outcomes of business team's efforts
The ability to precisely identify problematic stages of interaction between your company employees and clients to improve the quality of service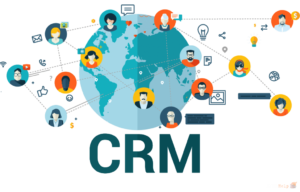 How does a CRM work within Office and Microsoft 365 environments?
With CRM tools, teams using Office 365 can focus on selling more, quickly connecting with more prospects, and optimizing internal processes. A CRM can also eliminate the constant tab surfing by integrating within Outlook to automatically update contacts, access company and contact insights, and manage deals right from your inbox.
For instance, Nimble CRM can automatically combine your Office 365 contacts, communication histories, email inboxes, and calendar appointments with over 160 SaaS business app contacts and social media connections (from Linkedin, Twitter, and Facebook) into one unified team relationship manager.
Social & business insights everywhere you work on the web
The Nimble Prospector browser extension works within your browser. This helps you gain more social and business insights on pivotal leads and contacts that you intend to build mutually beneficial relationships with – from anywhere you work.
Instantly build and update contact records with information including social insights, phone numbers, email addresses, company information, and more without disrupting your Office 365 workflow and needing to go in a different app.
Once you have added someone to your CRM, you can nurture that relationship further by:
Creating follow-up reminders through tasks
Setting up meetings through events
Tracking sales opportunities with deals and reports,
Reference a history of interactions and trackable messages,
Log notes, and much more.
For instance, when working with the Nimble Prospector browser extension, you can easily access your relationship history with your contacts from any website or social platform. You can also sync emails to your contact's record and scan upcoming activities associated with that contact.
Live in your inbox? Your CRM should, too
When you combine Microsoft Outlook with the Nimble Outlook add-in, you have the ability to keep all of your customer profiles, tasks, and calendars up to date and automatically synchronized with your inbox.
CRMs provide a unified relationship manager for Microsoft users to effectively track their customer interactions, enabling them to foster deeper relationships in a more organic way across multiple platforms such as email and social media.
On top of this, CRMs automatically like Nimble are great at delivering critical sales intelligence (including job titles, phone numbers, email addresses, social handles, and company locations) directly to your Outlook inbox. They also automate certain data entry processes by updating contact records in real time.
Whether you're working in your inbox or browsing the web, Nimble delivers enriched contact profiles with the essential details teams need to help determine if a given lead is viable to pursue.
Integrating a CRM to Outlook can help keep vital contact and deal-related data organized, enabling teams to stay on top of valuable leads and top priorities. It can also help streamline communication by syncing team contacts and calendars and prioritizing outstanding follow-ups.
Using Microsoft Teams to work better together
Microsoft Teams is a cloud-based chat and video calling app that creates a streamlined workflow for collaborative work. Teams brings people, conversations, and work together while making the interaction between remote workers as productive as possible. This application is integrated into the Office 365 and Microsoft 365 environments.
Microsoft Teams stores all data on remote servers and runs all updates in real time. Its features and benefits facilitate instant interaction between employees working remotely or in different departments.
When Microsoft Teams is connected with Nimble, Teams users can look up contact details, company background, social insights, and conversation histories. You can also update existing records (for example, to add notes or set contact reminders) and add new contacts without even having to switch tabs in your browser
How do Outlook for mobile users benefit from CRM integrations?
When using both Outlook for mobile and the Nimble mobile app, you get near limitless possibilities. As long as the information was entered once in the CRM. you basically have all the information pertaining to a contact or a deal at your disposal.
There are several benefits from using a CRM paired with Outlook mobile:
Viewing all emails, contacts, and appointments.
Synchronizing Outlook with your CRM. You don't need to copy all the notes you have from Outlook to the CRM.
Converting the data from CRM to any chart.
Aligning tasks in CRM and Outlook so your working schedule is on point.
Sorting, filtering, viewing or adding options and rules.
Creating CRM contacts, accounts or leads in your Office 365.
Adding new connections to the product right from the inbox.
Using text-editing Outlook features along with the CRM functionality. This helps to access all the resources, email templates and custom CRM fields you need through your Outlook.
Tracking and navigating the CRM tasks on your Outlook.
How teams benefit from a mobile CRM
A mobile CRM app won't help you if you're the only one in your organization using it: make sure that your team has it installed as well.
Here are five reasons why your team should adopt a mobile CRM:
1. Increase productivity
Mobile CRM applications help schedule appointments, store data and information, review notes, and more. You don't have to lug around a laptop to search for information — all you need is a mobile device append the right app. Mobility gives you more time to focus on your clients, thus generating more revenue.
2. Increase sales
When your team can effectively answer all your client's questions in real time, the chances of closing the deal increase exponentially. Don't waste your time, or theirs — no one wants to wait for a few hours before you get to your PC to address their concerns.
3. Shorten your sales cycle
A CRM allows you to build better relationships faster. Make sure to keep communicating with customers on a regular basis to ensure you're staying top of mind. You can also set follow-up reminders to help stay on top of your communications.
4. Additional accessibility
When your team only has access to a desktop CRM, there is a chance they will forget to record the information discussed during meetings. Of course, there are laptop PCs and even spiral notebooks, but a mobile CRM system allows you to record all the important data as the conversation happens.
5. Flexibility across devices
Everyone on your team most likely has a smartphone, and perhaps even a tablet. The apps adapt to each of these devices. Most apps are user-friendly and simple.
Mobile CRM solutions improve your workflow by keeping you connected wherever you go; all you have to do is add information on your client to the database from your smartphone. Additionally, with Outlook as your email system, you can synchronize your Nimble CRM app with your inbox and other Microsoft apps.
How to Get Started
If you do not have a Nimble CRM account yet, contact Sherweb today to give it a try.
Stay tuned for more product announcements as we evolve Nimble into the best CRM for Office and Micrsoft 365 and G Suite teams, including their newly redesigned Nimble Prospector browser extension.