Sherweb recently announced a new partnership with Letsignit, a cloud-based solution for generating and managing email signatures. We sat down with Sébastien Telouk ↗, VP Sales, US and LATAM at Letsignit ↗ via Microsoft Teams to talk about why email signatures are important for businesses. He also told us how easy it is for MSPs to use and deploy Letsignit and how working with Sherweb and Microsoft will help channel partners.
Note: This interview has been edited for clarity and readability
Who is Letsignit, where are you based and how did you get started?
Letsignit is based in Marseille, France. We also have offices in the Seattle area, where I'm calling you from. We manage all the American, Latin and Central American markets and of course, the Canadian market. We also have an office in Montreal, which is more dedicated to tech support.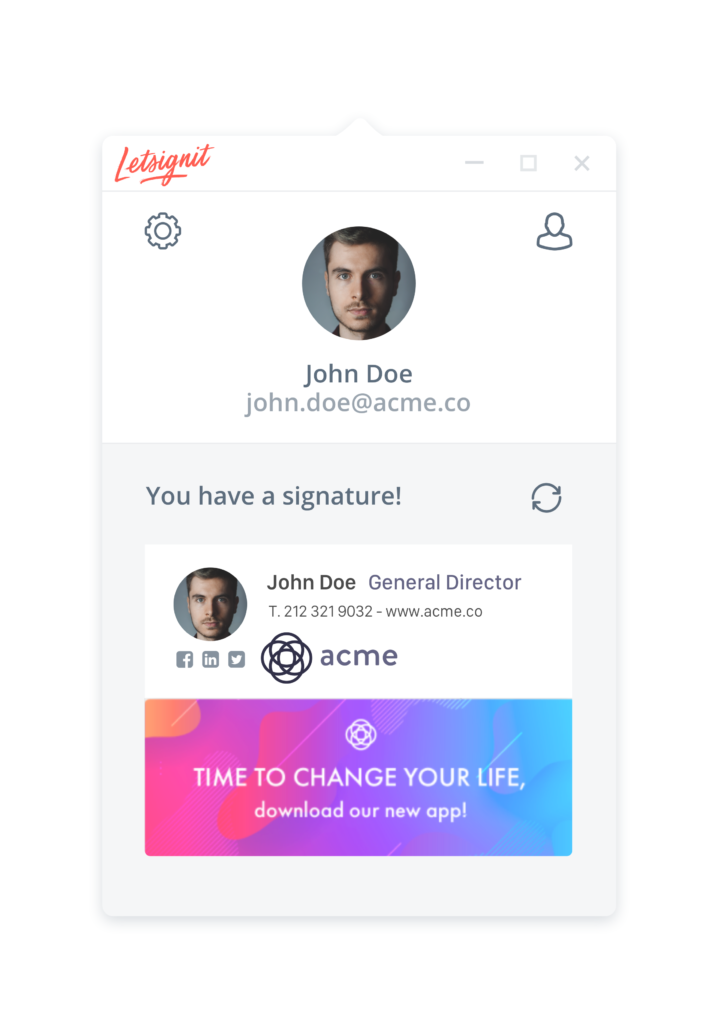 Letsignit was created as a spin-off of an anti-spam company. We saw an opportunity to add value for customers communicating primarily via email, and Letsignit was born.
What's your elevator pitch?
Corporate email is a super powerful way to communicate with customers. We offer companies (the communications department, for example) a way to be linked to all users of the organization so they can create and design email signatures for everyone in realtime, which makes their communications more impactful.
Letsignit is also a cloud-based solution very focused on the MSP market.
Why is email signature management important for businesses?
Business email signatures can be valuable in many ways. As an example, many of our customers discovered that they can be used to promote communication about the current health crisis; 'we are still here,' 'we're working remotely' and other such messages. We've also been asked to create signatures to explain social distancing and to use a mask.
So, even in this kind of crisis, email signature management is important for helping readers understand the email they're reading. Why? Because emails are sent every day. Every day we all send a lot of messages, and it's a one-to-one discussion. When I send you an email, it will be delivered, and you'll read it. It's not like mass email or newsletter, which are often considered junk mail.
All of my emails are sent and read, which is added value from a business perspective. Business email signatures make my email impactful, because you'll probably read my banner or information at the bottom of the message.
What opportunities does Letsignit represent for MSPs and resellers?
We think it's important for resellers to create attachment to Microsoft 365. There's profitability in add-ons for apps like Outlook—business email signatures, for example—that add value for companies who sell email.
Letsignit is a very good opportunity for MSPs to increase their revenue and their margins following this logic. Our solution helps create that attachment to Microsoft 365 for clients, as well as to the MSP's business. We provide the MSPs with a super easy-to-deploy, easy-to-bundle product they can use to grow both customer loyalty and profits.
Letsignit partners can achieve margins of 20% or more, and Microsoft 365 clients also using Letsignit are up to three times more loyal.
How can Letsignit improve cloud resellers' managed service offerings?
Letsignit is a value-added product. By offering the best solution on the market for email signatures—supported by Sherweb—MSPs have another tool for showing their value to clients.
For example, in the past, users could create email signatures in an on-prem version of Exchange. But in the cloud, some tasks are not possible. The mission of the MSP is to explain this kind of thing and have that expert vision for clients, such as migrating customers to Microsoft 365 in the cloud and then using a leading solution for generating business email signatures.
How does offering Letsignit alongside Microsoft 365 or Office 365 improve customer loyalty?
When you have only one product line with a customer, your relationship can be a bit weak. Pairing up Microsoft 365 with a compatible solution like Letsignit creates stickiness between the MSP and their customers.
Letsignit's renewal rate is very high; more than 95% of partners continue on with the service.
What kind of support does Letsignit offer MSPs and their clients?
Of course, Sherweb support is available for partners deploying Letsignit. But our chat is also available for all customers.
What makes Letsignit preferred solution for both resellers and end users?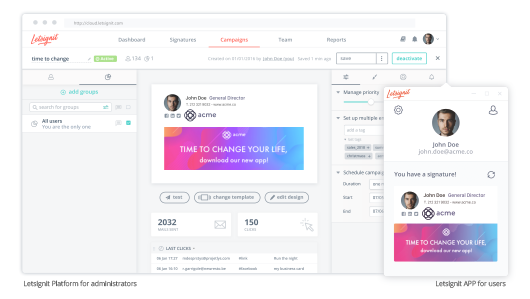 I think our product is preferred by MSPs for their SMB clients because it's really easy to both deploy and use. In 25 minutes, an MSP can deploy and Letsignit and start managing it for their customers.
It's also not a hard sell. It's logical to explain to end users that'll receive a customized email signature with their Microsoft 365 subscription. Specifically for MSPs, we created a freemium offer that makes sense for partners to offer alongside Microsoft 365. It's totally free, just with some limited features, and there's is no end time—you can use it forever.
The signatures generated are basically a business card for email that MSPs can deploy for Microsoft 365 customers, synchronized with Azure and ready in less than five minutes.
For Sherweb partners, there's also a not-for-resale version for up to 50 users. Partners often have the same needs as their end users, and using the product also helps partners understand those needs.
Why is Letsignit partnering with Sherweb for this launch?
Sherweb wants to add value for its partners' Microsoft 365 offers to create differentiation, which Letsignit can help with.
Sherweb's reputation is also important to Letsignit. It's important for us to count on people who are focused on providing very good technical support and training. That's what we want to do here in the North American market, and Sherweb's reputation speaks for itself.
What makes Letsignit, Sherweb and Microsoft the ideal partnership?
The Microsoft ecosystem promotes real P2P partnerships. Letsignit and Sherweb are both heavily involved with Microsoft—we speak the same language, and all have similar targets for providing good products and services with added value.
How can Sherweb partners get involved with Letsignit?
It's very easy: partners can simply talk to their Account Manager.
After that there's three stages that I think are important for getting started. The first stage is to deploy the not-for-resale version of Letsignit, just to use it and to understand the benefits for customers. The second stage would be incorporating Letsignit into Microsoft 365 offers. The third stage is getting the necessary technical skills, so partners can be autonomous in deploying Letsignit and also supporting Letsignit.
Interested in using Letsignit to give your business professional email signatures? Become a Sherweb partner to get started ↗!